Amanda Kloots Opens Up About Her COVID-19 Diagnosis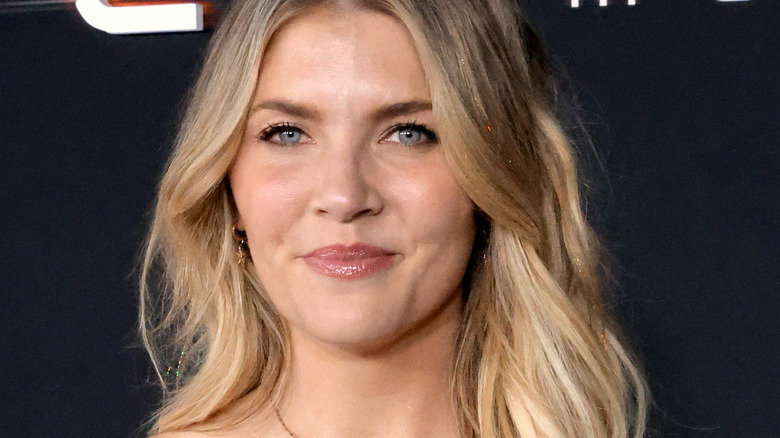 Kevin Winter/Getty Images
There is perhaps no story more heartbreaking to emerge from the pandemic than the death of Amanda Kloots' husband Nick Cordero. The Broadway star suffered greatly with COVID-19 before losing his life in July of 2020 (via Los Angeles Times). Kloots was by his side throughout his ordeal, which saw the actor being hospitalized for more than 90 days. Since losing her spouse, Kloots has been raising their son Elvis and continuing to chronicle her grief and healing process via Instagram.
Fans have empathized with "The Talk" co-host every step of the way, with Kloots honoring Cordero on many occasions on social media and during her journey on "Dancing With the Stars." On one occasion, the mom of one took to Instagram to defend herself against critics who blasted her for getting her COVID-19 vaccine before it was widely available. She shared in part, "I have been terrified since Nick has passed, as a single mother, of getting this virus and now I am one step closer to safety."
Now, almost two years after Cordero died, Kloots has shared the sad update that she tested positive for the virus (via CNN). "Unfortunately I tested positive for COVID and will be missing some days at work until my quarantine is over," Kloots shared on Instagram Thursday, February 24, 2022. She then opened up about how she is feeling after her diagnosis.
Amanda Kloots is using her quarantine to tackle potty training
In her Instagram update, "The Talk" co-host shared her condition with her fans, writing, "I am feeling completely normal now and feel very grateful for that. I am vaccinated and boosted which is very much putting me at ease."
Kloots then confided that her positive status was unexpected, writing, "I recently got back from a trip to Mexico where I tested negative before I left and before I flew home so this was [a] surprise this morning." She continued, "This is the first time I've tested positive since the pandemic." And Kloots is even turning lemons into lemonade, telling her followers, "I will hopefully be back to work soon but taking this time at home with Elvis to start potty training!!!! Wish me luck as I run after a naked toddler for the next three days."
The beloved star also tweeted about her health, writing to her followers, "Thank you for the love. I'm feeling ok and quarantining at home with Elvis. Hope to be back to work soon!"