The Truth About Ivanka Trump's Kids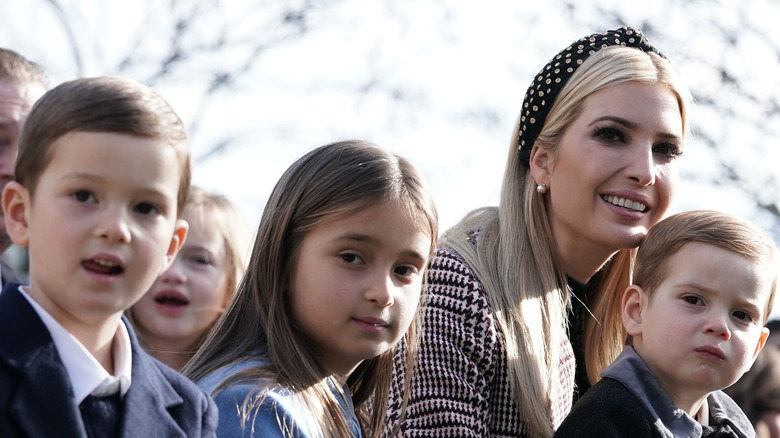 Alex Wong/Getty Images
Back in 2007, former President Donald Trump's daughter Ivanka Trump met her future husband, Jared Kushner, at a networking lunch organized by their friends. 
"They very innocently set us up thinking that our only interest in one another would be transactional," Ivanka told Vogue in 2015. "Whenever we see them we're like, 'The best deal we ever made!'" 
In October 2009, the pair were married in a ceremony at the Trump National Golf Club in New Jersey, according to Business Insider. Just a few years later, in 2011, the couple welcomed their first child, daughter Arabella. The couple then welcomed Joseph in 2013 and Theodore in 2016.
Apart from raising a family, Ivanka has also been busy helping the Trump family build its empire as a businesswoman and a former senior advisor in her father's administration in the White House. In the early days of Donald's tenure, Ivanka spoke about how her work-life balance had taken a serious hit while speaking at a panel.
"I have, personally, thrown balance out the window. I don't even strive for it anymore because I don't like to intentionally set myself up for failure. I did that, probably the first two years of my daughter's life, but I've actually chilled out a bit on this front," Ivanka said, per CNN. "I think that balance implies a scale, which inevitably tips in one direction. And the challenge with children, so often, the levers are outside of your control."
Speaking of her daughter, here's what we know about Ivanka's three kids.
Ivanka works hard to be an active force in her children's lives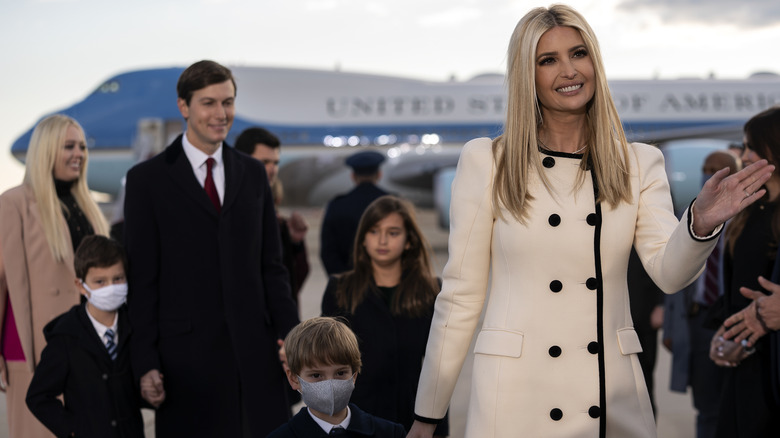 Bloomberg/Getty Images
Due to the fact that Jared Kushner and Ivanka Trump are Jewish (Ivanka converted to Judaism just before marrying Kushner), the entire family celebrates and observes most of the Jewish holidays and customs. 
The family even follows a kosher diet, according to SCMP. Every week, from Friday evening to Saturday evening, the family observes Shabbat, the Jewish day of rest, and spends the time together sans technology. 
"From Friday to Saturday we don't do anything but hang out with one another," Ivanka told Vogue in 2015. "We don't make phone calls."
The couple's first child and only daughter, Arabella, is also a bit of a celebrity in China. Back in 2017, Arabella, who has learned how to speak Mandarin, sang a traditional Chinese holiday greeting song in celebration of the Lunar New Year in a video captured by Ivanka and viewed by many in East Asia, according to SCMP.
Similar to her own upbringing, Ivanka has worked hard to ensure that her children spend as much time in New York City as possible, admiring art and other cultural aspects of the city.
"The city has so many great activities for families," Ivanka told Romy & The Bunnies. "I was fortunate to experience growing up here and I'm happy to share it with my children. We try to take advantage as much as possible whether we're visiting the latest exhibit at the Guggenheim, the carousel in Central Park, exploring a new neighborhood, or enjoying our own."
However, since Donald's presidency ended, Kushner and Ivanka have settled into a quiet new life in an oceanfront Miami condo, enjoying the sun and surf with their kids.