Nick Lachey Talks Love Is Blind Season 2, Collaborating With Eggo, And More - Exclusive Interview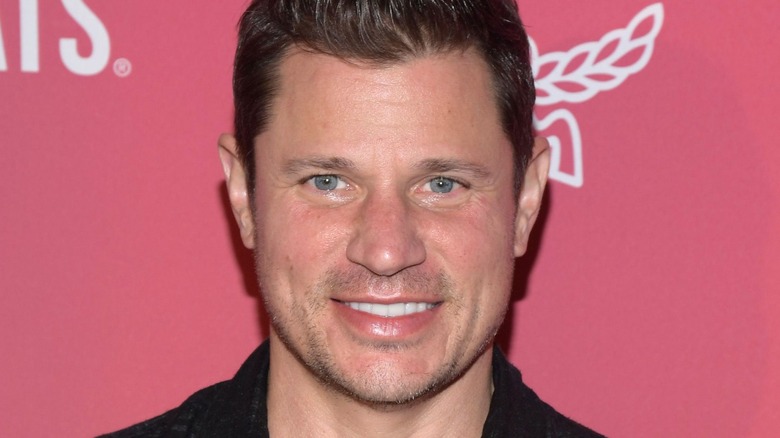 Jason Kempin/Getty Images
Nick Lachey can do it all, and he's been doing just that in the public eye for decades. He rose to prominence in the boy band 98 Degrees, who seemingly turned every song they touched into gold, and he's been working in television — and on other ventures — ever since. Most notably, Lachey has served as a host and judge on various singing competition series, allowing him to utilize both his charming personality and his singing chops. "The Sing-Off" and "Alter Ego" are two examples of this, though his hosting skills also extend to Netflix's "Love Is Blind," the dating series that sees couples getting engaged before they've ever physically seen each other. Lachey is known for his own love life, too. Lachey married and divorced Jessica Simpson in the 2000s, but he's now happily married to Vanessa Lachey, the star of "NCIS: Hawai'i."
Season 2 of "Love Is Blind" is about to end, and Lachey is already on to his next venture. This time, he's working on a collaboration with the frozen waffle brand Eggo. Together, they hope to combat the negative, sleepy effects of Daylight Savings Time. You know the pain. You wake up the morning after "springing forward" — i.e. we've all lost an hour of sleep — and then you have no energy to make breakfast (or, well, do anything). Enter Eggo, who's giving away a million waffles to parents this year for DST so that they and their children are set up for a good transitional day. Lachey is a parent, too, so he knows this pain all too well.
Luckily, we got to chat with Lachey, who told us everything about this collaboration, as well as about "Love Is Blind."
Nick Lachey on why he supports Eggo's mission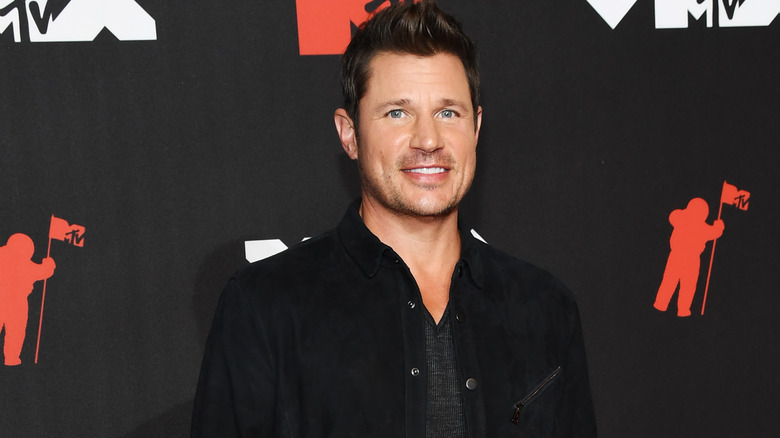 Kevin Mazur/mtv Vmas 2021/Getty Images
You're partnering with Eggo to combat the effects of Daylight Savings Time this year. Tell us a little bit about this partnership.
Well, I have three young kids. I could probably speak for all parents out there in saying that the morning routine can be pretty chaotic at times — getting them out the door and to school, and most importantly, fed. No other day of the year probably highlights that more than the day after Daylight Savings Time. Every parent knows that day is even more of a struggle. Eggo is doing their part to help parents "leggo" of the mayhem and the madness of the morning, by donating a million waffles to parents out there. That's one of the few things that parents and kids can agree on in the morning, is how good an Eggo waffle is to get your day started. People can tune in March 14 to Eggo's social media channels to figure out how they can score their free waffles. Eggo's part [is] to help all the parents out there, including myself, get that day started on a better note.
How did the partnership with Eggo and you form?
I can honestly say that no partnership I've ever done in my career feels more authentic. Truth be told, from my mouth to God's ears, we eat Eggo every single day before school, and my kids love it. When I was approached about this, I was like, "Man, it's right in my wheelhouse, because this is what I live each and every day." I jumped at the chance to be a part of it, and I have kids [aged] 9, 7, and 5. The struggle is real, man. I feel it every day.  I definitely know other parents out there feel the same way I do. [It's] a great campaign, great way to help parents out this very chaotic day of the year, if you will.
On what fans can expect in the "Love Is Blind" Season 2 finale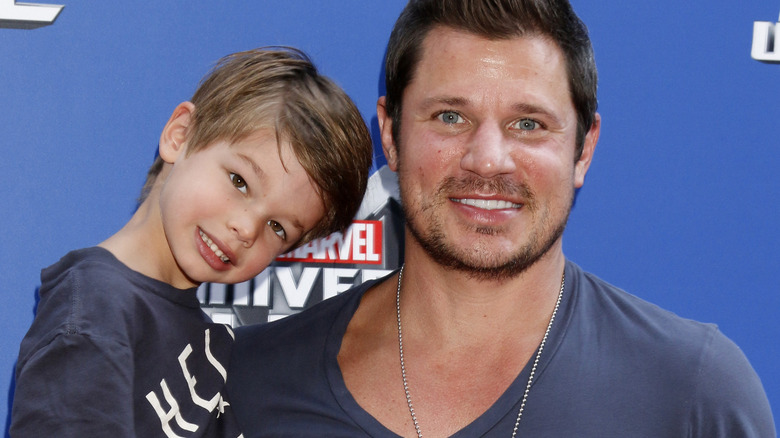 Kathy Hutchins/Shutterstock
You said you're a parent, too. How do you cope with times like Daylight Savings Time, where we're all extra tired?
You look for any edge you can get, you know what I mean? Waffles are so easy. Eggo makes it easy to get them done quick while you're putting socks on, getting shoes on. Sometimes we're able to enjoy before we get in the car to school. Other days, much like Daylight Savings Time, when that kicks in, other days are more of a struggle. Maybe it's a waffle that you take in the car, but it's definitely a help to us as we're trying to get these kids out the door and get everything done and not forget anything. Get the homework assignments put in folders and everything else. The last thing you want to worry about is [making] sure kids have a breakfast in their belly. That's why Eggo's been a home run in this house, for sure.
The Season 2 finale of "Love Is Blind" is quickly approaching. What can fans expect in the finale? Is there anything you can tease? Is there as much drama as in Season 1?
Yes. It's drama for sure, and you have to really think about all the things that are at stake leading up to that moment, that climatic moment, of "Will they say 'I do?' Will one walk away, will both?" We don't know, as the host, as the producer, we don't have a clue what's going to happen until we see it play out. All I could say, without giving anything away, is that you do not want to miss the finale. If you thought Season 1 was crazy, then Season 2 will not disappoint, and for good reason — it's a high stake[s] kind of decision. A lot riding on it, and a lot of emotions, a lot of tension, a lot of stress. It definitely plays out on the screen.
What his experience has been like on singing competition series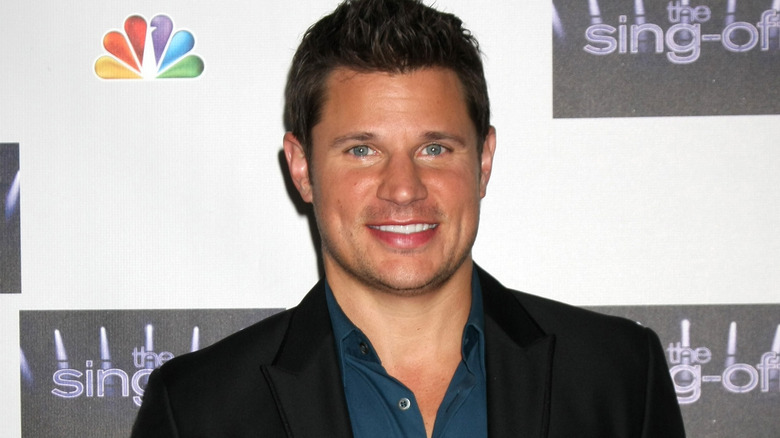 Kathy Hutchins/Shutterstock
What has hosting been like for you this season? What has that meant to you?
I enjoy it so much because I get to work with my wife. It's such a blast for us to work together, and, at least I think, we work well together. We enjoy spending time together. We look at it as almost a mini vacation when we get to hang out together and be a part of a show we're really proud of. We did Season 1, not knowing if this was going to resonate with people at all, and to see the success it had, to get brought back for a Season 2, [I'm] thrilled to be a part of it. Every cast is different, every group of people is different. This group from Chicago, very different from the group from Atlanta, which makes it interesting, for us too, to get to know them and follow their path, their journey.
The ultimate goal here, quite honestly, is that we bring people together. I think that's why the show resonated, is that it did work. We have people still together from Season 1. Our cast of Season 2 knows that, they know the experiment works. Hopefully, we'll find out here, I can't give it away, but hopefully we'll have some couples that find a lasting love. As a married couple, that's what Vanessa [Lachey] and I want for these people, is that they find what they're looking for.
Your hosting chops speak for themselves. I remember specifically watching you host "The Sing-Off," so long ago, and recently you did "Alter Ego," another singing competition. What has your experience been like with the singing shows?
I've loved every show I've ever been a part of. I did one called "America's Most Musical Family" for Nickelodeon, loved that show, loved everyone I've worked with on that show. "Alter Ego's" been fun for me because I'm actually a judge and not a host for the first time. I'd never been on a judging panel, which is a definitely a different kind of approach to the show. As a host, you're more traffic cop, you're trying to get everything moving and get to the right people, and as a judge, you're able to sit there and relax and enjoy it a little more. 
That was a change in pace, but I love hosting. I love being myself and I love music. Putting those things together has been magical. "Sing-Off," as you referenced, that was one of the highlights of my career. Being a part of discovering a group like Pentatonix, and sending them on their way to what they've done, as a musician, that's what you want. You want to discover real, incredible talent. It's fun to be a part of this.
Nick Lachey's favorite singers and bands that he's witnessed rise to prominence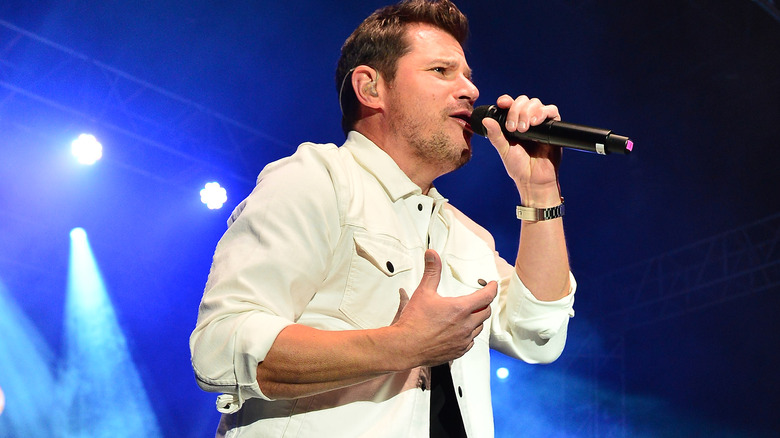 Johnny Louis/Getty Images
Well, speaking of Pentatonix, who are some of your favorite acts or individual artists that you've gone on to see become really great in their careers?
Pentatonix was definitely one where you heard them and you're like, "Okay, that's undeniable talent and undeniable skill," and it's hard to imagine people can't understand what they are. Then, you've seen what they become.
Britney [Spears], I'm not going out on a limb here, but I remember sitting in our lawyer's office, who became her manager. He played us the "...Baby One More Time" video. I'm like, "Oh my gosh, this girl's going to be a massive star," and yeah, she was. There's certain people where you're like, "Man, there's no way that..."
Maroon 5 was another band. I remember when they first came and I was like, "Oh my gosh, what a cool sound," they're different and they set themselves apart. They've gone on to be one of the most massive bands in the world. It's cool when you see somebody coming up and you feel like you discovered them early, then you see what they go on to do from there. It's special to be a part of someone's journey like that.
This is what's next for Nick Lachey after Season 2 of "Love Is Blind"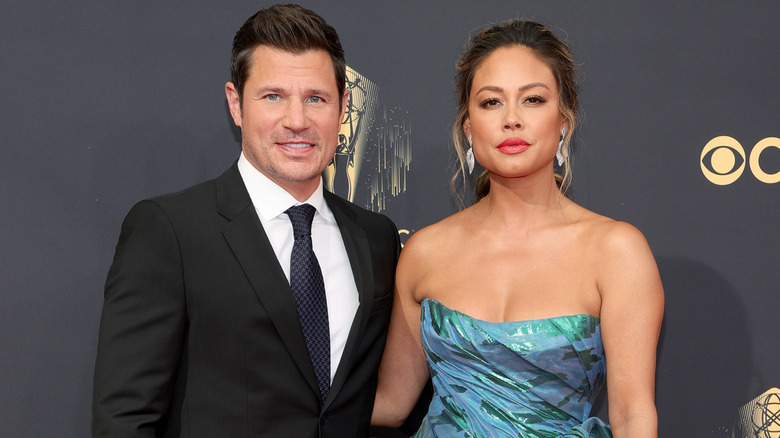 Rich Fury/Getty Images
You've also been spending more time in Hawai'i thanks to Vanessa filming "NCIS: Hawai'i." What has that been like for you and your family?
We're spending all our time pretty much in Hawai'i now. We've moved full time here and it's the opportunity of a lifetime for me. This role she gets to play, all the acting she's done has led her to this point. As a family, it was a no brainer to say, "Let's do it, let's support this move." The kids are loving it. It's a big change of pace, change of lifestyle from California, but the kids love it, I love it. We're really feeling like this is home now. It takes a minute for you to get there, but we definitely feel like we're in the place we were supposed to be, which is awesome.
What's next for you after this season of "Love Is Blind" wraps? Can you tease any future projects?
We definitely have some more projects coming out with Netflix, which we're super excited about. I can't get into specifics on those, but our partnership with them has been incredible and it's such a great company to get to work for and work with. We're excited to continue to expand on what "Love Is Blind" has kind of set the table for. God willing, you'll see some more seasons of "Love Is Blind" and some other really, really fun shows on Netflix that Vanessa and I are a part of.

You can catch Nick Lachey in the Season 2 finale of Netflix's "Love Is Blind" on February 25. Likewise, parents can keep an eye on Eggo's Facebook, Twitter, and Instagram pages on March 14 for a chance to win free waffles.