Sofia Vergara's On-Set Selfie Shows Off Her Natural Beauty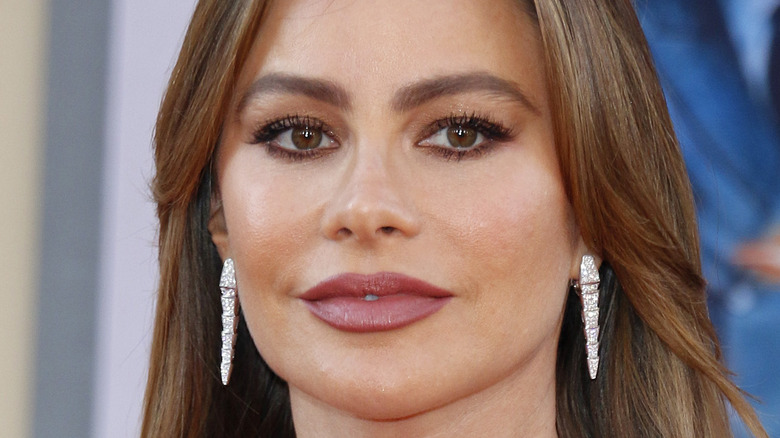 Tinseltown/Shutterstock
In January 2022, Netflix gave viewers a first glimpse at Sofia Vergara's transformation into real-life drug queenpin Griselda Blanco for the limited series "Griselda." As Deadline reported, Blanco (also nicknamed the "Godmother") became legendary for running one of the most profitable drug cartels out of Colombia. Blanco, who died in 2012, first gained international fame when her story was recounted in the 2006 documentary "Cocaine Cowboys" and later in the Lifetime biopic "Cocaine Godmother" in 2018. For the latter, she was portrayed by actress Catherine Zeta-Jones. While no release date has been revealed, Deadline reported that the series will contain at least six episodes.
Even though many of Vergara's fans can only imagine her as the hysterical Gloria Pritchett on "Modern Family," judging from the comments stemming from Netflix's first look at Vergara as Blanco, it appears they are willing to give the funny woman a chance at taking on a more serious role. "I loved her in 'Modern Family' and now looking forward to seeing her play a different kind of role," one person tweeted in response to Netflix's first look.
Vergara has yet to speak publicly about her latest role, but, in a recent selfie posted to her Instagram Story, she finally gave her fans an inside look at the process behind her transformation into Blanco.
Vergara recently shared a behind-the-scenes photo from the 'Griselda' set
On Friday, Sofia Vergara shared a photo of herself before her two-hour transformation into Griselda Blanco was set to take place on the set of her upcoming Netflix series. "Back on the chair," Vergara captioned the Instagram Story that featured her fresh-faced in a brown robe, per Daily Mail.
Perhaps due in large part to the fact that much of the limited series is set to be filmed in Miami, Florida, which served as the base for Blanco's operation, Vergara has also taken to her Instagram page to post throwback photos of old modeling gigs that she had while working as a model in Miami. Earlier this month, the actress posted a series of old images from a photoshoot she had in front of Miami Beach in the 1990s. "#tbt u know where, in the 90's🤣🤣🌴🌴🌴," Vergara captioned the throwback snaps. 
This post was just one of many seductive throwback photos taken from her time in Miami that Vergara has posted on her Instagram feed in the past few months. According to Showbiz Cheat Sheet, Vergara moved to Miami in the 1990s to take a job at a travel show and to escape the violence from drug trafficking in her home country of Colombia.