The One Clay Mask Sofia Vergara Swears By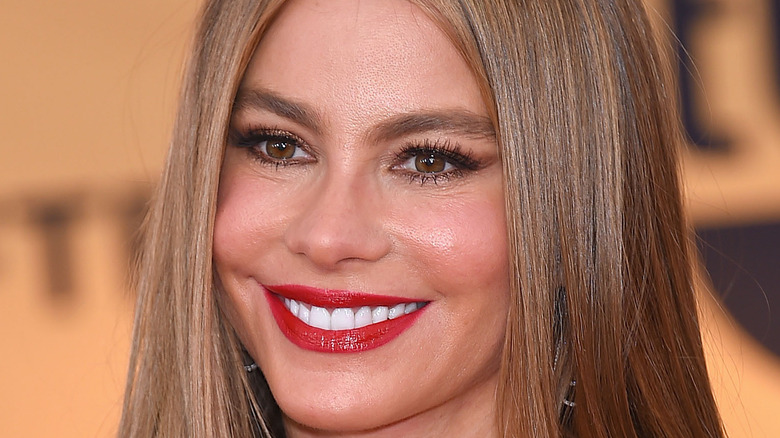 Shutterstock
Sofia Vergara has long been considered one of the most beautiful women in the world. Over the years, she's graced the covers of Women's Health, Shape, Vanity Fair, Harper's Bazaar, and more. In 2020, she was the world's highest-paid actress, with an annual salary of $43 million (via Forbes). But how does she maintain her youthful appearance?
The 48-year-old looks amazing for her age. What you may not know is that she has rosacea, a skin condition that causes redness, flushing, spider veins, and sensitivity. "If you put on too much stuff, there is irritation, so I have to keep it very simple, Vergara told Health. "I do the retinol thing that everybody does, but I have to do it in moderation. And I do vitamin C, also in moderation." Due to her skin condition, she needs to be careful about the beauty products she uses.
Vergara swears by clay masks for a flawless complexion — and it makes sense. Natural clays absorb impurities and excess moisture from the skin while healing topical blemishes, according to a 2010 research paper featured in International Geology Review. Moreover, they boast antimicrobial properties and may help in the treatment of skin infections.
Sofia Vergara uses clay to prep her skin for the red carpet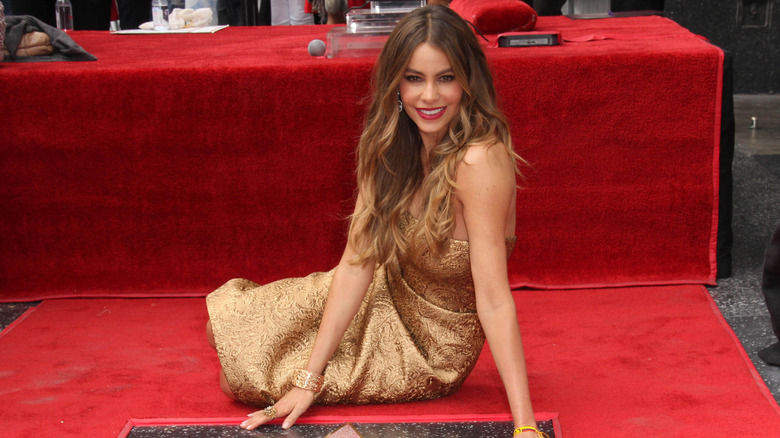 Shutterstock
The "Modern Family" star uses clay to prep her skin for the red carpet, according to Who What Wear. This year, she chose Charlotte Tilbury's Goddess Skin Clay Mask, an award-winning product made with natural ingredients like Spanish clay, vitamin C, and sweet almond oil. Manufacturers say that it can brighten the appearance of your skin after just one use.
The Goddess Skin Clay Mask is vegan-friendly and gluten-free. Vitamin C, one of its main ingredients, increases collagen synthesis and protects your skin against oxidative stress (via Nutrients). Sweet almond oil, on the other hand, moisturizes and soothes irritated skin due to its high content of fatty acids, according to a 2018 review published in the Journal of Drugs in Dermatology. Vergara's favorite clay mask also contains rosehip oil, which boasts anti-inflammatory, anti-aging, and antioxidant effects (via International Journal of Molecular Sciences).
Note that Charlotte Tilbury's Goddess Skin Clay Mask isn't a miracle anti-aging product. As Vergara told New Beauty, "Once you get the wrinkle, once you get the sagging neck, that's it. There's no cream that is going to fix you. So, prevention, prevention, prevention!" Vergara also believes that beauty starts from the inside out. "I eat a lot of vegetables, and I eat blueberries, and I drink green tea. And I add, like, a spoon of powdered collagen to chamomile tea at night," she said in an interview with Health.