Meghan Markle's Stuns Fans With Her Gorgeous Blue Look At The NAACP Awards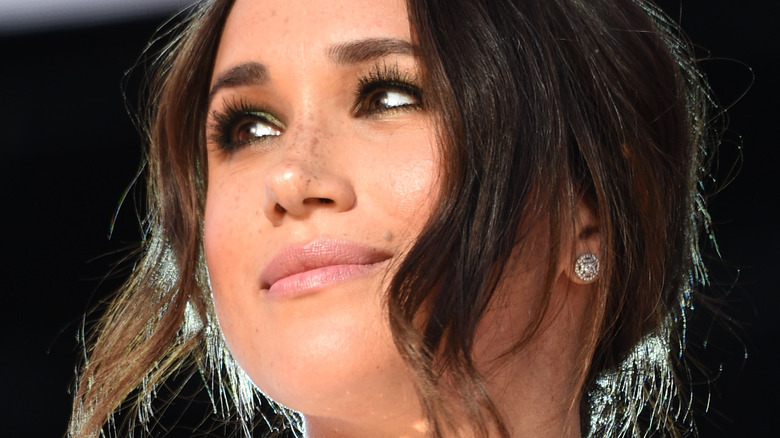 Kevin Mazur/Getty Images
Ever since she joined the royal family, Meghan Markle has found herself in headlines on a daily basis — some instances, more negative than others. But one area in which the Duchess of Sussex has always shined has been fashion. Although she's constantly being critiqued or having her motives questioned, the only subject people seem to agree upon is her undeniably great style. 
Since Prince Harry and Meghan's departure from the royal family, every event they attend draws headlines, too. Such was especially the case when the couple attended The NAACP Image Awards on February 26 at Pasadena Civic Auditorium to accept the President's Award, per Daily Mail. The couple was given the award as recognition for their work in aiding a Texas women's shelter, building community relief centers, and promoting vaccine equity. 
In the presence of a star-studded crowd, the Duke and Duchess of Sussex gave a touching speech acknowledging and bringing attention to the people of Ukraine's plight, according to People. Prince Harry also gave a touching nod to his wife and their marriage by sharing, "I think it's safe to say that I come from a very different background from my incredible wife, yet our lives were brought together for a reason. We share a commitment to a life of service, a responsibility to combat injustice and a belief that the most often overlooked are the most important to listen to." What really stole the show, though, was Meghan's outfit, which also delivered a message of its own.
Meghan dazzled in Christopher John Rogers
One thing Meghan Markle has definitely perfected is managing to always serve a look that's the picture of elegance and class. The NAACP Image Awards were no exception, as the Duchess of Sussex was a vision in blue. Her one shoulder blue ombre dress flowed effortlessly with a sultry slit up one leg and a flowing cape — a dress that has the iconic Christopher John Rogers flair, according to Vogue. 
During their acceptance speech, Meghan paid tribute to George Floyd, and also shared, "As my husband and I spoke with the civil rights community, we committed ourselves and our organization, Archewell, to illuminating those who are advancing racial justice and progress," per People. So it was only appropriate that Meghan used this opportunity for her and Prince Harry to wear outfits designed by Black designers. The duchess reached out to Rogers herself to ask him to design her debut outfit of 2022, and he shared his vision with Vogue: "[It] is always really exciting being able to use color, and lots of different shades of the same color, to create some sort of graphicism, which is signature to me." He added, "It's something that feels fresh and right for now."
The Daily Mail noted that the look certainly cost a fair amount. They estimated the dress' worth at around £2,000, with the accessories costing even more at a whopping £7,000. But surely a look that stunning is priceless, right?