Prince Harry And Meghan Markle Are Proud Of Their Decision To Leave Royal Life. Here's Why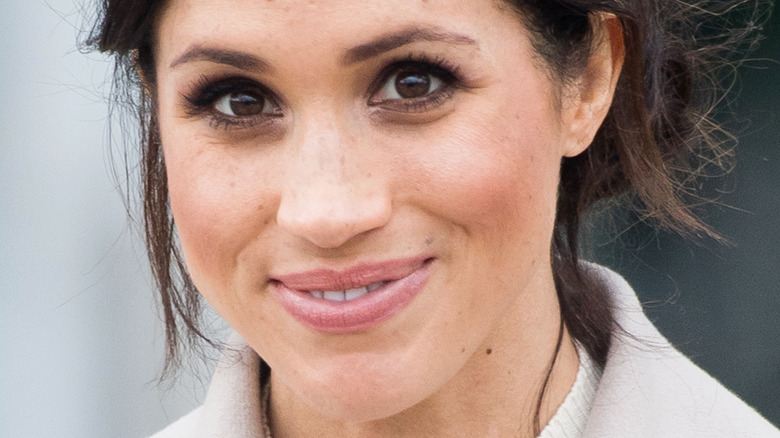 Naresh777/Shutterstock
We may receive a commission on purchases made from links.
Prince Harry and Meghan Markle bravely announced to the world that 2020 would be the year they step down from their duties as senior working members of the royal family — and they certainly stuck tp their word. According to the couple, while there were many factors behind this decision, including wanting to leave the "toxic" environment created by the British press and the negative impact that their titles had on their mental health (via BBC), they ultimately knew that this decision would be best for their family. 
"I was like 'This is toxic,' so I did what any husband, what any father would do," Harry explained on "The Late Late Show with James Corden." He added, "I was like, 'I need to get my family out of here.' But we never walked away, and as far as I'm concerned, whatever decisions are made on that side, I will never walk away." Harry emphasized that he and Meghan were "stepping back rather than stepping down" because the "really difficult environment ... was destroying my mental health."
It's been about a year since the two officially stepped away from their duties. And, if you ask the couple, they could not be more pleased with the decision.
Harry and Meghan have no regrets about leaving, says source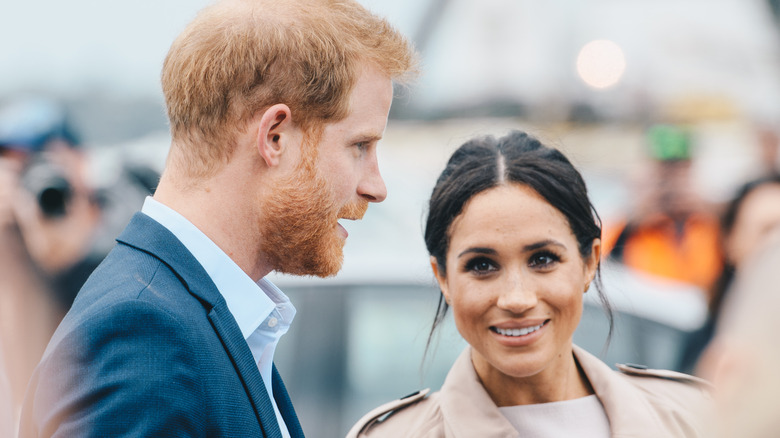 Shaun Jeffers/Shutterstock
According to Amazon, royal reporters Omid Scobie and Carolyn Durand's book, "Finding Freedom," can be described as "[t]he first, epic and true story of the Duke and Duchess of Sussex's life together, finally revealing why they chose to pursue a more independent path and the reasons behind their unprecedented decision to step away from their royal lives."
In the book's updated epilogue, the authors share that Harry and Meghan are allegedly "proud" of their decision to step down from their duties and distance themselves from an environment that they found to be harmful. "As difficult as recent years have been, sources close to the Sussexes say that neither Harry nor Meghan have any regrets about the decisions they have made," Scobie and Durand wrote. "[These accomplishments are] another sign that [Meghan and Harry] had made the right decision to step back from royal roles, not only for their family but for their focus on social issues and helping the world," per Harper's Bazaar.
Of course, the accomplishments the authors speak of are considerable, as Harry and Meghan have signed multi-million dollar deals with both Netflix and Spotify, and they launched Archwell, the charity foundation named after their son, Archie Harrison. Meghan and Harry will also both soon be authors, as she released her first children's book, "The Bench," in May, and Harry's forthcoming memoir will be released in 2022.
Is there any truth to what was written in the book?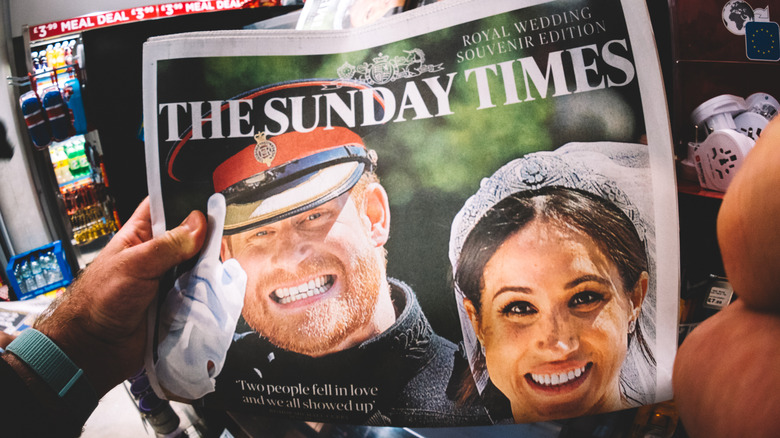 Hadrian/Shutterstock
We're thrilled to hear that Meghan Markle and Prince Harry are reportedly doing well since their departure from royal life. That being said, whispers surrounding the credibility of the book have begun to surface, and as it turns out, Harry and Meghan had little (if anything at all) to do with the creation of "Finding Freedom." According to the Daily Mail, Omid Scobie and Carolyn Durand's book is actually totally unauthorized, and Harry and Meghan's representatives have advised the couple to steer clear of the book and its subsequent team. Furthermore, the couple's lawyers flat out stated that Scobie and Durand did "not speak for our clients and seem to rely on unnamed sources."
But the leaked epilogue revealed much more information than the aftermath of Harry and Meghan's departure. Per the Daily Mail, the leaked information includes the likes of the state of Prince Harry's relation with his brother William; specifics regarding Harry and Meghan's financial situation; and even a possible identity of the royal that expressed concerns with the race of Harry and Meghan's son, Archie (per Insider).
As interesting as it would be to learn all about this information, and more, it's difficult to say if any of the facts and figures presented within the book are accurate. After all, Scobie and Durand are well-known royals reporters, and often contribute to the British press that Harry and Meghan have famously deemed "toxic."