Did Queen Elizabeth Really Make A Crude Comment About Kate Before She Became A Royal?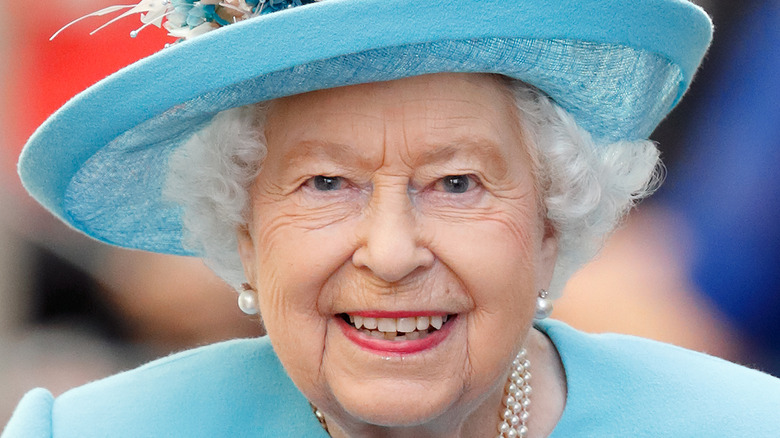 Max Mumby/indigo/Getty Images
Getting along with your in-laws can be tough, but it's got to be considerably more challenging when those same in-laws also happen to be actual royalty. Happily, Kate Middleton has always had a sweet bond with Queen Elizabeth, grandmother of her husband, Prince William. The two ladies are frequently photographed at official events, sharing a laugh and speaking jovially to each other.
As Us Weekly notes, they hit it off right away. Before Kate married William, she attended his cousin, Peter Phillips' wedding to Autumn Kelly (the couple has since separated). And, according to the Duke, his grandmother "was very welcoming" to the newcomer. William recalled, "She knew it was a big day and everything was going on with Peter and Autumn, [but] she had wanted to meet Kate for a while, so it was very nice for her to come over and say hello. We had a little chat and got on very well."
They've only grown closer in the intervening time, with a royal insider even describing Kate as a "rock" for the queen during the COVID-19 pandemic. They revealed, "More than anything, knowing she can rely on Kate and [William] to handle matters in her absence is the greatest comfort she could ask for." The duchess reportedly relies heavily on the queen to guide Kate in her royal duties too, which has naturally made them even tighter. 
However, in the early days of the Cambridges' relationship, William's grandmother wasn't so sure Kate was the right woman for him.
Queen Elizabeth was concerned about Kate Middleton's lavish lifestyle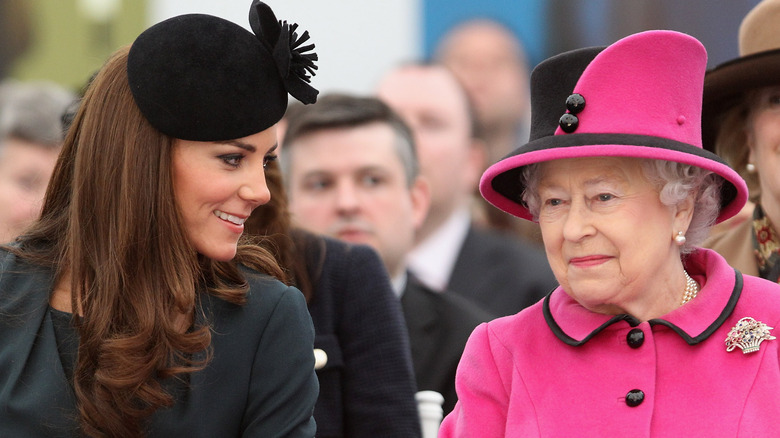 Oli Scarff/Getty Images
The Queen and Kate Middleton are thick as thieves these days, but before she married Prince William, there were significant concerns over whether the two were properly suited. The Mirror reports that, according to royal expert Katie Nicholl, the queen wondered whether Kate's lifestyle was too frivolous. Back in the day, the duchess was frequently photographed enjoying exotic vacations, both with her family and alongside William himself, which gave his grandmother pause. 
In her book "William and Harry," Nicholl claimed Kate visited the Caribbean island of Mustique "so often the press dubbed her 'Queen of Mustique,' a title that had previously belonged to Princess Margaret." Britain was in a recession at the time, so "such frivolous displays of wealth were unpalatable to the Queen." Her Majesty allegedly worried whether Kate would be suited to a role as a full-time working royal, reasoning she had to figure out her career aspirations before William popped the question.
A royal source confirmed the queen's feelings on the matter, noting, "It is Her Majesty's opinion that if Kate is one day going to be William's consort, then she needs a proper job." They added, "Swanning from one five-star holiday resort to another is not the prerequisite for a young woman possibly destined to be Queen." These harsh words reportedly "stung" Kate, but she's clearly proven herself in the years since, given how close they are now.