The Huge Music Video You Didn't Know Featured A Young Channing Tatum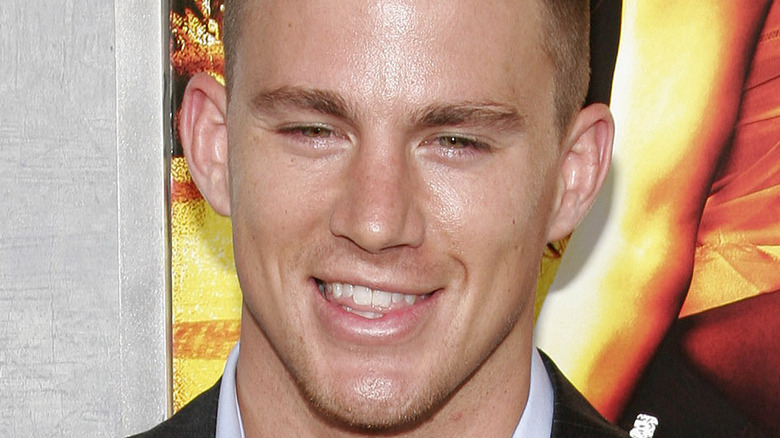 Tinseltown/Shutterstock
Long before the days of "Magic Mike," actor Channing Tatum loved to dance. Back in 2006, Tatum starred in the dance movie "Step Up," which lead him to many other movies, including "Magic Mike" and "Magic Mike XXL" (via IMDb). "Step Up" not only became his breakout role, but the film set where he met his wife, Jenna Dewan (though the couple has since divorced back in 2019).
Tatum may be most famously known for the "Magic Mike" movies and the remake of "21 Jump Street," but he's also gained a following from his romantic side, starring in the love story "The Vow" with Rachel McAdams. Now a dad to a daughter, Tatum is showcasing his ongoing versatile acting nature. Currently, he's starring in "Dog," where he plays a former Army ranger with post-traumatic stress disorder (PTSD) who, along with a fellow retired army ranger, must take a military dog on a road trip to his handler's funeral.
Long before taking on a variety of unique film roles, he appeared in a few music videos, including one that might surprise you.
Channing's music video appearance
It's clear that Channing Tatum likes to dance (and excels at it!), but in Ricky's Martin famous hit video, "She Bangs," Tatum isn't dancing. In fact, he's easy to miss since he only appears for a few seconds. He plays a shirtless bartender throwing a cocktail shaker high in the air (blink and you'll miss him at the 1:30 mark). According to Metro, the adorably young Tatum was just 20 years old when he appeared in the video.
Channing has appeared in other music videos since then, such as Sean Paul's "(When You Gonna) Give It Up to Me" and Ciara's "Get Up". Yet, Tatum's best performance in a music video may go to Pink's "Beautiful Trauma." Not only does he have the starring role as Pink's partner in this one, but he shows his light-hearted and fun side, getting into a few different compromising situations. Oh yeah, and he also showcases those much-loved dance moves.