Hilaria Baldwin's Photo Of Her Daughters Has Us Doing A Double Take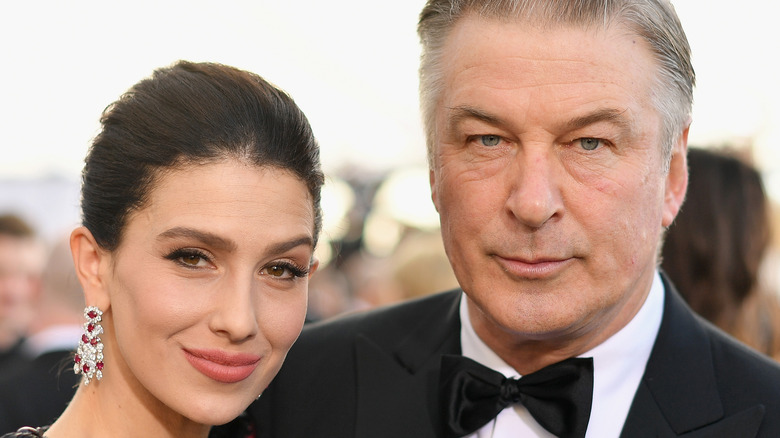 Mike Coppola/Getty Images
Alec and Hilaria Baldwin have an incredibly busy home life. The happy couple have been married since 2012, per The Irish Sun, and share six children; daughters Lucía and Gabriela, and sons Rafael, Leonardo, Romeo, and Eduardo. Hilaria previously opened up about how she'd sadly suffered two miscarriages prior to welcoming Edu, but then Lucía arrived just a few months after she and Alec had confirmed his birth, confusing fans.
As People notes, the celebrity couple welcomed their sixth child via surrogate and, although there was plenty of buzz when the announcement was initially made, an insider made it clear, "It's no one's business about a woman's right to choose how and when she expands her family." Moreover, a second source confirmed the Baldwin's were "so happy and spending time bonding together as a family," while "Lucía's big brothers and sister are all excited to have a new sibling."
Clearly, having a big family was always the goal for them, but in doing so Alec and Hilaria might have unintentionally created twins.
Alec and Hilaria Baldwin's daughters could be twins
In an Instagram post, proud mom Hilaria Baldwin shared side-by-side shots of daughters Carmen Gabriela and María Lucía, aka Marilu, and fans were immediately stunned by how alike they looked. "Alec and I made almost the same baby twice," Hilaria noted. "Carmen on the left, her first birthday. Marilu on the right, her first birthday. Same exact dress." One commenter responded, "Legit carbon copy of Carmen lol," while another quipped, "Twins years apart." A third user even exclaimed, "This is mind blowing. Look at bb Carmen. I remember that little face. So crazy they look the EXACT same." 
The yoga instructor previously opened up about why she and husband Alec Baldwin decided to expand their family so soon after welcoming baby Edu. Hilaria admitted to losing a child four months into her pregnancy back in 2019, sharing, "When I found out our baby had died, I told our children that their sister was going to come, just not at that time. Nothing will ever replace her, but two wonderful souls have come into our lives, and we are humbled to know them." Hilaria revealed her other kids were desperate for a sister, and when they got two new siblings in quick succession, it was an even bigger blessing.