The Law & Order: SVU Episode You Forgot Starred Brittany Snow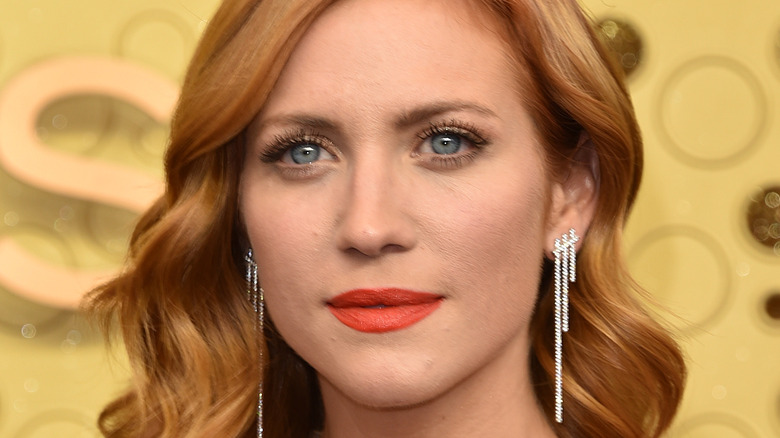 John Shearer/Getty Images
Per IMDb, actor Brittany Snow has a reputation for playing "sweetheart" characters (sometimes with steely resolve) in movies such as the "Pitch Perfect" series, "Hairspray," and "John Tucker Must Die." She also brings this archetype to life on TV with the likes of "Ben and Kate," "Crazy Ex-Girlfriend," and "Almost Family." Snow has been working ever since she was young. IMDb reports that she kicked off her career with a two-episode arc in "SeaQuest 2032" back in 1994, when she would have been around eight years old.
As InStyle notes, however, the actor took a significant step back from the business in 2009, to tackle her mental and physical health. When she returned, Snow was hungrier than ever and eager to prove herself. Aside from spearheading her own mental health initiative and nabbing starring roles left and right, the "Pitch Perfect" star put out a short that she wrote and directed. According to InStyle, this short was called "Milkshake," and it featured her co-star from the popular "Pitch Perfect" franchise, Anna Camp. Clearly, it's taken Snow a while to find her footing in the industry, and she's not giving up her position any time soon. Funnily enough, the star's small but key role in a 2006 episode of "Law & Order: SVU" actually hinted at what she was dealing with behind the scenes. 
Brittany Snow played a woman on the edge in "Law & Order: SVU"
IMDb confirms that Brittany Snow appeared in a Season 7 episode of "Law & Order: SVU" entitled "Influence." As E! News points out, the actor featured alongside "Walking Dead" alum Norman Reedus. In the episode, Snow played Jamie Hoskins, a woman struggling with bipolar disorder who accidentally kills a teenager while attempting suicide. Reedus assumed the guest role of rock star Derek Lord, an advocate for the treatment of mental health issues without medication, who played a pivotal role in Jamie's subsequent court case.
Perhaps the role was a bit of a personal one for Snow, who spoke to MVTU.com in 2020 (via People) about her own struggle with mental health issues. The star began dieting at age 12 after she was cast on "Guiding Light." The compliments she received about her weight loss reaffirmed unrealistic standards of beauty that she felt she needed to starve herself to attain. "It became my life and I didn't have any friends and this was definitely my best friend and I held on to it really tight," Snow said, via People. At her lowest weight, the actor began self harming as a cry for help, and eventually ended up in rehab, where she received treatment for cutting and depression. Today, she advises other sufferers to "talk to anybody. Maybe the first step is just to talk to a friend about it. Probably they'll relate in some way."
If you or someone you know is struggling with mental health, please contact the Crisis Text Line by texting HOME to 741741, call the National Alliance on Mental Illness helpline at 1-800-950-NAMI (6264), or visit the National Institute of Mental Health website.