The Most Expensive Items You Can Get At Forever 21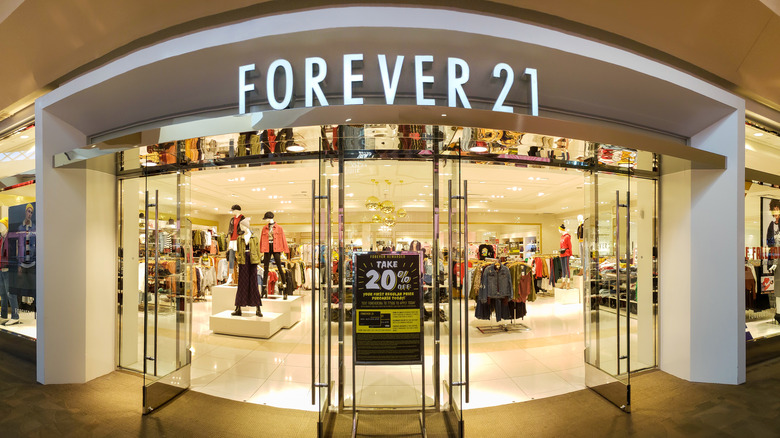 Mihai_Andritoiu/Shutterstock
Shopping is an exciting pastime that truly never gets old. If you're a self-professed shopaholic, you probably don't discriminate between the highs and the lows. You can be found drooling over the latest luxury item, like the Prada Cleo Bag, or you can be found perusing thrift stores for one-of-a-kind items. Sure, many of us love brands like Louis Vuitton, Bottega Veneta, Chloe, and Fendi — who doesn't adore a '90s era, sparkly baguette bag? Buying high fashion puts a sizable dent on the wallet, though. That's why mixing a few pricier staples with fast fashion scores is crucial, and it keeps your look updated and fresh.
When it comes to fast fashion, there are tons of stores that bring "of the moment" styles at an accessible price point, and we love them for it. Zara is incredible for street style minimalism, and is a one-stop shop for structured blazers, pillowy bags, and great tops to wear from work to dinner with friends. Meanwhile, H&M is another store we absolutely can't live without, mostly for its unbelievable price points and countless designer collaborations. Who could forget H&M's iconic Karl Lagerfeld collection? (via WWD). 
Forever 21 will always have our hearts though, mostly because of its youthful, fun aesthetic, but also for its notoriously-low prices. That being said, you may be surprised to learn that Forever 21 has some pretty expensive items, too.
Forever 21 sells several pricey items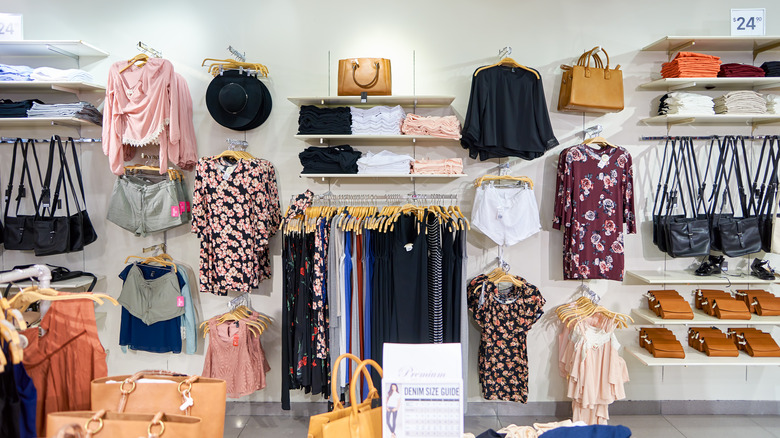 Sorbis/Shutterstock
One quick look at Forever 21's most expensive items, and you might gain a new perspective on the infamously low-priced retailer. When it comes to clothing, Forever 21's priciest options are mostly thick winter coats. The brand's Faux Fur Long Line Coat ($74.99) comes in two colors, rosy mauve and beige, and is one of the priciest items in the store. Still, it's absolutely gorgeous and features long length, plush faux fur, and a super-fashionable oversized shape. Similarly, this Plush Drop-Sleeve Coat ($74.99) is just as pricey, but it's a great option if you want a longer coat with a cozy, teddy-like texture and a deep camel hue that's perfect for fall. 
Apart from coats, the retailer also offers a few skirt sets that are more expensive than other options available on its website. The Faux Leather Cropped Blazer & Skirt Set ($59.99) is available in light blue and taupe, and it features a faux leather blazer and mini skirt with adorable buttons. Another alternative is the Faux Leather Crop Top & Skirt Set ($54.99) in your choice of ivory, camel, or black, which combines a corset-like crop top with a flattering knee-length skirt that includes a stunning slit at the leg. 
You can't go wrong with Forever 21's most expensive shoes, like these ribbed knit Knee-High Stiletto Sock Boots ($49.99) that go-with-anything, or these sky-high Wraparound Open-Toe Platform Heels in nude ($44.99).
Which of these expensive items is going to make its way onto your wishlist?