Donald Trump Lets His Technophobia Show In Joke About Barron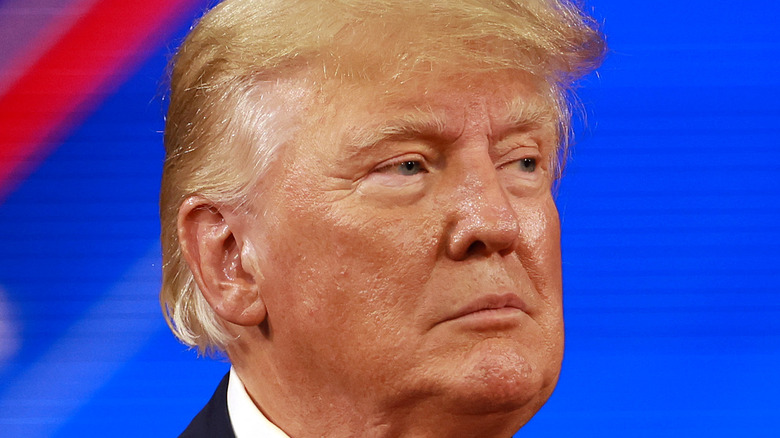 Joe Raedle/Getty Images
Despite the fact that former President Donald Trump launched his own social media platform in February 2022 — and that he regularly embraced Twitter throughout his presidency — multiple publications have previously reported that Trump has an aversion to using technology. Per Politico, Trump's friends and former aides admit that Trump hardly ever cracks open his Apple computer, preferring instead to read print newspapers and magazines. The ex-president's former employees also revealed that they failed to receive a single email or text message from Trump — and, rather than check emails and other digital information on his computer or phone, he prefers to have it printed off and given to him to read.
"Until a couple years ago, there were no computer terminals on some of the desks at the Trump Organization," Roger Stone, a political consultant and friend of Trump told Politico. "He doesn't browse the Web. Until about four years ago, he was still using bicycle messengers. They were very popular in Manhattan in the 1980s. He is very old school." During his time in the White House, Trump also mocked other forms of technology. In 2019, Trump claimed that airplanes had become "far too complex" and that "pilots are no longer needed, but rather computer scientists from MIT," in the wake of the Ethiopian Airlines plane crash, per People. However, technophobia is certainly not a shared Trump family trait.
Donald Trump is proud of his son's computer skills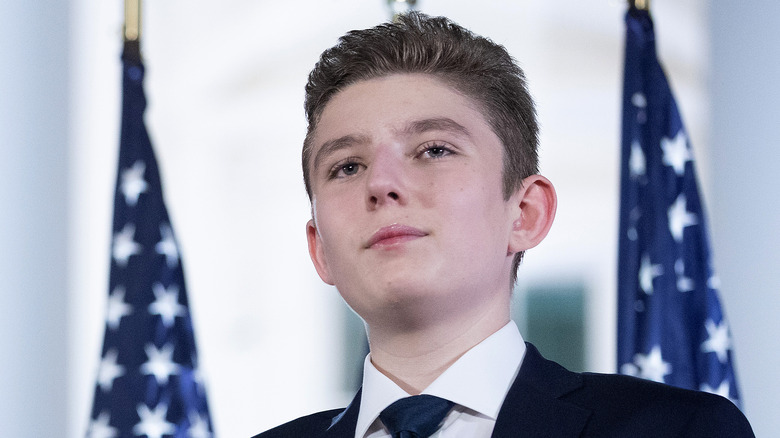 Chip Somodevilla/Getty Images
At the Conservative Political Action Conference (CPAC) in late February, Donald Trump joked that his 15-year-old son, Barron Trump, possessed better tech skills than he did, and was able to hack into his computer. "[Barron] can make his computer sing. I turn it off, and I lock it, two minutes later, 'hi Dad, how you doing?' I say, what are you doing. 'I know how to get it open Dad,'" Trump joked at the CPAC event. Barron is currently attending Oxbridge Academy in Palm Beach, Florida.
Trump also referenced his son's technical abilities in 2016, in response to a question about cybersecurity during a televised presidential debate with Hillary Clinton. "We have to get very, very tough on cyber and cyber warfare. It is — it is a huge problem. I have a son. He's 10 years old. He has computers. He is so good with these computers, it's unbelievable. The security aspect of cyber is very, very tough. And maybe it's hardly doable," Trump told moderator Lester Holt, per the Washington Post. 
It's not the only time that Trump spoke of Barron's prowess with computers. In a 2020 rally in Las Vegas, he claimed that his son could have created the Obamacare website better than the previous administration. "I could have given them their healthcare site, [Barron] would have done it for nothing and it would have been better than what they have," Trump said, per the Daily Mail.