Tyra Banks' Big Fear Will Surprise You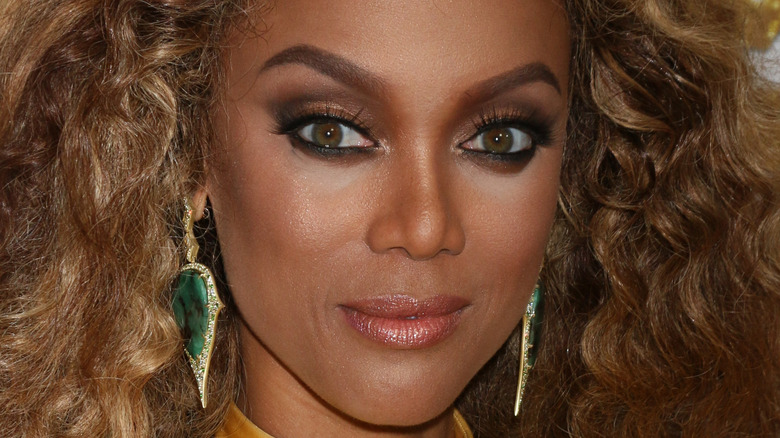 Kathy Hutchins/Shutterstock
Tyra Banks has crafted a reputation as a supermodel oozing with confidence. She's never been afraid to show off her goofy personality or bare her body on the Victoria's Secret runways.
Banks appears to be the epitome of fearlessness, and that might be why she never shied away from pushing the limits of contestants' fears on her long-running modeling competition show "America's Next Top Model." Contestants were put through a variety of anxiety-inducing challenges and photoshoots, from posing with tarantulas to being plunged underwater for long periods of time.
Banks' own career and experience in the fashion industry was the inspiration for many of the show's antics, so it would seem that she's accustomed to overcoming her own fears. But she does have some fears, and one in particular stands out from the rest. If you thought her fear was of fellow model Naomi Campbell or losing the ability to "smize" (Bank's technique of smiling using the eyes when modeling), think again. To Banks, her biggest fear is much scarier than either.
Tyra Banks is deathly afraid of dolphins
Despite her confidence and fearlessness, Tyra Banks can't seem to shake her fear of dolphins, creatures known for their human-like friendliness and intelligence, per The Guardian. To her, dolphins seem threatening, and she was quoted as saying, "I feel anxiety and I feel panic whenever I'm confronting or even thinking about or talking about a dolphin" (via Youtube).
Banks' fear of dolphins goes all the way back to when she was eight years old and, according to an interview she did with Howard Stern, she started having nightmares about being crowded by dolphins while swimming. As an adult, she decided to face her fear when she entered a pool with a dolphin for her show "The Tyra Banks Show," which can still be viewed in clips on YouTube. On the show, Banks said that her fear isn't cured, but swimming with a dolphin was the first step in helping her start to overcome her anxiety and panic around the aquatic mammals.