Dazzling Makeup Ideas If Your Favorite Color Is Purple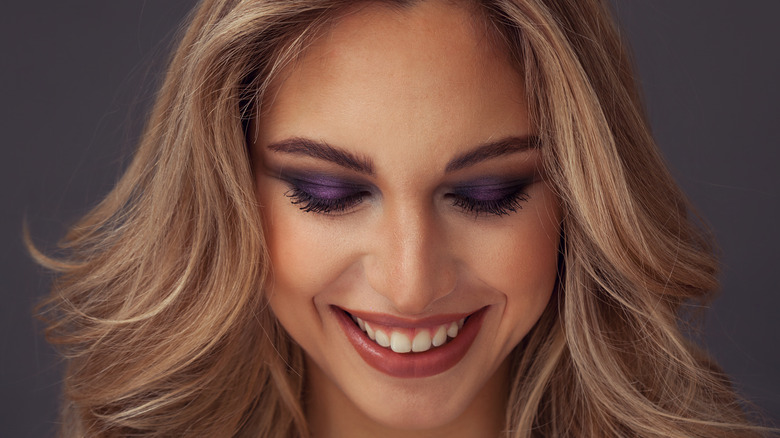 patronestaff/Shutterstock
Colorful makeup can be risky because some colors could look gorgeous, while others might detract from your natural beauty. If you are looking to experiment with color and aren't sure where to start, purple is perfect because it is universally flattering. "Anyone can wear purple eyeshadow; the key is finding the shade that is right for you," makeup artist Jamie Dorman told Ipsy. She further recommended that those with green or blue eyes choose "a warmer purple" and advised those unsure about the trend to go for "a bronze toned shade," as it's a good way to test how purple looks on you. Byrdie backed up Dorman's claim, calling purple makeup "extremely wearable" because of its eclectic range of shades. In short, whether you're a fan of soft periwinkle, or you favor a bold eggplant, there's something for everyone in the purple family.
It seems like purple is showing no signs of slowing down anytime soon, as the OG of makeup, Urban Decay, commemorated the shade with their "Prince Collection," named in honor of the late singer and his hit single "Purple Rain." Per Temptalia, the gorgeous eyeshadow palette features 10 colors with five variations of purple to make you feel like a rockstar. And in more good news, you don't have to limit purple to just your lids — this regal shade also works on your cheeks, lashes, and lips.
Purple shades will instantly refresh your makeup routine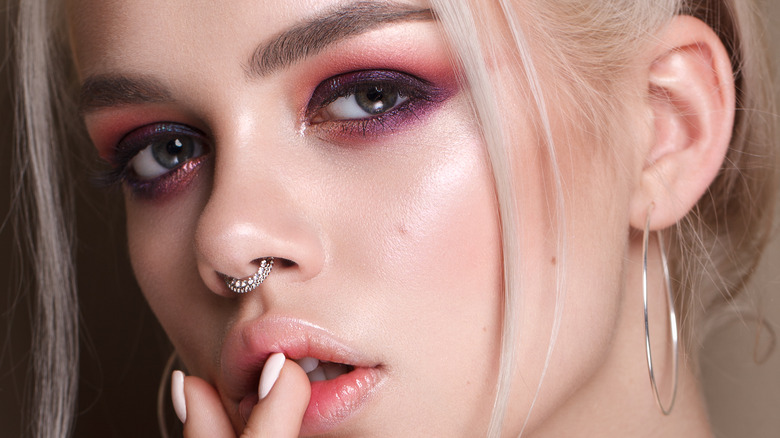 Tata Mamai/Shutterstock
Now that we know purple is a universally flattering shade, what are some of the best ways we can incorporate it into your makeup routine? If you're a fan of the reverse-winged eyeliner trend, Ipsy recommends using a purple eyeshadow to get the look. Simply use a purple shadow of your choice to draw a line along your lower lash line, and extend it outwards to give your eyes an elongated look. Pro tip: Finishing with a neutral liner on your upper lash line will help balance the look. For makeup enthusiasts looking to go a bolder route, Byrdie recommends experimenting "with jewel-toned violet" in a shimmery finish on both your upper lid and lower lash line, because it makes any eye color pop. Play it up by lining your eyes with a black liner, which photographs beautifully for your Instagram.
There's also no need to limit purple to your eyes, when you can use a holographic highlighter that brings out your cheekbones. Allure loves using rainbow-inspired highlighters with a hint of sparkling purple on your brow bone and cupid's bow. Alternately, try something new like purple lipstick, though keep the rest of your look neutral or monochrome to balance out the bold look, as celebrity makeup artist Joseph Carrillo told Oprah Daily.