Kanye West's New Music Video Featuring Pete Davidson Has Fans Disgusted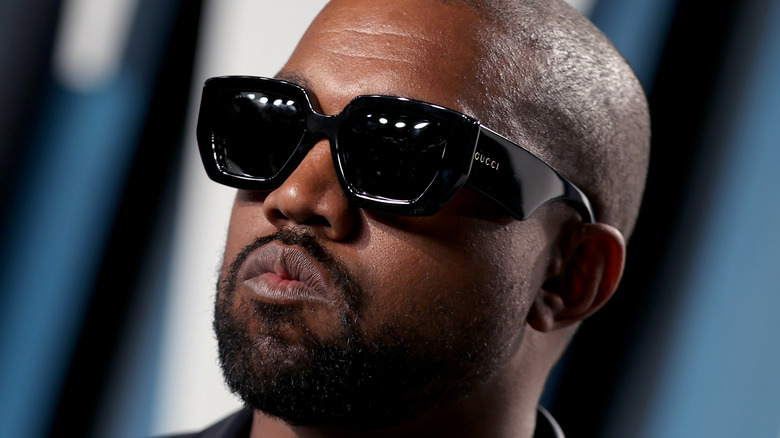 Rich Fury/vf20/Getty Images
Kanye West seems to have sunk to a new low in his public bullying of ex Kim Kardashian's boyfriend Pete Davidson. After weeks of slamming the "SNL" star on his social media, the rapper, who goes by Ye, has released a new music video for his song "Eazy" and fans are now saying the fashion designer needs help and has taken his obsession with the actor too far.
In the video, which Ye shared on his Instagram, we see a claymation version of the comedian being kidnapped and then buried alive. Just as this deeply disturbing scene plays out, Ye raps, "God saved me from that crash, just so I could beat Pete Davidson's a**" (via People). Of course these threatening lyrics had already made headlines, with an insider saying Davidson found them "hilarious." But is he still laughing now?
Fans sure aren't. In the comments section of the Instagram post, many expressed their disgust. "This video is disturbing. Clearly that is Pete and this should be a cause for concern. Like everyone giving hearts to Kanye when people should be calling 911 to protect Pete and to get Kanye some mental health help," one person said.
"You need help Ye. This is messed up!" another follower commented, while someone else said, "This is terrifying. Absolute psychopath behaviour."
Fan shares a wild theory about Kanye West's video featuring Pete Davidson
Fans continued to express concern for Davidson in the comments section of Ye's Instagram post. "This was the sickest thing I ever saw in a music video.. And you wonder why you can't see your [kids], dude I hope you find help.. And then saying you're a man of god.. God would not approve of this bulls**t," one person said. "Bro you're definitely gonna get hit with a restraining order for this one," another fan opined.
On Twitter, a fan theory about the roses Ye sent to Kardashian a few weeks ago was blooming. After we see Davidson's claymation likeness being buried alive, seeds are planted around him and flowers grow. One Twitter user surmised, "Kanye releases his 'Eazy' video the same day a Judge grants Kim her 'single status.' Remember those roses he sent her for Valentine's Day? Of course, he had an ulterior motive! He's a danger to Kim & Pete! If anything happens to Pete, look at Ye first."
Theories aside, Twitter users overwhelmingly disapproved of the video. "If this man was not a celebrity he'd be getting a visit from police," one person tweeted. "This man is making videos about killing his soon to be ex-wife's boyfriend while at the same time out with his THIRD girlfriend since leaving Kim," another person pointed out. Finally, someone else said, "I'd be calling my lawyer if I was Pete Davidson! Also get a restraining order against Kanye."