Here's What Ashley Graham Looks Like Going Makeup-Free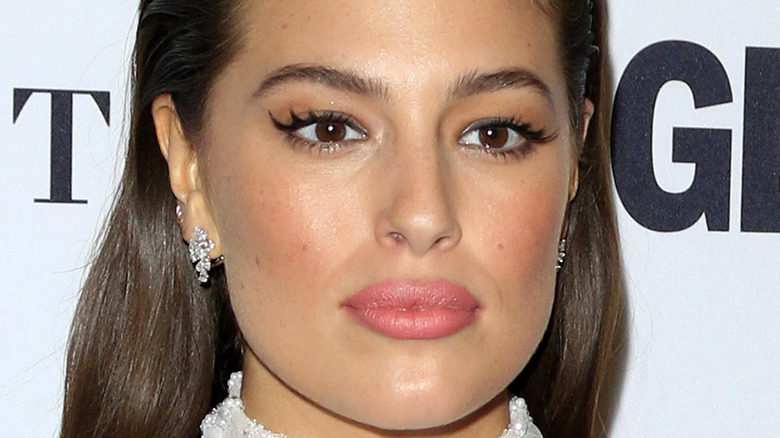 Kathy Hutchins/Shutterstock
Model Ashley Graham is so much more than just a pretty face. Graham is now a mom of three. Graham and her husband, Justin Ervin, welcomed twin boys to their family, Malachi and Roman. Sharing a photo on Instagram of her holding her new babies, she wrote "Malachi & Roman ... my boys have been the greatest teachers and biggest reminders that I can do hard things. this has not been easy, but it's so worth it. still can't believe I have 3 children." The couple are already parents to their 2-year-old son, Isaac.
Professionally, Graham has been a model since age 12 when she was signed by an agency she met while at the mall (via Rolling Stone). Though she was bullied in high school and endured taunts about her body and weight, Graham transformed herself into a model extraordinaire. She's since become one of the most recognizable models, known for encouraging body positivity and acceptance.
Ashley Graham's face with no make-up is startling
Even non-models would be hesitant to make a video or show up for work without a drop of make-up. Whether eyeliner is your thing or lipstick is, what you never leave the house with, we all have our own hang-ups about being seen with no make-up. And that's another aspect of Ashley Graham that's unique. She comes through as fully herself, whether she's done up with full face of make-up or completely bare-faced. 
In a video for Harper's Bazaar, she washes all her make-up off while showing viewers her nightly skin routine. Somehow, she manages to even more look stunning when the make-up is removed.
Graham says her skincare routine is vital to looking keep her skin looking fresh and healthy, but her genes certainly play a role, too. Like every good dermatologist advises, Graham lives by the mantra of never, ever going to bed before completely removing your make-up.