Khloé Kardashian's Unexpected Lunch Guest Leaves Fans Reeling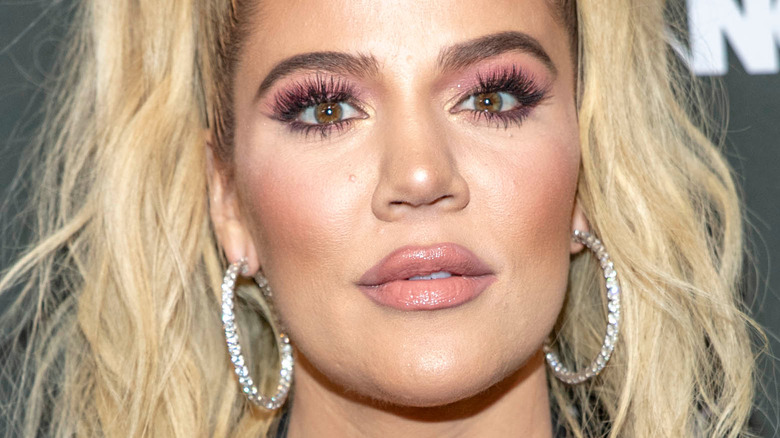 Eugene Powers/Shutterstock
We know Khloé Kardashian has a lot of celebrity friends. Her star BFFs include Larsa Pippen, Snoop Dogg and Sam Smith (via Ranker). But the A-lister she just hosted for lunch had her fans' jaws hanging open.
The jeans designer shared who her guest was in an Instagram post that also featured her star mom, Kris Jenner. It turns out it was Jenner who organized the meal, with Kardashian captioning the post, "My mom surprised me and we had lunch with the ICON, the QUEEN herself, @marthastewart48. Queen Martha has always been someone I have adored. She's ambitious, motivated, kind, funny as hell, she's badass!"
But the reality star wasn't done gushing over Martha Stewart, adding about her idol, "She is organized AF. She throws down in the kitchen. She loves landscaping. She loves animals, loves her CBD And she ain't no snitch. This is my kind of Queen." Kardashian ended her caption by writing, "All Hail." A reel of photos of the three women together followed.
Not only was Kardashian clearly starstruck, but her fans were also enthralled by the meeting.
Fans love the ladies together but also have thoughts about the use of filters
Kardashian's star friends and fans alike were all about her having lunch with Stewart as well as Jenner. "OMG what a dreammmmmm!!"one person wrote in the comments section of the Instagram share. "Iconic," wrote another fan.
But was this just an innocent meeting? Not according to one fan, who joked, "Ok a new business deal is about to happen." Another fan said, "now this is a kollaboration I can get around."
Some fans were more struck by how the three women looked in the photos, with someone commenting, "Holy filters Batman." Other Instagram users said the stars were "unrecognizable" and had clearly "done something" to freshen up their appearances. "Pretty, but so photoshopped!!" opined another follower, while someone else quipped, "It really is quite hard to decide, who has had the most work done, on their face..."