Khloé Kardashian's Extreme New Look Has Fans Talking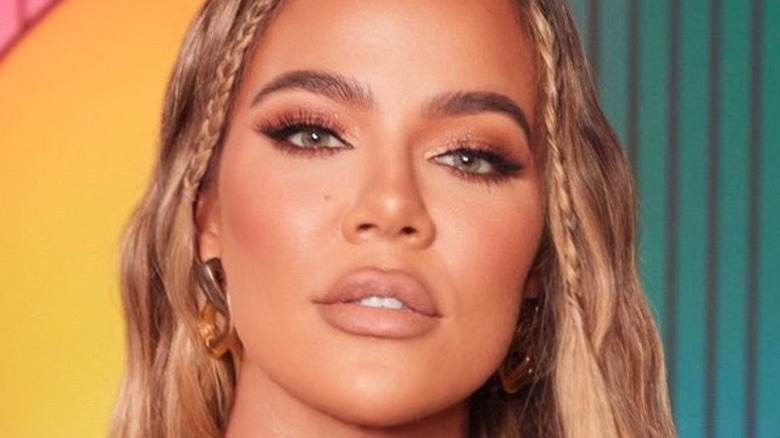 Shein X 100k Challenge 2021/Getty Images
In the past year, Khloe Kardashian has had to face nearly constant criticism surrounding her changing appearance. Kardashian addressed rumors surrounding her recent plastic surgery during the second part of the "Keeping Up With the Kardashian" reunion that aired back in June 2021 (via E! News). On the explosive reunion episode, Kardashian spoke about the hurtful names that she was called prior to her weight loss and change in appearance, and how she was often made to feel like the third wheel to her sisters, Kourtney and Kim Kardashian, throughout the vast majority of their time in the limelight. "Interestingly enough, I was so confident and secure before the show," Kardashian told Andy Cohen during the reunion. "That's when I became hard on myself because I was like, 'Oh, this is how other people perceived me.' I became insecure because of everyone else telling me."
Kardashian also opened up about the plastic surgery that she has received in recent years, which has ultimately led to her drastic change in appearance. "For me, everyone says, 'Oh my gosh, she's had her third face transplant,' but I've had one nose job," she said, per E! News. "And everyone gets so upset, like, why don't I talk about it. No one's ever asked me." Kardashian has confirmed that, while she has received at least a few injections, she has had a bad reaction to Botox in the past.
The reality star's latest Instagram post has also elicited a fair share of criticism directed at her appearance.
Khloe's appearance in her most recent Instagram has received some criticism
On Friday, Khloe Kardashian shared two selfies and a video of herself in her Los Angeles home to her Instagram account. In the photos and video, Kardashian can be seen wearing a body-hugging grey turtleneck dress with a slicked back and dramatic updo. "I rarely post in real time..... took this months ago," Kardashian captioned the Instagram post. While many people praised the reality star for her beauty in the comments section, one user commented, "Looks scary," and over 400 other users seemed to agree with that sentiment, liking the user's comment on Kardashian's post.
Kardashian has faced her fair share of internet trolls in the past. In June 2021, she responded to a tweet in which a user criticized her for using a medication to treat her migraines and for having "so much plastic surgery they look like an alien." "Sorry you feel that way. You have every right to block/mute me. I am trying to help many out there who suffer in silence. [You are] completely entitled to your opinions. Just as I am mine. I don't think you should refer to yourself as a feminist if you are attacking a woman unprovoked," Kardashian responded, referencing the bit in the Twitter user's biography in which she states that she is a feminist.