The Law & Order: SVU Episode You Forgot Starred Martin Short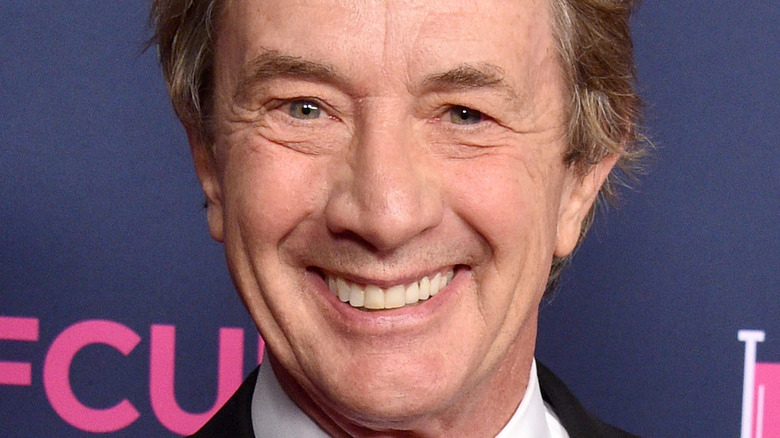 Gregg Deguire/Getty Images
Martin Short elevates everything he's involved in, from the actor's early days on "Saturday Night Live" to teaming up several times with fellow comedy icon and BFF Steve Martin (via The Guardian), and appearing in projects as wide-ranging as "How I Met Your Mother" and cult teen hit "Get Over It," in which Short expertly played an overly zealous drama teacher.
The Canadian-American star is a genuine multihyphenate and old-school song and dance man, whose mainstream appeal shows no signs of waning even after decades in the industry. And yet, Short remains unfailingly humble, even admitting to The Irish Times in 2021 that he still worries, to this day, about his career suddenly crashing down around him. 
As Short explained, "I think my interest in small-time show business began ever since I was in it and had a little success. You always have this fear that it's not going to last and you're going to go back to that world." To that end, the former standup comedian treats every role like it's his last, even imbuing a tough character in "Law & Order: SVU" with hidden depth. 
Martin Short played a very different role on Law & Order: SVU
Although many stars who cameo in "Law & Order: SVU" understandably have a limited part in the greater story, Martin Short actually played a pivotal role in the events of "Pure," a Season 6 episode that aired in 2005. Per IMDb, the premise of this particular installment surrounds a kidnapped teenager and the psychic who may hold the key to finding her. Short plays the mystic in question, a man fabulously named Sebastian Ballentine whose insights lead Detective Stabler (Christopher Meloni) to believe he may know more than he's letting on. And, as Fandom points out, Stabler turns out to be right on the money since Ballentine is subsequently revealed to be a sexual predator. 
Short is predominantly known for his comedic work, so "Law & Order: SVU" was a major departure for him. However, in 2019, he dabbled in the dark side again during a stint on "The Morning Show." According to Deadline, the "SNL" alum, who was Emmy nominated for his performance, played charismatic serial abuser Dick Lundy. And, although fans might have been shocked to see this side of the actor, Short explained he's well-versed in this kind of challenging role. 
The beloved actor admitted, "I don't know why they wanted me, necessarily, but I was immediately interested." Short trained at Toronto's legendary Second City, so he's used to improvising on the spot, reasoning that once you have sufficient background info, "You can get into the skin of a creep."