Lindsey Graham's Harsh Words For Putin Raise Eyebrows On Both Sides Of The Political Aisle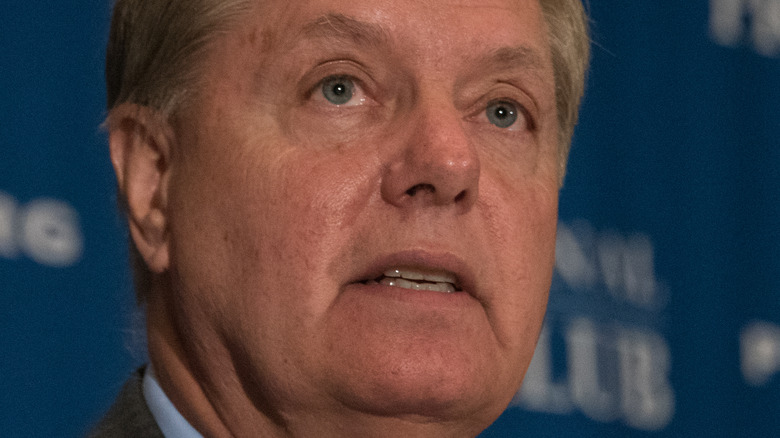 Al Teich/Shutterstock
At the State of the Union this week, lawmakers on both sides of the political aisle came together to support a common message: They stand behind Ukraine. To that end, we saw our representatives wearing the colors of the nation's flag. Now it seems Republicans and Democrats agree about something else and it's that Senator Lindsey Graham has taken his opposition to the Russian invasion too far.
Taking to his Twitter on Thursday night, Graham wrote this controversial post: "Is there a Brutus in Russia? Is there a more successful Colonel Stauffenberg in the Russian military? The only way this ends is for somebody in Russia to take this guy out. You would be doing your country – and the world – a great service" (via Vanity Fair). As NPR explains, Brutus killed Roman Emperor Julius Caesar and Colonel Stauffenberg attempted to assassinate Adolf Hitler.
The South Carolinian later added, "The only people who can fix this are the Russian people. Easy to say, hard to do. Unless you want to live in darkness for the rest of your life, be isolated from the rest of the world in abject poverty, and live in darkness you need to step up to the plate."
Twitter quickly reacted.
Pretty much everyone slams Lindsey Graham's tweets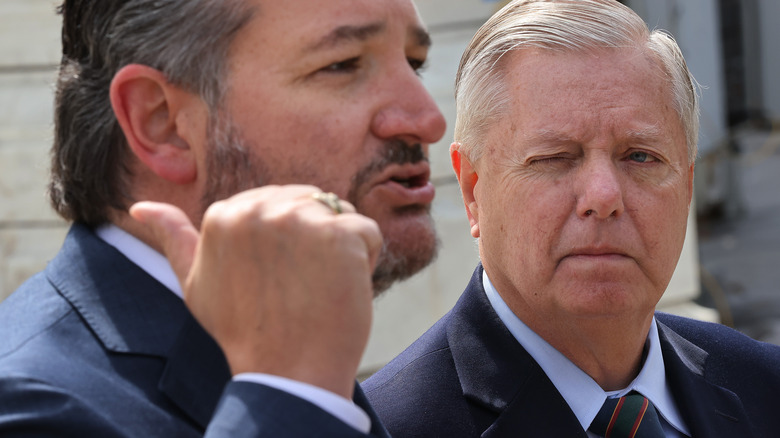 Chip Somodevilla/Getty Images
Twitter was abuzz talking about Graham's eyebrow-raising tweets calling for the assassination of Russian president Vladimir Putin (via Insider). Some social media users took a humorous approach in their responses. "Resign now is trending because Lindsey Graham got a couple of cosmos in him at happy hour and decided to start threatening world leaders..." Washington Times columnist Tim Young tweeted.
Others were not in a joking mood over Graham's comments, with author John Pavlovitz tweeting, "Donald Trump has always been both terrified of and beholden to Vladimir Putin. @LindseyGrahamSC and the rest of the red party are trying to revise history. To hell with that. You traitors have partnered with that murderous dictator for the past five years."
Republican Ted Cruz was among the conservatives who slammed the tweet (via Yahoo!). "This is an exceptionally bad idea. Use massive economic sanctions; BOYCOTT Russian oil & gas; and provide military aid so the Ukrainians can defend themselves. But we should not be calling for the assassination of heads of state," he responded.
Democrats also balked, with progressive whip Ilhan Omar tweeting, "I really wish our members of Congress would cool it and regulate their remarks as the administration works to avoid WWIII. As the world pays attention to how the US and it's leaders are responding, Lindsey's remarks and remarks made by some House members aren't helpful."