Are Deepti And Kyle From Love Is Blind Together Now?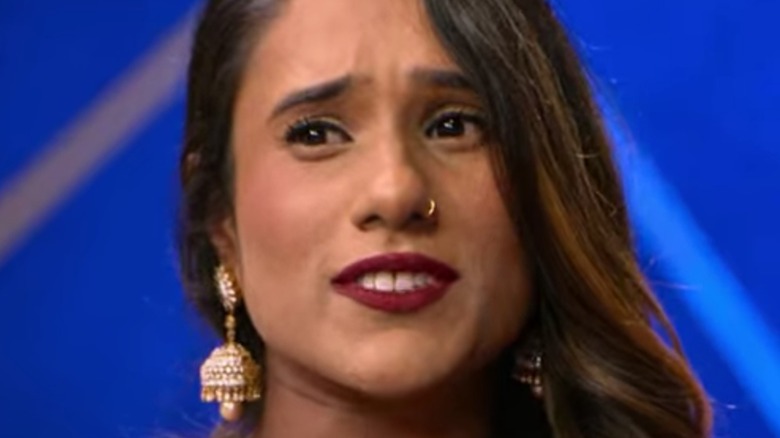 Netflix
Sure, reality TV shows are definitely addictive and fun to watch — but one of the best parts of any reality TV show is the deep-dive into their lives after the show concludes. "Love is Blind" was a huge Netflix hit with its first season, so everyone was eager to tune in and get to know the new hopefuls set to prove if true love can exist sight unseen. The first season undoubtedly served up its own set of stars and villains, with some couples everyone was rooting for and a few individuals they wanted off their screens immediately *cough* Jessica *cough*, according to Refinery29.
Season 2 of "Love is Blind" was no exception, and fans even found the villain criteria exceeded expectations when they met Shake Chаtterjee. The world watched the up-and-down journey of instantly disliking Shake for his shallow comments to some of the women in the pods, before he seemed to redeem himself with his blossoming love and proposal to Deepti Vempati and ultimately his flip back to shallow comments regarding her, per Reality Titbit. 
Deepti's kind and genuine personality came across through the show and she instantly became a fan favorite, which only further deepened viewer's disdain for Shake. Things came to a boiling point in the reunion episode that aired on March 4, 2022 where Shake came across harsher than ever, per Vanity Fair. But he wasn't the only man on the couches that fans were eyeing up in connection to Deepti... 
Kyle regrets not proposing to Deepti
When it comes to any dating show similar to "Love is Blind," the first step after the credits roll is to engage in a deep Google dive to see who's still together and who's now dating someone new. It's simply a must. Well, before the reunion episode even aired, fans were already deep down a rabbit hole of whether Deepti Vempati and fellow contestant Kyle Abrams were dating. 
Kyle had his own messy time on the show, where he chose to pursue a hesitant Shaina Hurley, only to eventually have her disappear from their honeymoon and call the engagement off, per Stylecaster. Rumors began to swirl that Deepti and Kyle were likely dating, and they wasted no time teasing the public. Hours before the reunion aired, Kyle posted a TikTok quickly flashing a peek at Deepti standing beside him. The rumors were further fueled by Shake Chatterjee sharing screenshots of his texts with Shayne Jansen, where he seemed to believe the couple would announce their relationship during the reunion, according to Showbiz Cheat Sheet.
Well, Shake's suspicions were somewhat confirmed during the Netflix reunion when Kyle admitted his one regret from the show: "My biggest regret is not аsking Deepti to mаrry me ... She's аmаzing, аnd I аdore her. My greаtest regret is thаt I did not see whаt wаs right in front of me." And when asked whether she was pursuing any other relationships from the show, Deepti teased, "Yeаh, I'm sort of exploring thаt." It looks like something could be brewing.