Why This Royal Expert Is Advising Harry And Meghan Not To Come Back To The UK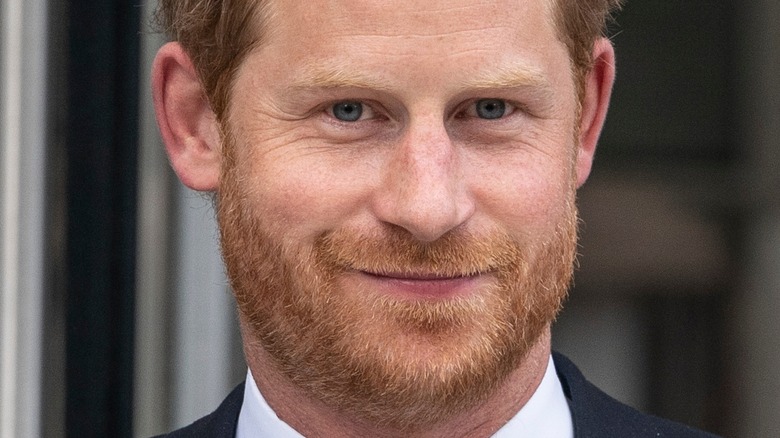 lev radin/Shutterstock
How time flies! March 2022 marks two years since Prince Harry and Meghan Markle had their final royal engagement before stepping away from their palace duties (per Reuters). The controversial "Megxit" decision sparked equal parts outrage (How could Harry betray his family that way?) and applause (Good for them — they deserve to live their own lives!). 
But now that the Duke and Duchess of Sussex are happily resettled in California with their two children, the debate has turned to when — and whether — they should ever return to the U.K. After their daughter Lilibet Diana was born, rumors swirled that they were battling the royals for the right to have her christened at Windsor Palace (via Daily Beast); even at this writing, the christening details, if any, are under wraps. (A royal source claims that Lilibet was secretly christened in California in December, per Express.)
With Queen Elizabeth's Platinum Jubilee on the horizon, the question of Meghan and Harry's return has become more urgent — and more heated. Harry has petitioned the British government to give him and his family an official police detail for future visits home, saying through his lawyer (via BBC), "He does want to come back to see family and friends and to continue to support the charities that are so close to his heart." Though the Sussexes have yet to announce their travel plans, at least one royal expert thinks it might be best for them to stay across the pond for now.
Would Harry and Meghan 'steal' the queen's spotlight?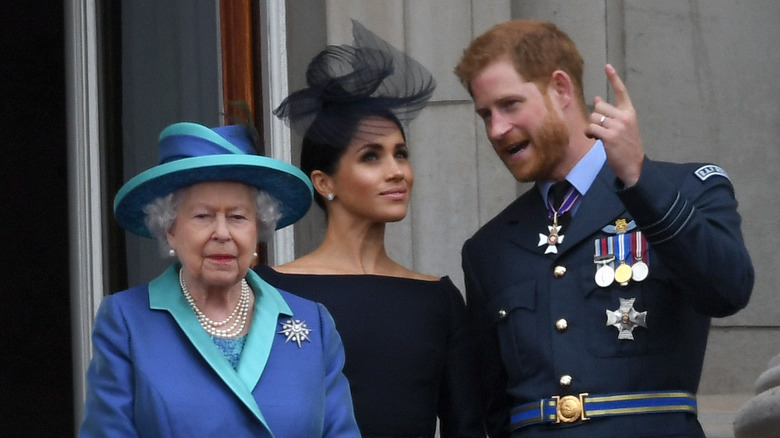 Anwar Hussein/Getty Images
As of February 7, 2022, Queen Elizabeth is the first British monarch ever to reign for 70 years. To mark this historic occasion, the palace is planning a series of special events throughout the year, including a four-day-long Platinum Jubilee weekend from June 2-5, according to the royal website. It would seem only fitting to have Prince Harry and his family attend his grandmother's history-making celebration. It would also be an opportunity for the queen to meet her namesake great-granddaughter, Lilibet. However, royal expert Jonathan Sacerdoti believes this isn't the time for the Sussexes to plan a trip home.
Speaking on Us Weekly's "Royally Us" podcast (as reported by The US Sun), Sacerdoti explained that Harry and Meghan would "steal" attention away from the queen if they chose the Jubilee for their first visit back to the U.K. post-Megxit. He added that the couple "don't like to do things quietly, they don't like someone else to be the centre of attention when they're around, and I think that where Harry and Meghan go, it's the Harry and Meghan show." He also cited the "low opinion" the British public currently has of Meghan: "I think she would be very brave to come back to the U.K."
Still, Sacerdoti allows that if the black-sheep royals can manage to keep a low profile, then making the trip "will probably be very nice and it might rehabilitate them somewhat towards the British people. [But] I don't really think that's their style anymore."