How To Do Your Makeup Like Grace Jones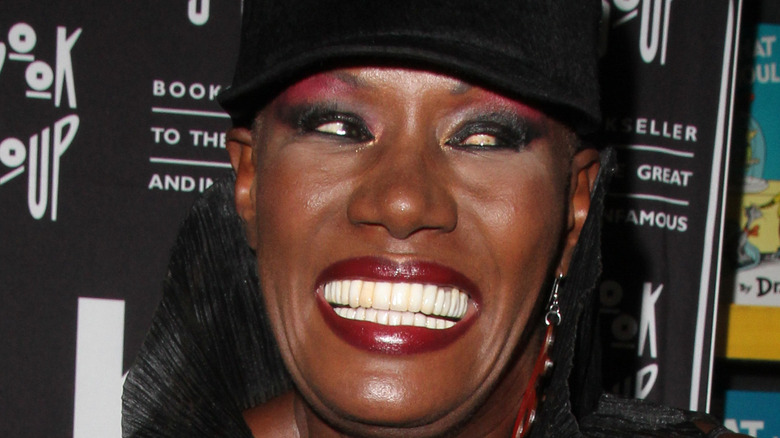 Kathy Hutchins/Shutterstock
Since she took her first steps into the limelight in the early 1960s, Grace Jones has been getting the attention of fans all over the world with her glamorous style and chart-topping hits. The Jamaican singer released several albums throughout the 1980s, including "Warm Leatherette" and "Inside Story," and then took a hiatus from music until her most recent album, "Hurricane," was released in 2008 (via Discogs). In her younger days, Jones dominated the social scenes in cities all over the world in the company of fashion icons such as Jessica Lange and Karl Lagerfeld (via the BBC, Tatler).
Despite her long absence from the world of music, Jones has managed to maintain relevance through countless high fashion magazine shoots and iconic looks captured on camera (via the BBC). She is lauded by Vogue as "the ultimate fashion muse," with fashion enthusiasts applauding her ultra-chic androgyny, and glam lovers have been attempting to recreate her makeup looks for years.
Much like the "Love Is The Drug" singer's personality, Jones tends to keep her makeup bold. Her flawless face almost always features a bold red lip, an eye-catching and transformative contour, and plenty of eyeliner. The look has an ultra chic '80s night out vibe to it, and celebrity makeup artist Terry Barber has been working with Jones to create it for years (via L'Officiel USA). While it might take a couple of tries to get just right, it's a look you can likely recreate at home.
Start with strong eyes and face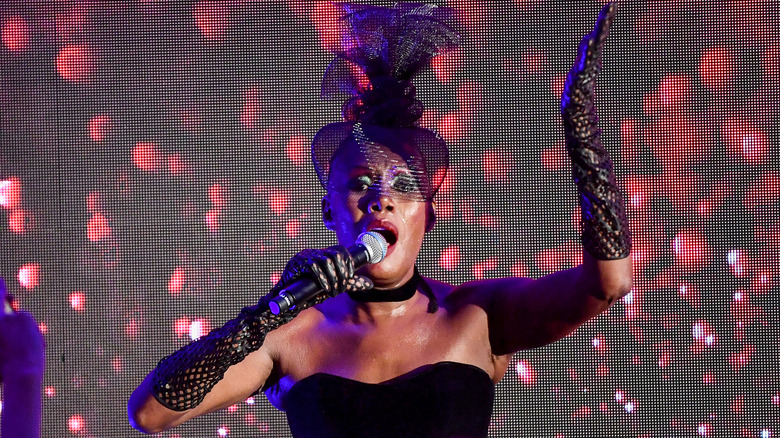 Gareth Cattermole/bfc/Getty Images
Grace Jones' face has been printed on the front of tons of magazines over the course of her decades-long career. Her eye-catching looks never fail to make for the perfect shot. Jones' beauty collaborator, Terry Barber, emphasizes the importance of imperfection when it comes to beauty. Jones' glam looks often feature boldly smudged eyeliner, making it the perfect statement look to experiment with if you don't quite have the steady hand of a celebrity makeup artist (via L'Officiel USA).
In a video with Vogue, makeup artist to the stars Charlotte Tilbury recreates Jones' signature look on the face of a model. The basis of the look is some foundation, which can be any of your own choosing, and a generous amount of smudged black eyeliner that travels past the corner of the eyes towards the hairline. She then smudges a bit of black pencil liner along the lash line to create more structure. To add even more dimension and more structure, the artist uses a shimmering neutral above the liner. As she applies the shadow, you can see the eyes begin to pop. Once Tilbury finishes with the eyes, it's time to contour.
Don't be shy with color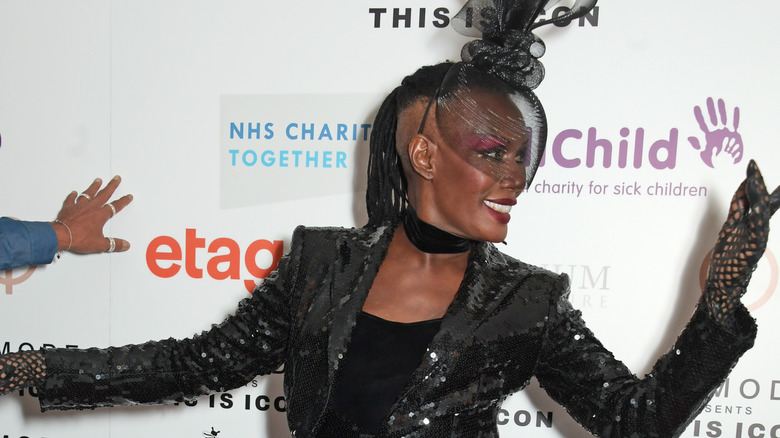 David M. Benett/Getty Images
Makeup artist Charlotte Tilbury describes Grace Jones' bone structure and contouring as graphic, so getting the contour just right is super important in order to pull off this timeless and edgy-chic look (via Vogue). She then adds a heavy contour to both the cheeks and temple to echo Jones' strong bone structure. In the makeup tutorial video produced by Vogue, Tilbury uses two of the shimmering neutrals used on the eyelids to add some high-def contour to the cheeks, a trick that Tilbury notes Jones herself loved to implement. She then goes on to explain that extra focus on the jawline and temple can add major structure to the face a la Jones.
She adds a finishing touch to the nose to complete the contour and shares a helpful demonstration for easy contour application for those who aren't very experienced with the medium. Gently, she adds tiny dots of product to the models face and blends thoroughly. For blush, Tilbury blends some lipstick into the cheeks of the model. Lipliner and lipstick in a bold red hue bring it all together. Ultimately, the finished product screams '80s glam. Tilbury's model for the look, Tammy, looked at herself in the mirror with total satisfaction and said, "I feel like a baby Grace." Tilbury replied, "You are a baby Grace."
Now, you can be, too.