Vanessa Lachey Had Some Choice Words For Shake At The Love Is Blind Reunion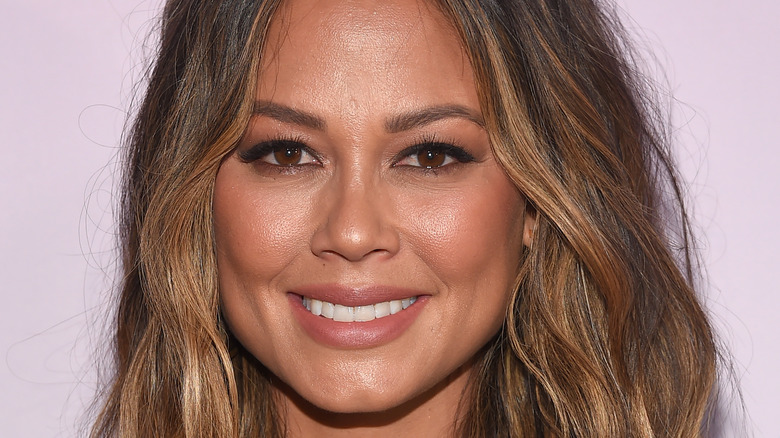 DFree/Shutterstock
When watching any reality TV show, it's natural to get invested in the lives of the participants and get riled up by their wrongdoings. Unfortunately, hosts aren't afforded the same luxury. For example, Bravo's Andy Cohen can't scold every Real Housewife. Instead, he's tasked with remaining neutral and asking questions, even if he does find it hard to contain himself on occasion, according to The Things. However, hosts Vanessa and Nick Lachey didn't quite manage to stay impartial during their time hosting Netflix's "Love Is Blind" reunion.
After a tumultuous season of "Love is Blind," fans couldn't wait to watch it all unravel in the eagerly-anticipated reunion episode. Sure, viewers were curious to see which couples were still together, but everyone seemed more focused on watching Shake Chatterjee attempt to justify his actions. As the villain of Season 2, Shake's weight-focused, shallow, and offensive commentary towards his castmates and ex-fiancee Deepti Vempati — who was nothing but kind and genuine — enraged viewers, per Insider. Once again, Shake left fans speechless when the reunion aired and he proceeded to spend the entire time interrupting everyone. He stood by his actions, claiming that the show's concept is flawed and that physical attraction is a priority, per TODAY. While Shake's castmates attempted to calm him down, no one could have expected that he'd go so far as to hit on host Vanessa Lachey — and rile her up in the process.
Shake Chatterjee tried to hit on host Vanessa Lachey mid-reunion
Among his many inflammatory comments, Shake Chatterjee shocked castmates and fans alike on Netflix's "Love Is Blind" reunion episode when he compared the decision of marriage to "making a big purchase," per Cheat Sheet. This sent host Vanessa Lachey over the edge. "I think you were on ... the wrong show. And what I mean by that is, there are shows where they are based on their looks and if they have a connection. But what I'm saying is that you need to open your heart to the bigger picture," she responded (via Cheat Sheet). The actress went on to accuse him. "You sat there and berated every single one of these women physically, and then went through the process with this beautiful soul over here all because you wanted someone you wanted to f***. Not fall in love with," she said.
The situation escalated from bad to worse when Shake decided to conclude his rant by hitting on Vanessa. "We all have our physical preferences. Listen, every woman here is beautiful. I think you're all beautiful. I'm not attracted to all of you," he said, per TODAY, before concluding that the only woman in the room he was attracted to was Vanessa. This landed poorly with both Vanessa and Nick Lachey. "I've done nothing but berate you this entire time," Vanessa snapped back. "That's a messed up relationship." Meanwhile, Nick had a sharp comment of his own in defense of his wife.