Stephanie Beatriz's Reaction When She Learned Of Encanto's Oscar Nomination - Exclusive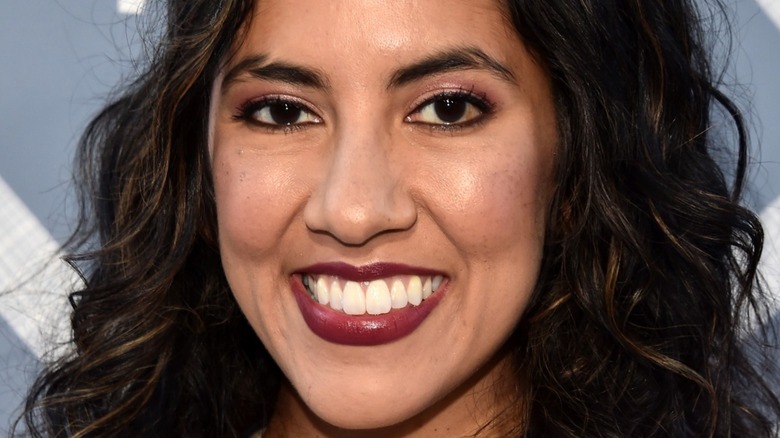 Alberto E. Rodriguez/Getty Images
When "Encanto" star Stephanie Beatriz first got word that the Disney animated film had received three Oscar nominations in 2022, "it was really exciting," she said during an exclusive interview with The List.
To us, however, it was really no surprise. No one has been able to stop singing every song from "Encanto" — which were penned by "Hamilton" creator Lin-Manuel Miranda — since the movie premiered in November 2021.
While "Encanto" has been busy receiving worldwide attention, Beatriz, who plays main character Mirabel, has been spending time working on other projects, like hosting the podcast "Twin Flames" and bonding with her new baby. 
In fact, she was hanging out at home with her daughter when she heard the big nomination news. "I was also changing a diaper at the same moment," she laughed.
Between giving birth and starring in such a successful movie, Beatriz's life has changed forever. "The dualities of the glamour of an Oscar nomination for the film that I'm in, and also a dirty diaper pretty much encompasses what my life is right now," she told us. 
Yet, while she'd love for "Encanto" to win an Oscar, she'd also still be happy if it didn't — for a very important reason.
Win or lose at the Oscars, Stephanie Beatriz is proud of Encanto's impact on the world
Since starring as Mirabel in Disney's "Encanto," Stephanie Beatriz's trips to Disneyland haven't been the same. "Walking around the park and seeing all these kids dressed as characters from the movie was really moving," she told The List of her most recent visit.
When young kids see themselves represented on the big screen in "Encanto" — moments that many delighted parents have shared online via viral videos — it makes Beatriz proud to have been part of the project. With or without winning any awards, the movie has already made a hugely positive mark on the world, in her opinion. 
To have the film's inspiring message acknowledged by the Academy of Motion Picture Arts and Sciences would just make it even more incredible. "So many people at Walt Disney Animation worked so hard for so long, and they deserve to be recognized in that way," Beatriz said.
Even so, she won't be shedding any tears if "Encanto" walks away with zero Oscars. "That's okay, too," she said. "Because the legacy of the film is going to live on, I think, for a long time."
You can hear Stephanie Beatriz now on "Twin Flames." New episodes are available to stream every Monday, but you can listen early by subscribing to Wondery+ in the Wondery app.