Everything We Know About Vicki Gunvalson's New Man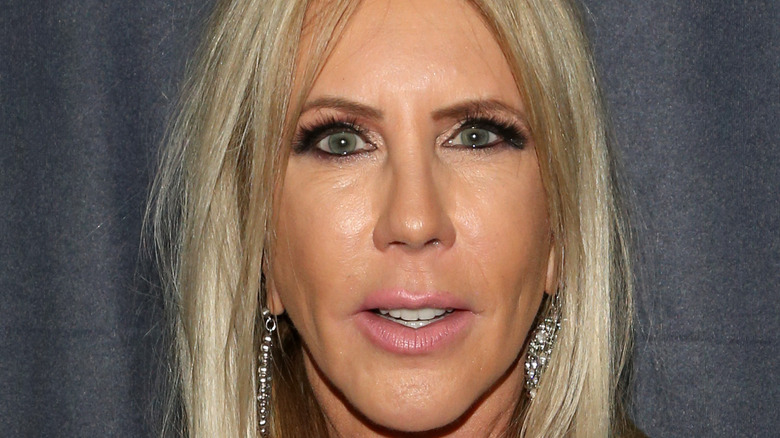 Gabe Ginsberg/Getty Images
Since "The Real Housewives of Orange County" premiered on Bravo in 2006, Vicki Gunvalson has been starring in the series and capturing the attention of fans with her larger-than-life presence. When the TV series first aired, Gunvalson had been married to her second husband, Donn Gunvalson, since 1994. The couple divorced in 2014 in a very public split. Previously, the reality star was married to her first husband, Michael Wolfsmith, from 1982-1991. Gunvalson and Wolfsmith share a son, Michael, and a daughter, Briana. In April 2019, Gunvalson got engaged to Steve Lodge but the couple split in late 2021. In February 2022, Gunvalson had revealed that she had a new man in her life.
As the new relationship continues to develop, Gunvalson is staying quiet in regards to the true identity of her new beau. This didn't stop her from gushing about him to friends and fans, however, as she told People, "He's a really great guy. He's quality. We've been spending a lot of time together. And best of all, he wants nothing to do with the spotlight — he's very private. We're enjoying getting to know one another." So, what do we know about the mystery man?
Vicki Gunvalson's man is private, but she made the relationship public
In an Interview with People, Vicki Gunvalson explains that her new boyfriend is very private, so she hasn't been especially public about the relationship. While Gunvalson has not yet confirmed the identity of the new man in her life, she did share a photo of the pair enjoying a night out in Austin, Texas to her Instagram story this past Friday night. In the photo, Gunvalson and her mystery man go in for a kiss in a swanky cocktail bar with an emoji heart between them that the "Real Housewife" added. She did reveal to People that her new man is a Texas native.
According to the reality TV star, this new romance is everything she ever wanted. She said of their initial meeting, per People, "I gave him an 18 [item] list of what I want in my next person because [through] all the books you read and all the self-help, you manifest your person right? So, I manifested him and he had everything but one [quality I wanted], including wearing cowboy boots and loves country-western music. He doesn't have a boat and I'm like, okay, I'll take that one off." It seems like this budding romance is set to bloom.