These Are Affordable Dupes For Becca Cosmetics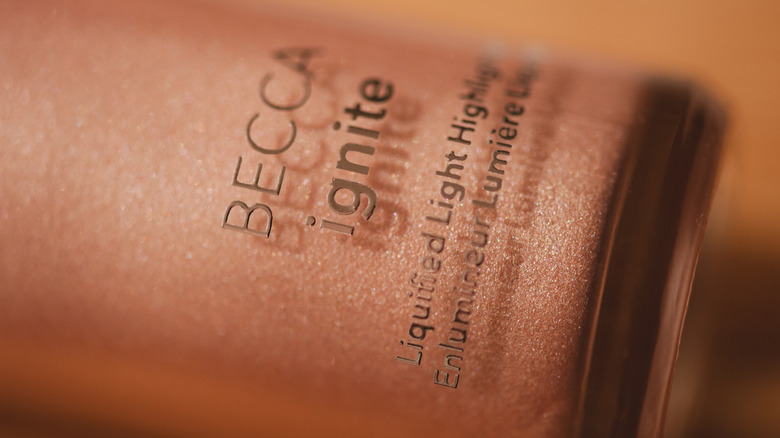 morrowlight/Shutterstock
It was truly the end of an era when Becca Cosmetics announced they were shutting down for good last year. The trend-setting brand helped popularize the natural, radiant glow you get from basking in the sun and offered cult-favorite products ranging from bronzers to primers. Now that the brand is gone, the question is if you can dupe some of its best-sellers. 
The good news is that there are several options on the market that provide the same results. And some of these Becca dupes are even available at the drugstore. We compiled a guide of all the products that will give the "Becca babe" look for just a few bucks.
Becca's priming filters gave that effortless "beach gal" glow that could be worn alone or under a foundation for a luminous finish, nixing the need for that Paris filter on Instagram. If you liked the candlelight glow that the Backlight Priming filter gave, then you will love Physicians Formula Spotlight Illuminating Primer or NYX Cosmetics High Glass Face Primer in Moonbeam (via Finding Favourites).
The First Light Priming Filter catered to those looking to color-correct sallow skin with its hydrating formula and lavender tone that brightened the skin, per E! Online. According to Lipstick Narratives, an affordable dupe to the powerhouse primer is e.l.f Cosmetics Tone Adjusting Primer. The lavender primer color-corrects and evens out discoloration. To replicate the dewy finish of the Becca version, you can mix the e.l.f. primer with a moisturizer.
Pixi makes an affordable dupe for Becca Cosmetics Under Eye Brightening Corrector
Becca Cosmetics Under Eye Brightening Corrector became a fan favorite for its ability to neutralize dark circles with blue undertones, per Finding Favourites. Pixi Correction Concentrate is a near-exact dupe to the Becca corrector, right down to the pot container and similar peach tone. Another product that will give you a similar result is Ulta Under Eye Brightener. Although this corrector is in stick form, the creamy full-coverage formula and brightening pinky-peach pigments is a definite dupe to the Becca version.
Becca's star product was hands-down their pressed highlighters. In 2019, The NPD Group, a market research firm, named the product the best-selling highlighter in the U.S. (via Allure). Their highlighters in universally flattering shades "Opal" and "Champagne Pop" were deemed must-haves, per Finding Favorites. If you missed out on buying those shades, the good news is that the beloved drugstore brand Wet-n-Wild offers equally comparable highlighters at a fraction of the price. 
If you prefer the golden-yellow undertones of "Champagne Pop," then you will love Wet-n-Wild MegaGlo Highlighting Powder in Golden Flower Crown. Conversely, if you're looking for a highlighter with more neutral undertones, then you might want to pick up Wet-n-Wild MegaGlow Highlighting Powder in Precious Petals.
Colourpop Super Shock Highlighters dupe the Becca Shimmering Skin Perfector Poured Creme Highlighter
An underrated product, Becca Shimmering Skin Perfector Poured Creme Highlighter was discontinued before the brand closed, per The Lipstick Narratives. The formula melted into the skin, giving the effect of a naturally dewy complexion. To get a similarly dreamy finish, try a Colourpop Super Shock Highlighter.
Blogger Stephanie Marie also recommends several affordable Becca Cosmetics dupes. L'Oreal Colour Riche Shine Lipstick is a near spot-on dupe for Becca Hydro-Light Plumping Lip Balm. The L'Oreal version doesn't plump your lips, but the refreshing, hydrating effect is similar. For a pinky-peach blush shade similar to Becca Mineral Blush in Flowerchild, Stephanie suggests CoverGirl Trublend So Flushed Blush in Love Me. For a close dupe to the Becca blush in Wild Honey, she recommends the blush shade in e.l.f. Cosmetics Bite Size Face Duo in Spiced Apple. To get the Australian beach-inspired tan glow that Becca Cosmetics was known for, try the L'Oreal Bronze Please Bronzer in 03 Amalfi. This bronzer is basically the combination of Becca Sunlit Bronzer in Bronzed Bondi and Capri Coast, which will give you the ultimate sun-kissed summer glow.
While we're still mourning the loss of one of the most iconic beauty brands, it's comforting to know that there are dupes out there that will give you the same look without breaking the bank.