What To Buy From Becca Cosmetics Before It's Gone For Good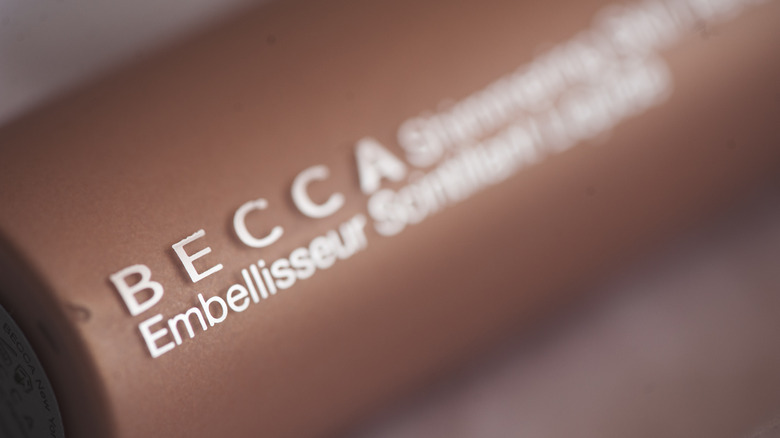 Shutterstock
The 2010s were especially known as a trend-setting decade. One of the signature trends to come out of the latter half of the decade was the blinding face highlight. And if there's one company that helped pioneer the trend, it's Becca Cosmetics (via Insider). Their highlighters became a staple in just about every woman's makeup bag. But now, Becca Cosmetics will be shutting its doors for good after 20 years because of the financial losses they faced during the pandemic, according to the company's press release. Perth-based makeup artist Rebecca Morrice Williams started Becca Cosmetics in 2001, per BBC. The company was acquired by Estée Lauder in 2016, who made the final decision to close the business (via Insider). 
Becca popularized the dewy, beach-inspired look through their products. So it should be no surprise that one of their most iconic products is their Shimmering Skin Perfector pressed highlighter. In fact, the product was named as the best-selling highlighter in the U.S. just two years ago by market research firm, The NPD Group (via Allure). If you are into the blinding highlight trend, you can't go wrong with their highlighter in the Champagne Pop shade. Champagne Pop is a universally-flattering soft gold with a peachy-pink reflect, per Becca Cosmetics. According to Allure, the Champagne Pop shade won Allure's Readers Choice Award last year, citing its neutral undertone. 
Become a glow-getter with these products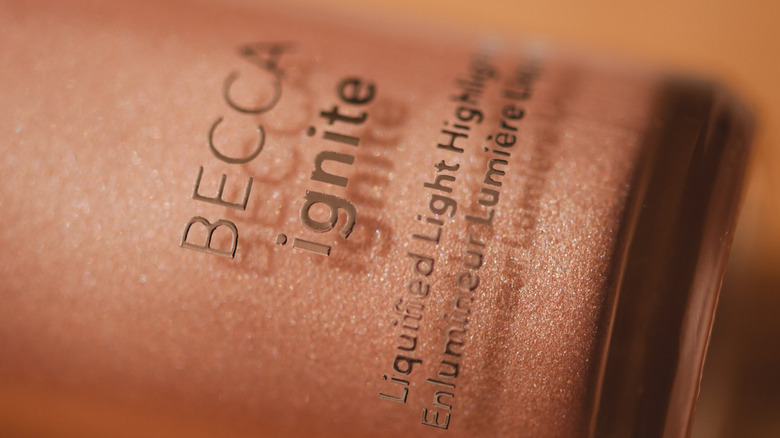 Shutterstock
There are several other highlighter shades from those that correspond with skin tone shades, to those with multi-dimensional shifts. According to E! Online, fair-skinned people should consider Moonstone or Rose Quartz, medium/tan-skinned people should buy Opal, and those with dark/deep complexions should check out Topaz or Chocolate Geode. If you are looking for a statement-making highlighter, try lilac geode or golden mint, which offer a muted take on colorful highlighters. Their latest highlighter release in the shade "Hi Angel" is a highlighter close to their Opal shade, but with a slight blue shift, per Becca Cosmetics. This highlighter was created in partnership with The Trevor Project, an organization that helps prevent suicide among LGBTQIA+ youth.
For a lit-from-within look, Becca's Backlight Priming Filter can help you achieve the perfect Insta-ready glow, sans actual photo filters (via E! Online). Women's Health says the primer helps perk up your complexion so much that you could skip out on concealer or foundation for a perfect "no-makeup" look. According to Becca Cosmetics, the product contains vitamin E, brightening licorice root extract, and "soft-focus" pigments that mimic the angelic glow a real-life backlight provides. While it is marketed as a luminous primer before foundation, E! Online suggests mixing a pump of the product with your foundation for the ultimate glow. If you prefer a subtle sheen, you can also apply this product as a liquid highlighter on your cheekbones for a wet look.
Try these Becca products for a flawless complexion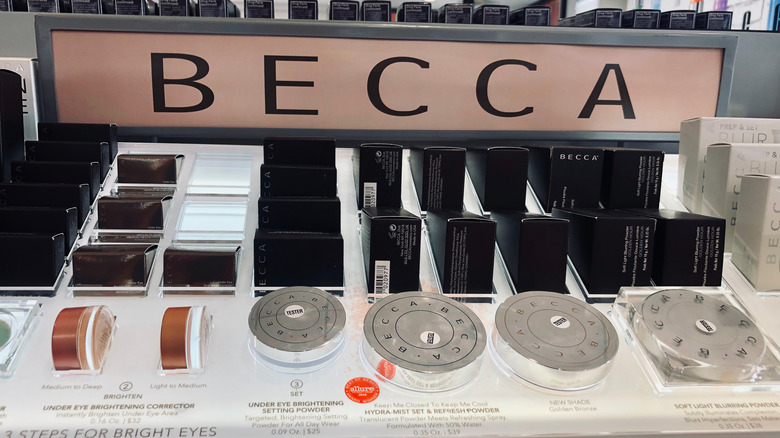 Shutterstock
On the other hand, if you suffer from sallow, dull skin then you might want to buy the First Light Priming Filter, per Beautylish. This product has a lavender tone to it, which helps to brighten and hydrate the skin — prepping the skin for foundation application (via E! Online). According to Becca Cosmetics, the product contains vitamin E, hyaluronic acid, prickly pear and ginger. The primer uses cool light technology to give the face a refreshed look.
Women's Health also recommends Becca's Undereye Brightening Corrector. The product has peach and apricot pigments in it which help to neutralize undereye circles with blue-toned discoloration, as well as the same backlight technology in their Backlight Priming Filter to deflect shadows, per Sephora. 
E! Online also recommends their Ultimate Coverage 24-Hour Foundation. The foundation is a full-coverage formula that claims to stay on for 24 hours. Although it is full-coverage, it is a lightweight, breathable formula that looks natural on the skin and not cakey, making it a great choice for acne-prone skin. According to Women's Health, the science behind the magic is that the product contains 21% pure pigment and 22% water. So now that you know all about Becca's hero products, make sure to stock up before Becca is gone for good. Bye-bye, Becca! You will be missed.