Fans Are Absolutely Seeing Red Over Morgan Wallen's 2022 ACM Award Win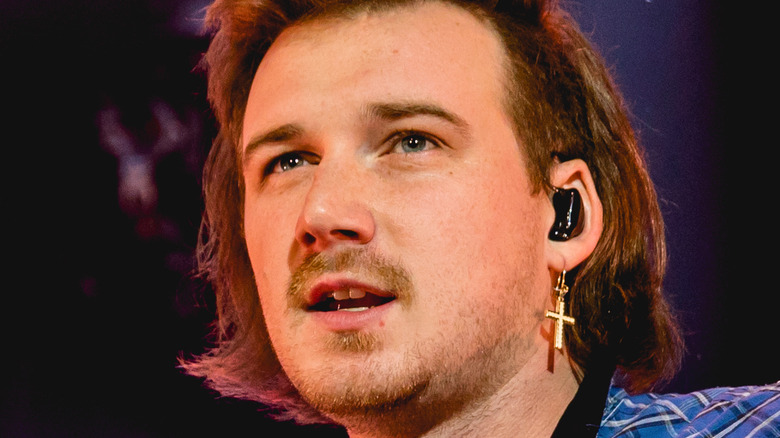 Tony Norkus/Shutterstock
Controversial country artist Morgan Wallen's win for album of the year has people talking about the 2022 Academy of Country Music Awards — and not everyone is celebrating. Winning the award for 2021's "Dangerous: The Double Album," Wallen faced off against big-name country artists including Carly Pearce, Thomas Rhett, and Chris Young. Jack Ingram, Miranda Lambert, and Jon Randall's group effort "The Marfa Tapes" was also in the running, according to Yahoo! Wallen is additionally nominated for male artist of the year. There he faces off against Jimmie Allen, Luke Combs, Thomas Rhett, and Chris Stapleton.
While critically acclaimed, Wallen's previous controversy colors his latest win. The "Cover Me Up" singer was caught on camera using racial slurs in 2021 and was subsequently dropped by his label. For a while it appeared as if the general condemnation of other artists and public outcry might tank his career (via CNN). Obviously that wasn't the case, and providing an honor so soon after such a large faux pas has many up in arms — or at least confused. As one viewer asked on Twitter, "Morgan Wallen.... Is this a joke or something?"
To some, Morgan Wallen's win feels like a loss for others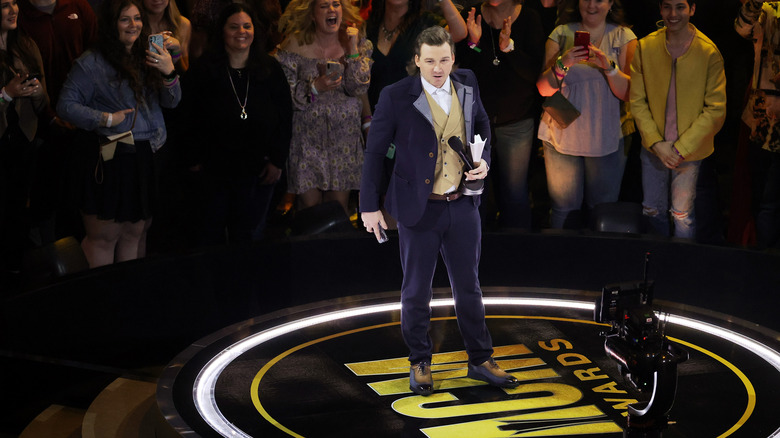 Ethan Miller/Getty Images
The online debate about his win didn't seem to question Morgan Wallen's talent. Instead, people highlighted his offensive language and how recently this scandal occurred. An angry Twitter user shared, "Morgan Wallen wins Album of the Year. Racist country fans can rejoice!" Another angry fan added some strong language we'd rather not share. "We stan Marren Morris and all country artists who did not clap when Morgan Wallen won," they began their message. Yet another disheartened fan added, "By awarding Morgan Wallen Album of the Year tonight the Academy of Country Music voters are saying they don't take racism very seriously. They're saying they don't care about 1) the black fans of country music or 2) potentially gaining black fans of country music. It's despicable"
As with anything in our current U.S. culture; however, there were representatives of both sides of this debate. One happy Twitter fan described the win gleefully. "Morgan #Wallen wins Album of the Year for Dangerous! THE CANCEL CULTURE HAS BEEN CANCELED," they enthused. On a lighter note, another Twitter fan added some colorful award show fashion commentary. They said that his outfit made the singer look like he was "possibly auditioning to be the lead in the touring company for 'Hamilton.'"