Why Twitter Didn't Even Care About Dolly Parton's Mistake At The 2022 ACM Awards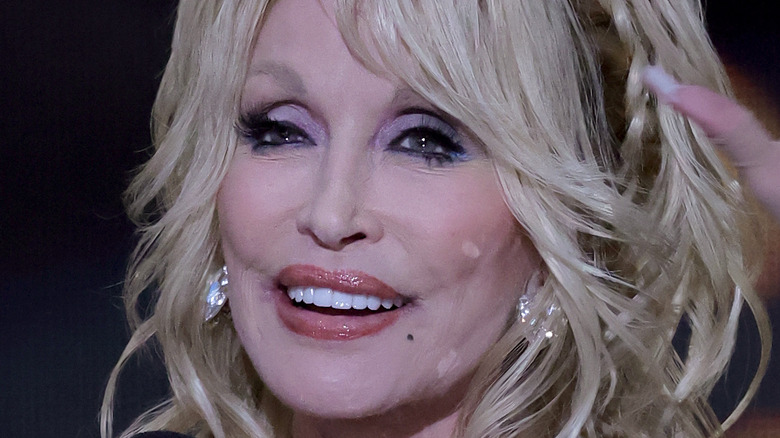 Kevin Winter/Getty Images
The 2022 Academy of Country Music Awards honored today's stars, but the ceremony was dominated by the cultural icon that is Dolly Parton. As part of her performance as the evening's host, alliteration caused a little confusion when she announced a duet with Kelsea Ballerini and then later a song by Kelly Clarkson. The "Jolene" singer accidentally introduced Ballerini as "Kelly Ballerini" (via Hello!). Thankfully, both stunning performances simply overshadowed any commentary.
As Parton described in advance, "I'm gonna be doing a number in the show with Kelsea Ballerini, we're gonna be doing one of the songs from my 'Run, Rose, Run' album," (via Yahoo!). In turn, Clarkson performed a tribute to Parton's original song "I Will Always Love You," which was popularly performed by the late Whitney Houston. "I know that Whitney is smiling down tonight" Parton said after the awe-inspired rendition. She also mentioned that she listened, "trying not to cry my eyelashes off and slinging snot in every direction" (via Variety).
Sure, Dolly Parton accidentally got some names mixed up, but fans simply didn't seem to care ...
Queen Dolly Parton can seemingly do no wrong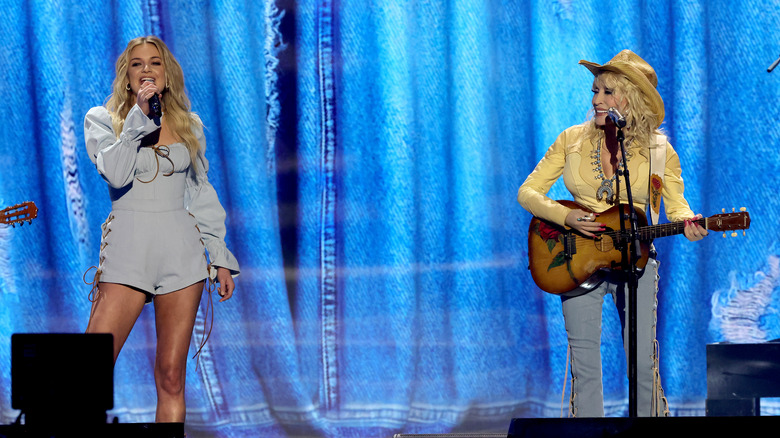 Kevin Winter/Getty Images
Dolly Parton's fans were more than happy to grant grace to the beloved country star and appeared completely unbothered by any misspoken words at the 2022 Academy of Country Music Awards. In the words of a lifelong follower, "I'm only watching the ACM awards for Dolly. I've loved her since I was a small child" (via Twitter). Another viewer stated that the "9 To 5" singer "is STILL amazing." They included the #LivingLegend hashtag to describe her legacy.
Literally, most fans didn't seem mind. Some stuck up for the faux pas. "If Dolly says you're Kelly, god*****t you're KELLY," one tweeted. Another fan simply enjoyed the performance. "Dolly + Kelsea = MAGIC," they wrote. We really aren't kidding; fans not only loved the show, but some even appreciated the authentic errors. One posted, "Dolly Parton f****ng up everybody's name on the ACMs is giving me life." We get it!
So Kelly, Kelsea, and any of the other female singing superstars who graced the stage tonight — whatever your name is, as far as we're concerned, all of you killed it.