What We Know About Addison Rae's New Snapchat Series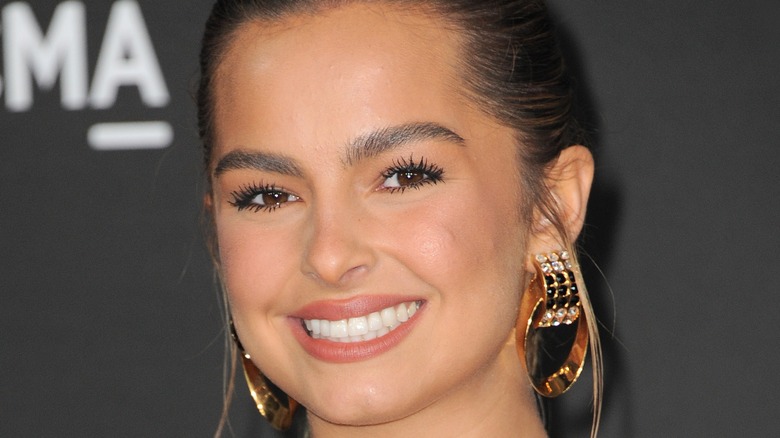 Tinseltown/Shutterstock
Every new social media platform has introduced us to a new era of influencers. Likewise, when it comes to TikTok, the first names that come to mind are Addison Rae and Charli D'Amelio. Both bubbly teens were breakout stars on the platform, and they danced their way to millions of followers across social media. Not only has Addison Rae (and her now-iconic nose scratch) amassed 86.7 million followers on TikTok, but she also boasts 40.4 million followers on Instagram, as of this writing. It's safe to say that Rae's fame has far surpassed TikTok dance routines. In 2021, she starred in the Netflix movie "He's All That," and even scored an invite to the prestigious Met Gala, per Elite Daily. (Twitter wasn't too happy about that last one, though!)
By now, it feels like Rae has dipped her toe into almost everything. She's even cemented her place as Kourtney Kardashian's BFF and found her way onto the set of "Keeping Up With The Kardashians," per Refinery29. With TikTok in the rearview, Rae spends her time hopping between fashion weeks and cooking up new releases for her very own beauty brand, "Item Beauty," according to Harper's Bazaar. It seems the sky is the limit for the 21-year-old — and as of late 2021, she announced that she's taking her talents to Snapchat.
Addison Rae is returning to her Louisiana roots
While Addison Rae has built up an empire by launching her own brand and pursuing a music career, social media is her main claim to fame. Therefore, it seems fitting that Rae's next project is a return to social media, this time on Snapchat. Despite her international fame, this Snapchat conquest is all about embracing her roots. Rae first teased the Snapchat series in October 2021, by sharing a promo photo on her Instagram Stories that announced the upcoming series, "Addison Rae Goes Home," per Elite Daily. Having moved to LA to pursue her career as a teenager, the Louisiana native plans to head back to her hometown with her family and reconnect with her past life. 
In March 2022, Snapchat released a full trailer for "Addison Rae Goes Home" (via YouTube) that teases all that's to come. The Snap Originals series gives fans an inside look at Rae's escape from LA, and shows a more personal side to her as she reconnects with family and friends. Per People, Rae explains that she's "back in Lafayette to reconnect with my family and friends, and to revisit my roots." The trailer then showcases some touching heart-to-heart conversations between Rae, her mother Sheri Easterling, and her grandparents. Rae concludes the trailer with the teasing question, "My life has changed so much in the last few years. But have I?" (via People). As the outlet notes, the series will premiere on March 30, 2022.