Why We Can't Wait To Ditch Cropped Cardigans In 2022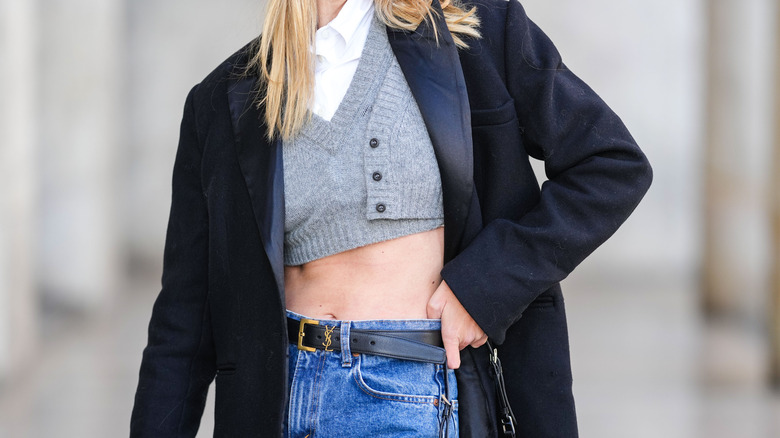 Edward Berthelot/Getty Images
A cozy cardigan is a necessary winter staple and is a classic look that never goes out of style. Coco Chanel created button-down cardigans for women –– prior to her time they were more like sweater coats –– because she found it easier to wear than a pullover sweater without messing up your hair. Interestingly, the name "cardigan" comes from the 7th Earl of Cardigan and a lieutenant general in the British army, James Thomas Brudenell, famous for wearing a fur-trimmed, woolen sleeveless waistcoat to stay warm, per Savoir Flair. And, of course, Taylor Swift shouted out the classic, cozy sweater in the song "Cardigan" on her album "Folklore."
Another major fashion trend that we see on celebrities and the streets is crop tops, which Indian women have been rocking for centuries with their saris. Crop tops have been trending (again) for a few years. In 2020, French actress Marion Cotillard wore a crop top set at the Cannes Film Festival (via Tatler), and we started to see high-end designers add it to their collections. It is more demure than exposing your cleavage by showing a peek of your midsection. Soon after, we saw the birth of cropped cardigans, and we continue to see the likes of Kendall Jenner and Bella Hadid wear them on their coffee runs.
Cropped cardigans are having a moment in fashion because they provide a fresh silhouette and remind you of spring, but are they really practical?
Cropped cardigans aren't flattering on everyone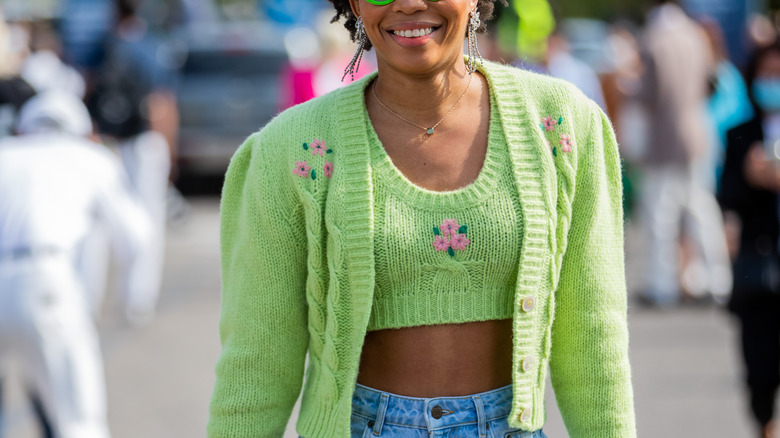 Christian Vierig/Getty Images
Not entirely. For one, a cropped cardigan is shorter, so it doesn't provide the warmth of a full-length cardigan. When choosing a piece of knitwear, you often want to make sure it doesn't make you look frumpy. Fashion is personal, and in the end, you should wear what makes you happy. If you are looking to give the illusion of a taller silhouette, you should choose a long and flowing cardigan, per the style blog La Donna di Charme.
Just because it is having a moment in fashion doesn't mean you need to follow it. Instead, you should try trends that look good on your body. Style bloggers at Fashion Lorraine don't recommend wearing them with long tops as they look unflattering and can create a weird shape. Before jumping on the bandwagon of the latest trends, you also need to consider your own body type. While the style can look great on all sizes, if you're petite or curvy, a cardigan that hits right at the waist keeps you on trend.
If you're looking for coverage, whether for warmth or modesty, it's probably time to ditch (or never pick up) the cropped cardigan trend.