Kamala Harris' Response To A Question About Ukrainian Refugees Has Twitter Seeing Red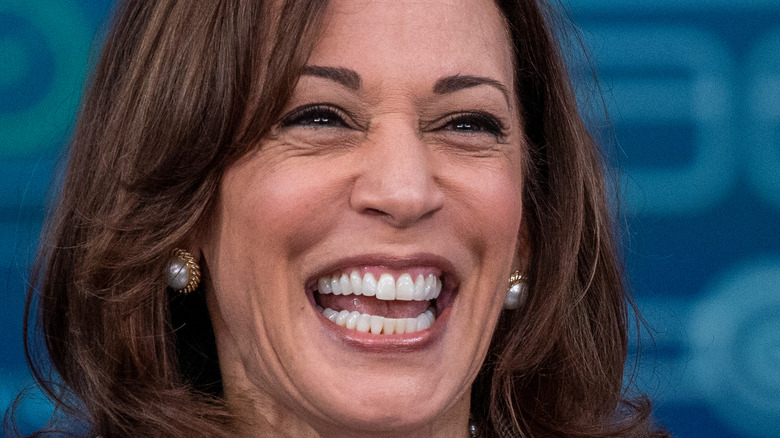 Bloomberg/Getty Images
Since Russia's invasion of Ukraine, the world has been heavy with thoughts, prayers, and policies towards those fighting. It's been a somber time, whether you are directly affected by the war or seeing it unfold before your eyes. So, when Vice President Kamala Harris cracked a joke and a laugh during a press conference with Poland's President Andrzej Duda, people were not exactly thrilled (via New York Post).
Vice President Harris met with President Duda on March 10 to discuss, among many urgent topics, the Ukrainian refugee crisis. Towards the end of the press conference, a reporter asked Vice President Harris if the United States had plans to take in more refugees. After the question, Harris looked awkwardly at President Duda before saying, "okay." After an awkward silence, Harris cracked a joke saying, "A friend in need is a friend indeed," before laughing. It seems Twitter is not happy with Vice President Harris' response to the question, which they're reminding her is no laughing matter.
Harris laughed after asked a question about Ukrainian refugees
The issue Twitter seems to have with Vice President Kamala Harris' response is her cracking jokes during such a serious time. They believe this is no laughing matter because lives are at stake in Ukraine. While she didn't say whether or not the United States will be accepting more refugees, she did say that Ukrainian citizens in the United States on a visa will not have to worry about leaving if it expires (via New York Post). 
"Only Kamala Harris would find it appropriate to laugh when talking about the topic of Ukrainian Refugees," Benny Johnson said on Twitter. Meghan McCain echoed the sentiment, saying, "...she's had ample time and resources to media train herself out of reacting to every SINGLE crisis situation like she's walking onto a late night show." 
It's not just political correspondents who are irked by the vice president's response. One Twitter user asked, "I don't get it. Why doesn't anyone ever just ask what's so funny? What are you laughing about?" Fingers crossed that statements are taken seriously by Harris from here on out.