The Heartbreaking Death Of Sesame Street's Emilio Delgado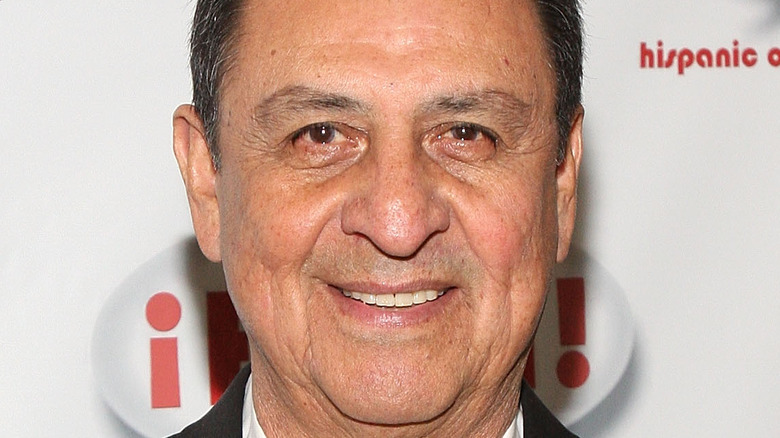 Ben Hider/Getty Images
Emilio Delgado, the actor best known to children of all ages as Luis the handyman on "Sesame Street," died March 10, 2022 at his home in New York City, according to The New York Times. The 81-year-old performer had been battling multiple myeloma, a blood cancer, since December 2020, according to his wife, Carole Delgado.
Carole also told TMZ the Mexican-American actor appeared in the theater production "Quixote Nuevo" until it was shut down due to the COVID-19 pandemic, but he continued to do voice acting work as recent as January 2022. However, the highlight of his career was playing Luis on the beloved PBS children's show for 44 years, beginning in 1971 and ending in 2017. His character was the owner of The Fix-It Shop, where he helped characters such as Big Bird and Elmo fix a variety of objects. In a popular storyline, Luis courted Maria, played by Sonia Manzano, until the two married in a widely viewed episode in 1988.  
Born in 1940 in Calexico, CA, Delgado began acting in 1968 on the Mexican-American soap opera "Cancion De La Raza." He was also a recurring cast member on "Lou Grant" and made guest appearances on "Hawaii Five-O," "House of Cards," and "Law & Order: SVU."
Delgado was also a social activist
As Emilio Delgado's Twitter biography notes, he holds the record for portraying "the longest-running role for a Mexican-American in a television series." He also told the Houston Chronicle in 2020 that it was an achievement he was proud of, especially since Latinos are often portrayed as criminals — when they are recognized at all. "That's why 'Sesame Street' was such a good thing," he said. "For the first time on television, they showed Latinos as real human beings."
The actor told the publication he loved when fans, especially the young Latinos, thanked him for playing Luis — a role he seemed fond of until his death. His last tweet on February 22 was a retweet of a user's autographed black and white promotional image of him from "Sesame Street" with the comment, "Hola! Happy 2-22-22." 
Delgado was also active in numerous children's charities throughout his 44-year career on "Sesame Street." He served as a board member for the Bayard Rustin Center for Social Justice, a nonprofit organization that seeks to create a "safe space for LGBTQIA kids, intersectional families, and all our beautifully diverse communities," according to its Twitter profile. The organization is planning to celebrate Delgado's life and legacy during its Social Justice Power Hour at 7 p.m. ET March 11 on Facebook.
On its website, the center posted, "We are heartbroken by the loss of our beloved friend and Bayard Rustin Center for Social Justice board member Emilio Delgado. ... He will be missed but his spirit, energy, and kindness remains with us."