How Tiger Woods' Daughter Brought Him To Tears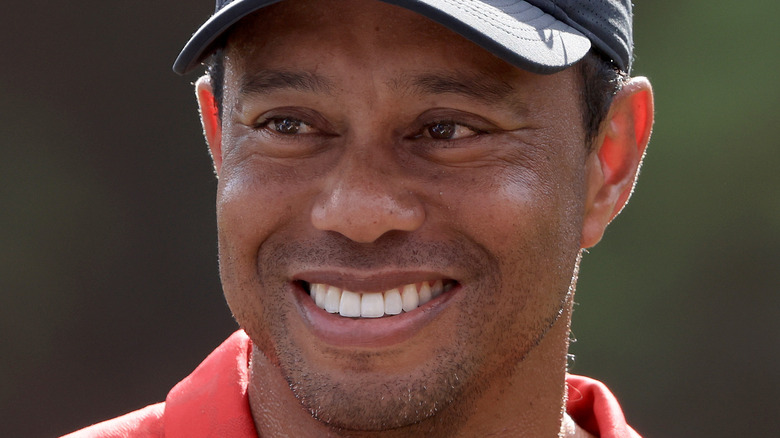 Sam Greenwood/Getty Images
While Tiger Woods is best known for being one of the best professional athletes in the world, the role he clearly relishes the most is being a father to his two children — daughter Sam and son Charlie, whom he shares with ex-wife Elin Nordegren (per Us Weekly). In fact, even after Woods and Nordegren split, the two focused on doing what was best for their kids. "[Tiger and Elin] are working well to make sure that the kids have as much access to them as they want," a source told People. "The kids can go to mom's or dad's anytime they want. And there's very little jealousy over who gets to spend what time with the kids."
His children also played a big part in Woods' recovery from his horrific car accident in 2021, which damaged both of his legs. After surgery, he endured months of rehab and physical therapy, telling Golf Digest it was "more painful than anything [he had] ever experienced." But through it all, he found comfort in Sam and Charlie. "Being a dad has helped him stay focused on his recovery," a source told People. "At times, it's been very difficult for him both physically and mentally. His leg injuries caused him extreme pain. He is a fighter and has been determined to get better though."
And at the World Golf Hall of Fame ceremony, Sam wanted everyone to know how proud she is of her father.
Tiger Woods' family watched him get inducted into the World Golf Hall of Fame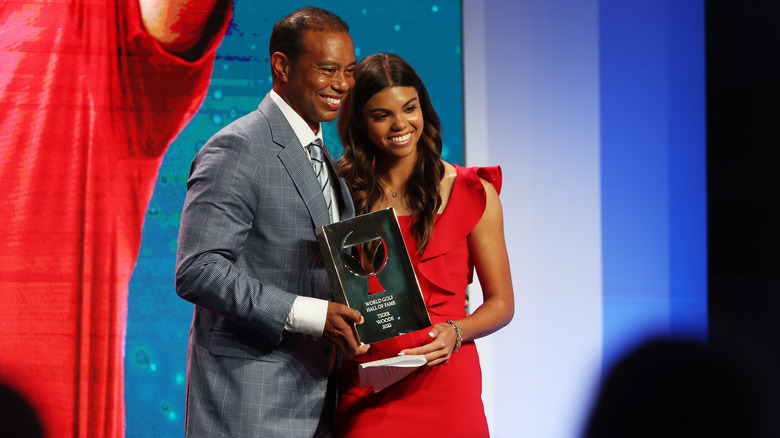 Sam Greenwood/Getty Images
Sam Woods couldn't help but gush over her father, Tiger, during her speech at the World Golf Hall of Fame in Florida. "Dad, I inducted you into the Dad Hall of Fame long time ago," she said (per the New York Post). She then spoke about her dad's 2021 car accident and the recovery that ensued. "We didn't know if you'd come home with two legs or not," Sam explained. "Now not only are you about to be inducted into the Hall of Fame, but you're standing here on your own two feet. This is why you deserve this, because you're a fighter."
Her words brought the champion golfer to tears. "Crap," he joked during his acceptance speech. "I just lost a bet to [Steve] Stricker that I wouldn't cry. Thank you, Sam." In addition to his daughter, son, Charlie, mom, Kultida Woods, 78, and girlfriend Erica Herman were also on-hand to watch Woods get inducted, according to People. "I know that golf is an individual sport," Woods said (per ESPN). "We do things on our own a lot for hours on end, but in my case, I didn't get here alone. I had unbelievable parents, mentors, friends, who allowed me and supported me in the toughest times, the darkest of times, and celebrated the highest of times."