Gabby Petito's Family Makes A Jaw-Dropping Claim In Lawsuit Against The Laundries
Gabby Petito's family is still looking for justice six months after their daughter's body was found on September 19, 2021 (via NPR). The search for the missing 22-year-old began on September 11, 10 days after her fiancé, Brian Laundrie, returned to his home in North Port, Florida without her. The two were in the middle of a cross-country road trip that they were documenting on social media. The Wyoming coroner later revealed that the cause of Petito's death was strangulation, and many believed that Laundrie was the one who killed her.
Unfortunately, Laundrie also went missing as soon as the search for Petito began. As the main person of interest, the search for Laundrie attracted a lot of media attention and even TikTok theories on what could have happened. Some TikTokers even believed that Laundrie was hiding in his parent's backyard to avoid his arrest. However, Laundrie's remains were later found in October on the Carlton Reserve in Sarasota, Florida (via CNN). 
During the investigation, many believed that Laundrie's parents, Chris and Roberta Laundrie, were not exactly the most helpful. Former FBI Deputy Director Andrew McCabe even told CNN that they had "conducted themselves in a very odd way [that] generated a lot of suspicion right from the beginning." That odd behavior has led to a recent lawsuit against the Laundries. 
The lawsuit claims that Brian told his parents about the murder in August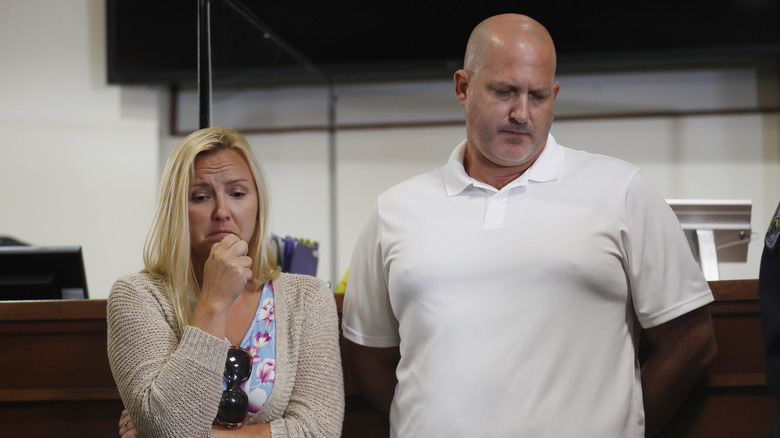 Octavio Jones/Getty Images
On March 10, 2022, Gabby Petito's parents, Joseph Petito and Nichole Schmidt, filed a lawsuit against Brian Laundrie's parents, Chris and Roberta Laundrie. The parents of Petito believe that the Laundries not only hindered the search for their missing daughter, but assisted their son, whom they believe to be Petito's killer, according to Rolling Stone. While Gabby's body was not found until September 19, it is believed that her murder took place in August. However, text messages were sent from Gabby's phone after the fact, which the lawsuit claims was done by Brian to make it appear that Gabby was still alive. 
One of the most jaw-dropping claims in the lawsuit against the Laundries is that Petito's parents believe that Brian told his parents about Gabby's death on or around August 28, according to ABC News. Rolling Stone reports that just a few days later, the Laundries had hired Steven Bertolino as their lawyer on September 2. After this, the lawsuit claims, "In an effort to avoid any contact with Nichole Schmidt, on or about September 10, 2021, Roberta Laundrie blocked Nichole Schmidt on her cellular phone such that neither phone calls nor text could be delivered, and she blocked her on Facebook."
The Laundries were allegedly trying to help their son 'leave the country'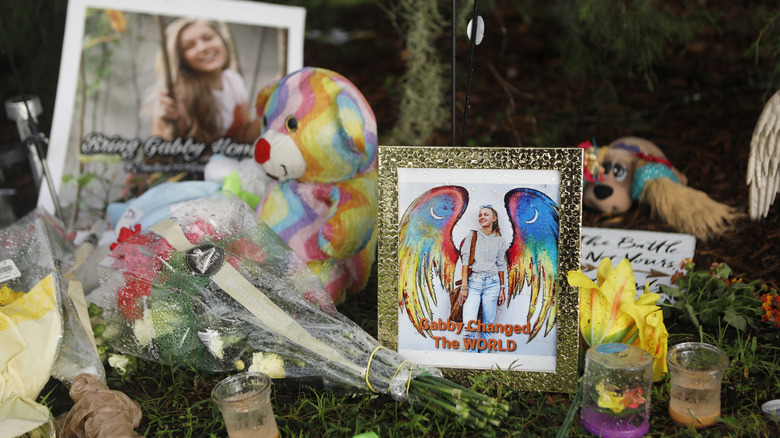 Octavio Jones/Getty Images
Not only does the lawsuit filed by Gabby Petito's parents, Joseph Petito and Nichole Schmidt, claim that Brian Laundrie's parents, Chris and Roberta Laundrie, knew that their son had allegedly murdered Gabby in August, but it also claims that Chris and Roberta "were making arrangements for him to leave the country" (via Rolling Stone). During the search for Gabby, it was believed that Brian was hiding out at his parents' house until he went missing on September 13, according to CNN. 
While the Laundries weren't helpful during Gabby's investigation, they were very active in the search for their son. Patrick Reilly, who represents Gabby's parents, wrote that, "Despite the fact that Joseph Petito and Nichole Schmidt implored Christopher Laundrie and Roberta Laundrie to tell them if their daughter was alive, and if she was not, where her remains were located, Christopher Laundrie and Roberta Laundrie refused to respond to either Joseph Petito and Nichole Schmidt, or law enforcement." 
While the FBI has officially closed the Gabby Petito case after it was revealed that Brian confessed to killing her in his notebook before killing himself, Gabby's parents are seeking justice in the form of $30,000 from this lawsuit.