What John Lennon's Final Hours Were Really Like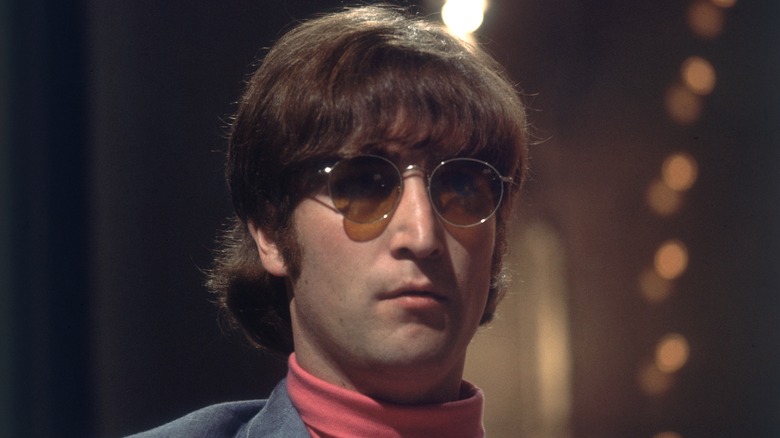 Hulton Archive/Getty Images
As one of the four founding members of British rock band The Beatles, John Lennon became one of the most influential musicians in the world throughout his career. Alongside band mates Paul McCartney, Ringo Starr, and George Harrison, Lennon had a major hand in the state of music throughout the 20th century. He made countless hits with his band, as a solo artist, and in collaboration with his second wife, Yoko Ono, per Britannica. He also exhibited raw talent as a visual artist and used his wit and humor to charm fans.
On December 8, 1980, when Lennon was just 40 years old, deranged Beatles fan Mark David Chapman shot the bullet that put an end to the musician's short life. The event took place right outside of the home that Lennon shared with Ono and their five-year-old son, Sean. The event took place just 8 weeks following his 40th birthday alongside his son who was born on the same day. Prior to the shooting, Lennon enjoyed a full day with a positive outlook.
The day was just like any other for the rock star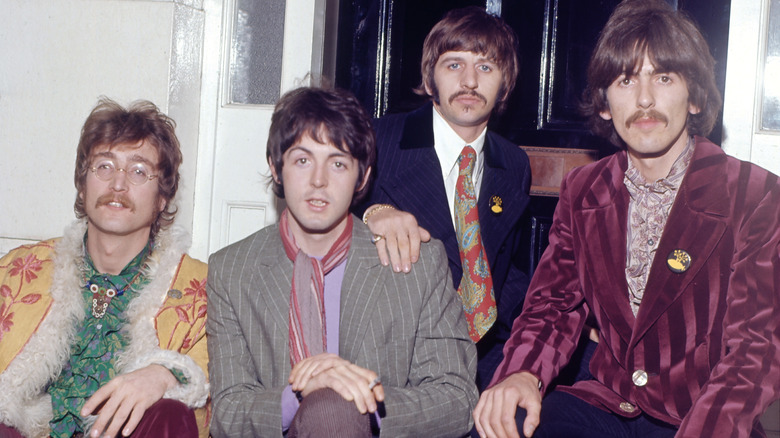 Icon And Image/Getty Images
On December 8, 1980, John Lennon returned to his home with a fresh haircut. Shortly after, world renowned photographer Annie Lebowitz arrived at Lennon's apartment to shoot a spread for Rolling Stone magazine, (via Biography). She shot an intimate photo of a nude Lennon kissing his fully clothed wife, Yoko Ono, that would later become iconic. "You've captured our relationship exactly," Lennon said of the shoot. Later, Lennon is interviewed by journalists from San Francisco's RKO Radio. Throughout the interview, Lennon advocates for peace and feminism. As a passionate advocate, Lennon says "I consider that my work won't be finished until I'm dead and buried and I hope that's a long, long time," in a haunting final comment.
As the photos and interview took place, Mark David Chapman waited for the "Can't Buy Me Love" musician outside of the home clutching a copy of "Double Fantasy." Chapman meets a friend of Lennon's and explains that he's hoping to get an autograph.
When the media happenings wrapped at the Lennon-Ono household, the former Beatle and his wife traveled to the Record Plant recording studio to work on a new single. As the photos and interview took place, Mark David Chapman waited for the "Can't Buy Me Love" musician outside of the home clutching a copy of "Double Fantasy," hoping to get an autograph.
The evening took a shocking turn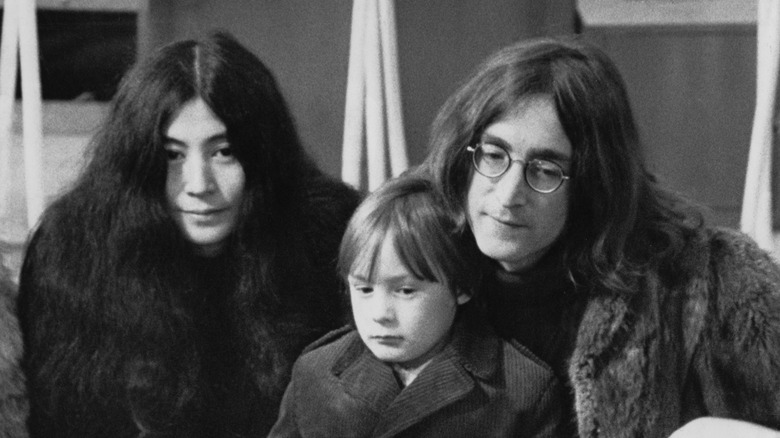 Express/Getty Images
After several hours in the studio, John Lennon and Yoko Ono wrapped up the recording of what would be Lennon's final work. The couple then headed back to their apartment at the Dakota ready to wind down for the evening. As they make their way to the door, the couple notices that Mark David Chapman, cracked Beatles super fan, is still lingering outside the home, clutching his copy of "Double Fantasy," according to Biography. The couple immediately becomes uncomfortable when their eyes meet those of the young man.
Almost as quickly as the brewing danger registered with the couple, Chapman fired five shots from a .38 caliber gun into Lennon. The musician then collapsed onto the ground while Ono ran for help. "John's been shot!" she screamed in terror. Late into the night, doctors at Roosevelt Hospital worked to save Lennon but his injuries proved to be too much. He was pronounced dead. Lennon left behind his wife and child, as well as legacy in music and in advocacy for a better future that has immortalized him, per Live For Live Music.