Kellyanne Conway's Comments About The Biden Administration Are Causing A Stir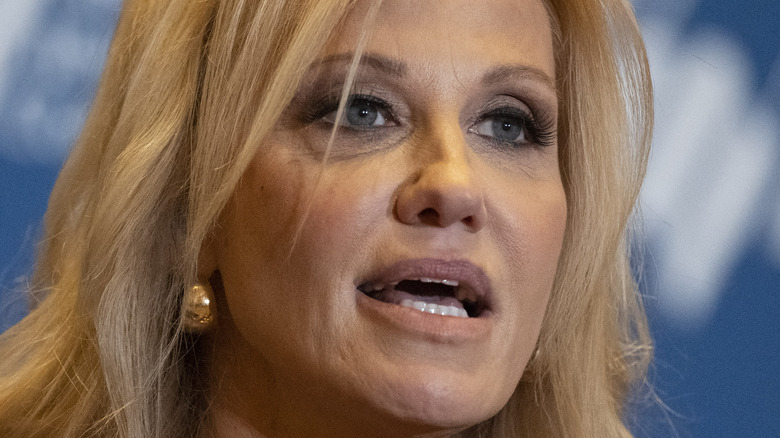 Bloomberg/Getty Images
Since being former President Donald Trump's senior advisor from 2017 to 2020, Kellyanne Conway has returned to politics by serving as Bernie Moreno's senior campaign advisor (via Forbes). While Conway hasn't been in the spotlight as much as she was during Trump's presidency, she has started to make more regular appearances on Fox News to criticize current President Joe Biden and his administration.
Back in November 2021, she criticized Biden's handling of inflation and supply issues, per HuffPost UK. Speaking to Sean Hannity, Conway said she "never heard of such a thing" when she was in the White House. "There was no supply chain crisis," she said. "There was no inflation." However, as HuffPost notes, there was indeed a supply chain crisis during Conway's time in the White House due to the coronavirus pandemic as a result of panic buying.
In her most recent appearance on Fox News, Conway has once again caused controversy with her comments about the Biden administration — even as far as some saying that she's gaslighting the public as one Twitter user wrote.
Kellyanne Conway has been called "the fairy godmother of alternative facts"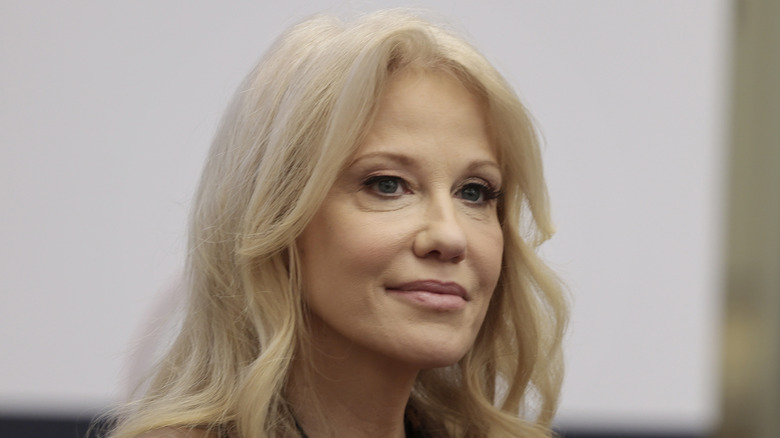 Anna Moneymaker/Getty Images
During an appearance on "The Ingraham Angle" on Thursday, March 12, Kellyanne Conway called out President Joe Biden and White House press secretary Jen Psaki saying they are "playing the blame game, name and shame nonsense of Washington," adding that this supposed tactic "would rely on the American people believing it, and they've lost credibility" (via Fox News).
She continued, "This administration doesn't have a messaging problem. They have a fact problem, and it is reflected in the polls. They don't seem to be doing well," pointing out that things Biden has said about the border surge and inflation are untrue. Conway also believes that there's "very little confidence in [Biden and Vice President Kamala Harris'] competence."
Many have taken to social media in response to Conway's comments, highlighting the irony of her comments with one Twitter user calling her "the fairy godmother of alternative facts." Another pointed out that during her time in the White House, she "lied and misled" the American public by spewing "facts like a fire hose."