If You're Craving The Cozy Cabincore Trend, Here's The Perfect Shopping List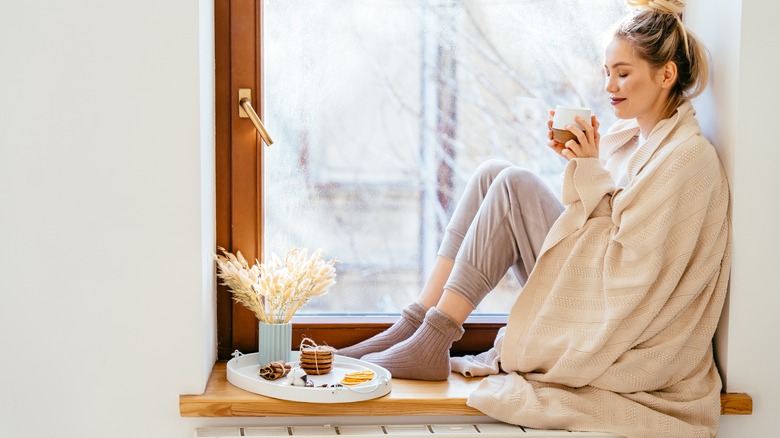 Iryna Inshyna/Shutterstock
We were as obsessed with the cottagecore trend as you were. Everything was sunshine, soft colors, plants, and baking. In essence, cottagecore was the defining trend of the COVID-19 pandemic, but a changing world has new needs. Fashion and home decor have risen to the challenge, evolving cottagecore into cabincore.
Cabincore has its roots in the hygge movement that took over the United States in 2016. Hygge is defined in the New Yorker as "a quality of coziness and comfortable conviviality that engenders a feeling of contentment or well-being," which is very much the ethos of cabincore. It is supposed to evoke "the feeling of blasting Fleet Foxes at full volume in your Subaru Outback while coming back from a winter hike," according to Nylon. What cabincore also does, according to Apartment Therapy, is channel the cabin lifestyle. So, instead of grabbing a cotton and floral blanket, you'd reach for a warm-toned fleece or flannel instead. 
But don't worry — a lot of what you loved about cottagecore does carry over into cabincore like a love of nature and comforting things. As COVID-19 restrictions loosen, it'll be hard to forget how important nature and comfort were during the height of the pandemic. Cabincore allows you to bring what comforted you during the hard times with you as you brave the next step, even if it's into something unknown.
You need these cabincore styles ASAP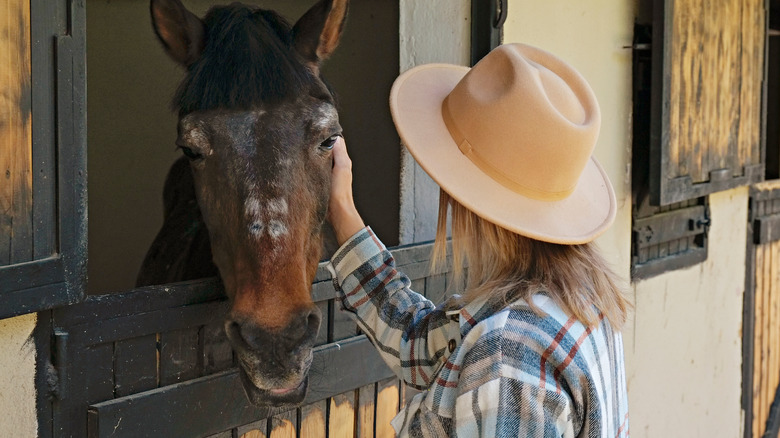 evrymmnt/Shutterstock
If you're looking to shift your wardrobe over into cabincore, Col and Ari of Depop shop Heycolanda say the style is "very much influenced by the urban areas' take on rural and outdoorsy fashion," per Nylon. Knowing this, there are a few cabincore must-haves that you need to add to your wardrobe ASAP. Refinery 29 suggests L.L. Bean as a great starting point. There you'll find the Women's Teva Ellery Waterproof Ankle Boots, which can be thrown on with your favorite pair of jeans or a denim dress, like the Chambray Mini Shirtdress. Wrap the outfit together with the plaid Urban Recycled Spliced Scarf from Urban Outfitters.
According to Stitch Fix, sweaters are the "cornerstone of the cabincore trend." They recommend choosing sweaters in "leafy greens, wood-toned browns, river blues, or creamy cottons" to keep with the natural vibes of the aesthetic. To jump on the layering trend, grab a cardigan that was made to get lost in the woods wearing. Plus, the right cardigan goes great over flannel shirts, like the Women's Scotch Plaid Flannel Shirt by L.L. Bean or any super soft button down.
Of course, if you don't find enough here to fill the cabincore wardrobe of your dreams, you can ask a Stitch Fix stylist to put a fix together for you.
What you need to make your home cabincore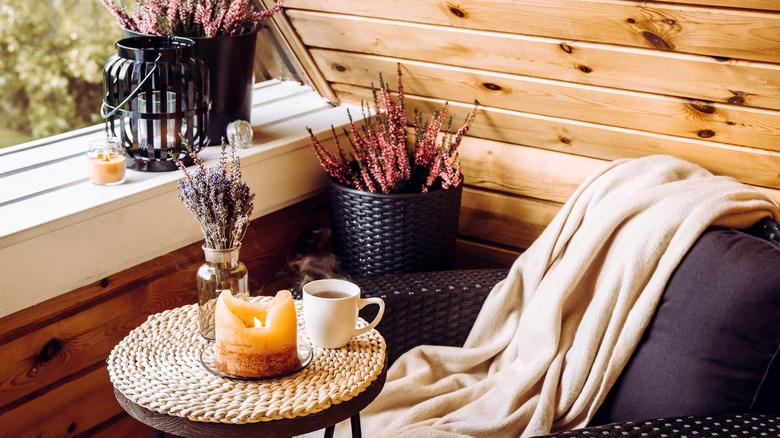 FotoHelin/Shutterstock
If you have to turn your home into a cabincore sanctuary, take inspiration from your wardrobe. "There continues to be a demand for rustic elements from the last century that fit with the cottagecore and cabincore trends," Nichole Abbott, of FLOOR360, tells Realty.com. Apartment Therapy says to think as if autumn is here with cozy candles and a tea kettle on the stove. If you don't have the cozy necessities already, you have the start off your cabincore home decor shopping list.
If you don't already have one, get an electric kettle like the Cuisinart CPK-17 PerfecTemp 1.7-Liter Cordless Electric Kettle. Whether you're brewing tea or making pour-over coffee, this will get non-stop use as you try and stay cozy and caffeinated. Light the Gone Hiking candle by Homesick Candles to add some aromatherapy to your space. On the plus side, even if you're in a studio in a city, the scent will help you escape into the woods. Try the Nordic Spruce Aroma Bars for an all-the-time scent experience.
Where there is comfort, there are throw blankets. According to Abbott, "Throws are having a big moment right now. They satisfy the near-universal need to bring comfort into the home and anywhere and everywhere we can." They're also an easy way to add splashes of seasonal color to a room, like a Cotton Waffle Throw from West Elm. They're easy to store, especially on the Travis Decorative Teak Ladder, which would also add a touch of rustic to any room.