Ken Jennings Just Celebrated This Jeopardy! Milestone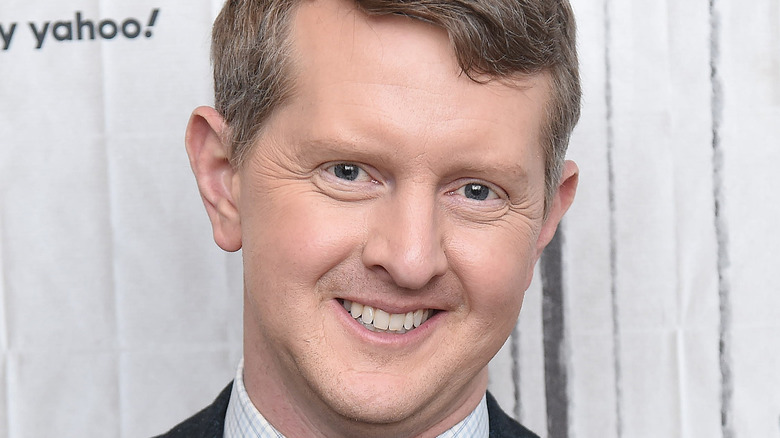 Gary Gershoff/Getty Images
After more than 50 years, the hugely popular TV game show "Jeopardy!" is still going strong. The show's simple question-and-answer format sets it apart from other shows that rely on over-the-top sets and contestants, or pure luck to advance in the game. 
Unlike any other game show currently airing, "Jeopardy!" also allows players to return indefinitely as long as they keep winning. You may not be able to name a single Showcase Showdown winner on "The Price Is Right," but "Jeopardy!" all-time champions like Ken Jennings, Brad Holzhauer, and Amy Schneider have become celebrities in their own right. When a contestant begins a winning streak, viewers tune in night after night to find out how long their run will last — and the longer a player stays on the show, the more adept they become at playing the board and working the buzzer, as Schneider noted to The New York Times.
As his official website confirms, Jennings still holds the all-time record for both games played. Not content to rest on those laurels, Jennings recently celebrated yet another impressive "Jeopardy!" achievement.
Ken Jennings was congratulated for reaching a Jeopardy! milestone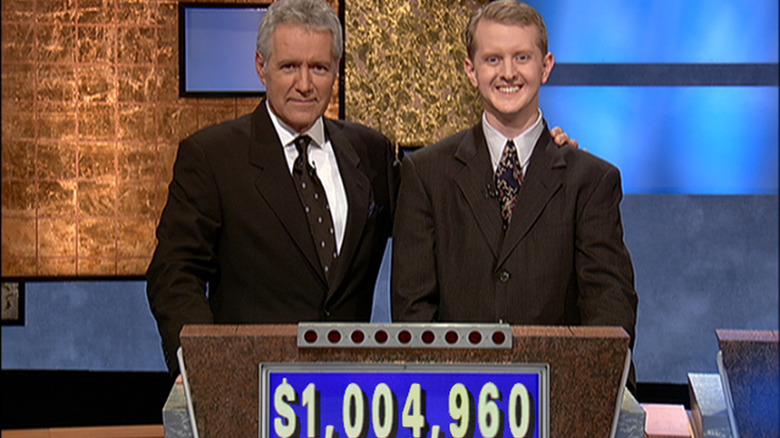 Getty Images/Getty Images
After the death of the revered Alex Trebek in November 2020, "Jeopardy!" producers had the unenviable task of finding a replacement host. To fill the gap, they hired a rotating series of guest hosts for the following season while they decided on a permanent choice. Their first pick, Mike Richards, had to be yanked after allegations of toxic behavior surfaced (via Forbes). Since summer 2021, the hosting duties have been share between Mayim Bialik of "The Big Bang Theory" fame and "Jeopardy!" all-time champ Ken Jennings, according to TV Insider.
Since the show airs five nights a week, those games add up quickly. On March 11, 2022, Jennings tweeted the exciting news that he has broken his own 74-game record for appearances on the show. "Apparently tonight is my 100th time hosting Jeopardy!, which means (a) I have now hosted more games than I played, and (b) I'm just 9,950 hours away from achieving Malcolm Gladwell-style mastery," he wrote. 
Jennings' announcement was met with a flood of congratulations from followers, including Matthew Glassman, who was the winner on that history-making episode. He wrote, "Ken, I'm incredibly honored that my first show was your 100th. ...You are the host of Jeopardy now. You are perfect. I will campaign for you forever."