Here's What Anya Taylor-Joy Looks Like Going Makeup Free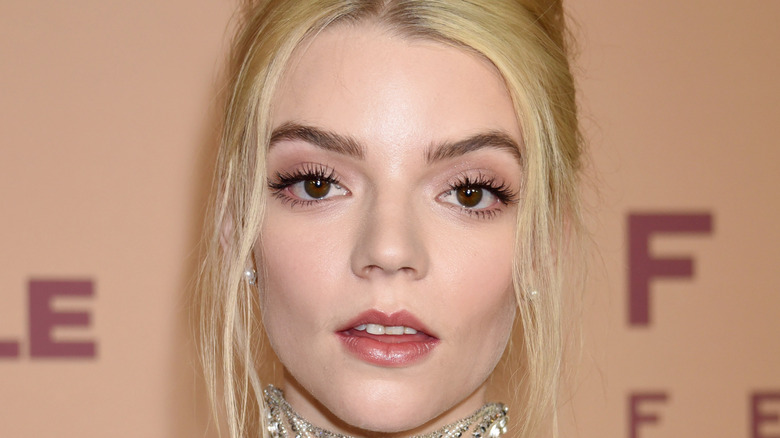 Ga Fullner/Shutterstock
By now, almost everyone has heard of Anya Taylor-Joy, even if they haven't seen any of her TV shows or movies. But anyone who's watched her on-screen isn't surprised she's making a name for herself as an actress. According to IMDb, she's portrayed a wide range of characters in TV shows and movies of various genres, such as the beloved series "The Queen's Gambit," the scary movie "The Witch," and the creepy thriller "Split."
Not only is Taylor-Joy known for her acting skills, but she's also admired for her gorgeous looks. W Magazine pointed out that she always looks stunning as she rocks various hairstyles and hair colors, outfits, and makeup looks. She looks beautiful with long blond hair, updos, ponytails, crimped hair, dark hair, and short hair. Not only can she pull off many different hairstyles, but she's explored a plethora of makeup looks, too, such as the universally flattering red lipstick, shimmery eyeshadow, and edgy dark lipsticks.
Since Taylor-Joy has successfully experimented with so many different types of makeup, we were naturally curious to see what she looks like without makeup.
Anya Taylor-Joy still looks beautiful without makeup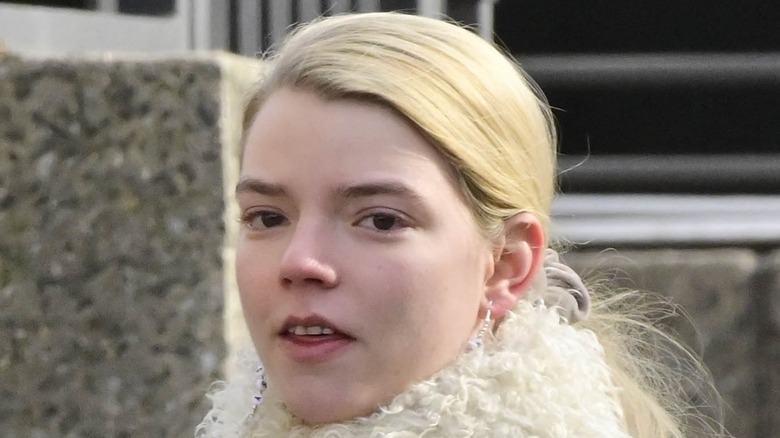 Skyler2018 / BACKGRID
While there are some celebrities who are completely unrecognizable without makeup, Anya Taylor-Joy still looks like herself when going makeup free. Her hazel eyes still pop beautifully, and her skin still looks clear. 
While you can spot her on Instagram rocking red lips, edgy dark eyeliner, and incredibly long eyelashes, she looks more subtle without makeup. Taylor-Joy still has naturally gorgeous features without makeup, but her look isn't intense. People should remember this when scrolling through celebrity Instagram pages because, under that makeup, they're just people like us. With all the time that models and celebrities spend getting their makeup done by professionals, of course, they look different from anyone in "normal" professions when we see them on our TV or laptop screens.
Despite being a successful actress known for her talent and beauty, Taylor-Joy doesn't think particularly highly of her looks. In an interview with The U.S Sun, she said, "I don't think I'm beautiful enough to be in films." While we were shocked to hear this, we grew even more surprised when she said: "I just think I'm weird-looking." Taylor-Joy is living proof that even the most beloved stars can feel insecure about their looks, just like most of us, so no one should compare themselves to the faces they see in movies or magazines.