How To Apply Eyeliner On Downturned Eyes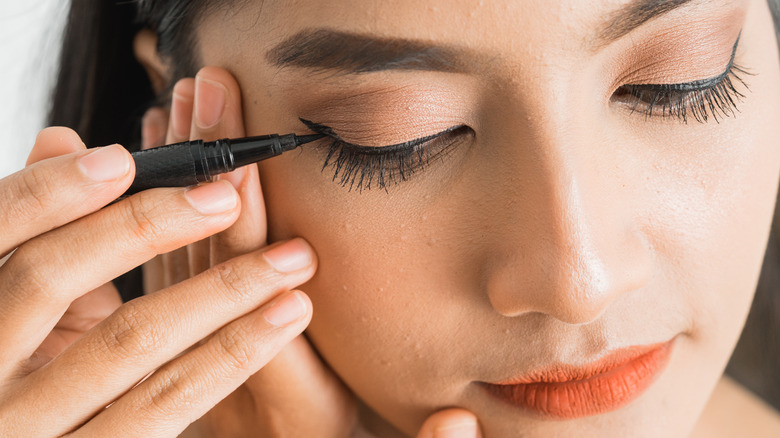 Odua Images/Shutterstock
Our culture is obsessed with beauty, and every year American women spend thousands of dollars on beauty products and treatments to look and feel their best. American women can spend up to a quarter of a million dollars in their lifetime, between the ages of 18-78, on this endeavor. Most of this money goes to facials, haircuts, and makeup, according to the New York Post. You'd think the pandemic would put a damper on our makeup purchases since we're home more often, but that simply isn't the case. While staying home and masks limited us, the sale of makeup hasn't slowed down. According to The New York Times, 1010data reported that the sale of eye makeup went up by 47% from 2019 to 2021. We're not letting the pandemic prevent us from buying new products!
Most people choose their eye makeup based on the color of their eyes, but considering the shape can also do wonders. Today reported that there are six eye shapes in the world — round, almond, monolid, hooded, upturned, and downturned. You may even be a combination of two or more different shapes. Every eye shape is beautiful in its own unique way. Downturned eyes, aka 'descending eyelids,' feature inner corners that are higher than the outer corner. This is where the upper lid slants down to meet the lower lash line. Beauties like Katy Perry and Anne Hathaway have downturned eyes. We've gathered some of the best eyeliner ideas to make those beautiful eyes look even more alluring (via the Daily Mail).
Best eyeliner ideas for gorgeous downturned eyes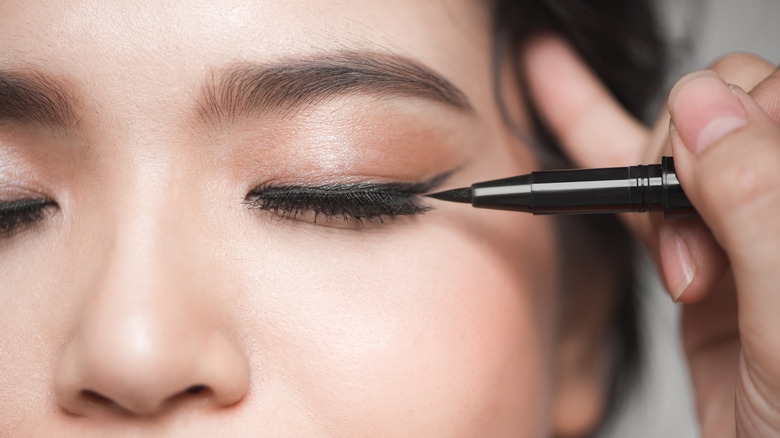 Makistock/Shutterstock
Enhancing your eye shape with the classic cat-eye style is one of several ways to get adventurous when you have downturned eyes. Kelli J. Bartlett, the artistic director for Glamsquad, told Today, "Create the illusion of a lifted cat eye by drawing out eye shadow in a lifted, pointed shape towards the tail of the eyebrow." For beginners, ditch downturn eye makeup in 2022 and try a little cat-eye look by using a pencil or gel liner to 'lift' the corner of your eyes. This defines your lashes by making your eyes look wider. Just smoke out the ends by blending the color and you're good to go! For a more lifted effect, draw the liner straight out and extend it to the point where your eyebrow ends for a more elongated appearance (per Makeup Artist Pro).
Have you tried the reverse cat-eye, yet? With this look, the liner is drawn on your water line, followed by an upward curve at the corner of your eyes using the same precision (via Vogue). Start by lining your bottom lids, and when you reach the end, extend the line until it reaches the same length as the end of your brow. The K-Beauty trend of 'puppy liner' is an adorable look for downturned eyes, too. According to Glamour, you draw the liner on your upper lid, following the natural curvature. Then, wing it slightly downwards to make your eyes look bigger.
Which look are you going to try?