The Truth About Hunter Tylo And Katherine Kelly Lang's Off Screen Feud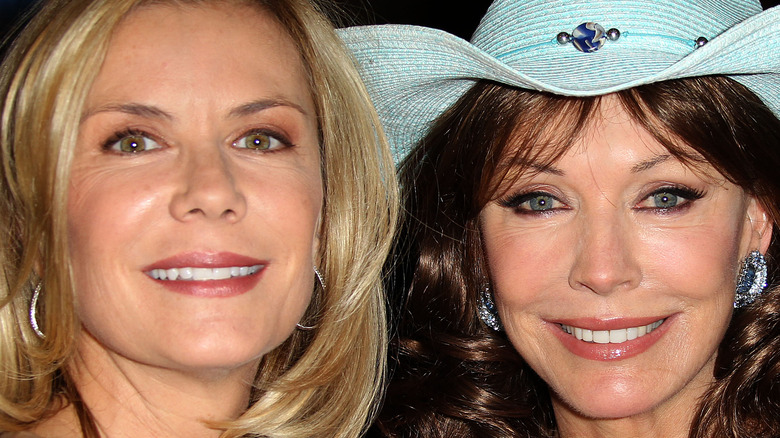 Frederick M. Brown/Getty Images
Since its premiere in 1987, "The Bold And The Beautiful" has captivated audiences with its dramatic storylines and talented cast. The show follows the story of two families — the Forresters and the Logans — as they navigate the tumultuous world of the Los Angeles fashion industry (via IMDb). Some of the cast has been around for as long as the show's been on air. For example Katherine Kelly Lang signed on in 1987; her character, Brooke Logan, has maintained a presence throughout the entire run of the series so far. Others have stuck around for almost as long. Hunter Tylo, for instance, appeared as Dr. Taylor Hayes from 1990 to 2019.
As is the case with most soap operas, "The Bold And The Beautiful" is filled with love triangles that center on the enchanting main character. In this case, that's Ridge Forrester (Ronn Moss and Thorsten Kaye) (via Cheat Sheet). On-screen tensions between Tylo and Lang's characters sizzled while they fought for Forrester's attention. Their battles involved explosive fights; they even fought with cake once. 
All of this made for compelling soap opera drama, but fans have been surprised to learn over the years that the feud didn't end when the cameras stopped rolling. Tylo and Lang have reportedly been involved in an off-screen feud for years, too. The truth about it may surprise you.
Tensions between Hunter Tylo and Katherine Kelly Lang reportedly rose over the years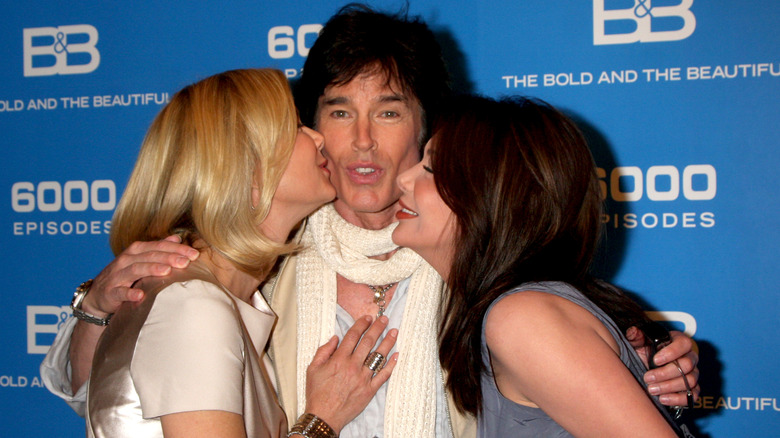 Kathy Hutchins/Shutterstock
In what appears to be a fight for the spotlight on "The Bold And The Beautiful," Hunter Tylo and Katherine Kelly Lang reportedly feuded throughout the time that they both starred on the soap opera (via Celebrity Dirty Laundry). Their off-screen drama seemed to mirror their on-screen fights and was allegedly exacerbated by the departures of their fellow cast-mates. 
Tensions rose once Ronn Moss left the show in 2012 due to medical complications (via Cheat Sheet). When Moss left, the woman exchanged some vague but seemingly hostile tweets, according to Daytime Confidential. In a short exchange, Lang tweeted "why don't u talk to me?" Tylo replied, "yes- about what?" At the end of the exchange Tylo mentioned that the women were on the same team with a lighter energy, but the tension doesn't appear to have totally evaporated with a tweet.
Their fellow cast-mate Susan Flannery was credited with quelling the drama between the two women. When Flannery left the cast, Tylo and Lang were said to have trouble keeping civil. Tylo departed the show for good in 2019, and her role was recast with Krista Allen taking her place. Though her reason for the departure was reportedly to do missionary work in another country, fans can't help but speculate that the bad blood between the two had something to do with the change (via TV Line).