After Bella Hadid's Plastic Surgery Admission, Yolanda Is Feeling Pressure From Fans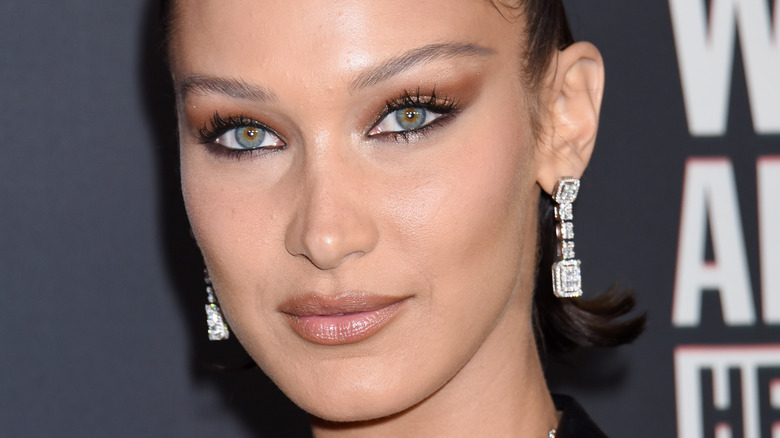 Ga Fullner/Shutterstock
During her short-lived tenure on "The Real Housewives of Beverly Hills," Yolanda Hadid frequently came under fire from viewers for holding her then wannabe-model daughters Gigi and Bella Hadid to increasingly high standards. As the U.S. Sun reported, a recently-resurfaced clip from the hit reality show showed Yolanda admonished Gigi for wanting to have a bite of cake at her own going-away party. Fans criticized the mother-of-three for "body-shaming" her daughter, with one person suggesting it could be "triggering." As another commenter pointed out, "This is how she talked to the daughter who already looked like a model." Yolanda's controlling tendencies regarding her children were an ongoing topic of discussion on "RHOBH." In 2019, Metro UK shared another clip from the show that featured Yolanda warning Gigi not to go too crazy at her upcoming birthday party because "in Paris and Milan they like the girls just a tad on the skinny side."
That said, Yolanda is a former model herself, so it's possible she was just speaking from experience. Over the years, she has vehemently defended her stunning daughters from accusations of Botox and fillers, telling one commenter (via Metro UK), "None of my children have [ever] done fillers or Botox or put anything foreign in their bodies. They know better after seeing what I went through." However, when it comes to plastic surgery, it seems Yolanda wasn't quite as strict as she was letting on.
Bella Hadid admitted to getting a nose job as a teenager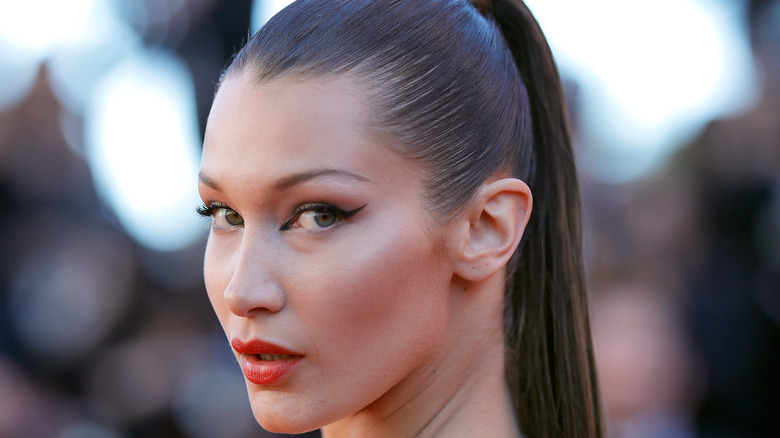 Andreas Rentz/Getty Images
Because fans watched Gigi and Bella Hadid grow up on "RHOBH," Bella's changing face didn't go unnoticed. But Bella has staunchly denied reports of cosmetic surgery, even telling InStyle in 2018 to do "a scan of my face" for proof. In March 2022, Bella came clean for the first time by discussing her nose job in a Vogue profile. Shockingly, the in-demand model underwent the procedure at just 14 years old. Now that she's in her 20's, she regrets it. "I wish I had kept the nose of my ancestors. I think I would have grown into it," she told Vogue.
But copping to her nose job was all that Bella would 'fess up to, as she insisted that she hasn't had any other work done. "People think I fully f****d with my face because of one picture of me as a teenager looking puffy. I'm pretty sure you don't look the same now as you did at 13, right?" Bella asked the Vogue reporter. Likewise, she has continually denied reports of filler: a popular cosmetic procedure in the entertainment industry that adds volume to the cheeks, chin, and temples. "I have no issue with it, but it's not the case," she told Vogue. And although Bella didn't explicitly say that her mother had influenced her sense of self-worth while growing up, the younger Hadid sister admitted to feeling like the "uglier" sister, as Gigi was publicly perceived to be "cooler" and more "outgoing." 
Fans called out Yolanda Hadid for being a bad parent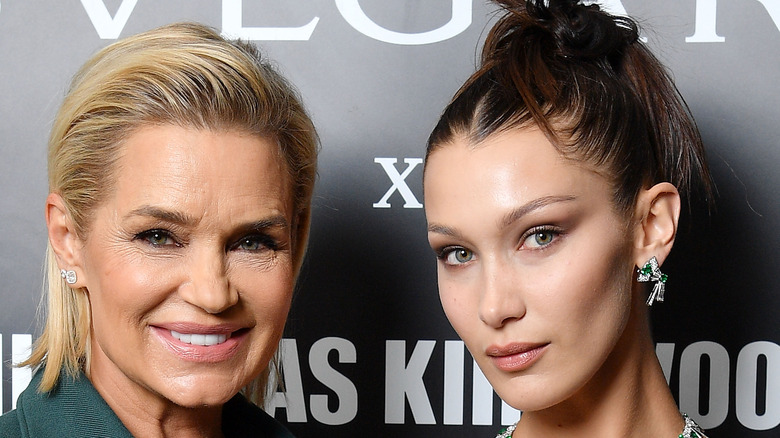 Daniele Venturelli/Getty Images
Following Bella Hadid's admission, the Daily Mail reported that fans are horrified that Yolanda Hadid allowed her daughter to get a nose job so young — particularly since the facial skeleton and bone isn't always fully developed at 14, according to medical professionals. "Yolanda is honestly rancid for letting her daughter get a nose job at 14," one user wrote on Twitter. "No 14-year-old just wants plastic surgery just because, unless they've had a certain feature pointed out so many times to the point that they are insecure," one user suggested, echoing Bella's own comments about feeling like the less attractive sibling as a kid. 
More fans chimed in, describing Yolanda as a "menace" and a "bad mother," and even tweeting that she "should never have had kids" in the first place. "Yolanda did a number on both daughters, especially Bella. Having a nose job at 14 is so problematic," one commenter railed on Twitter.  Though there aren't specific laws governing age of consent tied to plastic surgery in the United States, nose jobs are generally allowed with parental consent once the nose has completed 90% of its growth, per the Daily Mail. WebMD advises teens to wait until their nose has fully matured, which "usually happens about age 15 or 16 for girls."