Here's What Joanna Gaines Looks Like Going Makeup-Free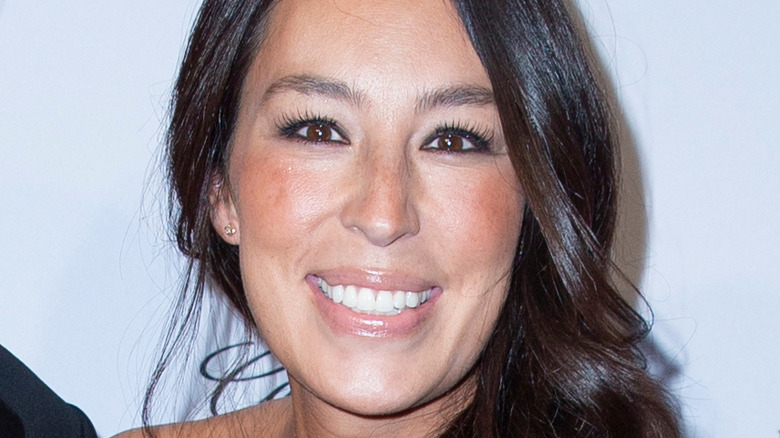 lev radin/Shutterstock
Reality star, home renovation expert, and author Joanna Gaines takes being busy to a whole new level. As the stars of the HGTV show 'Fixer Upper,' a reality television series focused on interior design and home improvement, Joanna and her husband have become everyone's favorite design duo.
Chip and Joanna Gaines are parents to five young children, and they also have a lot of animals they care for, including dogs, cats, chickens, goats, and a horse, according to the Los Angeles Times.
The couple certainly isn't perfect, and endearingly got on each other's nerves, debated, and disagreed. Yet, in the process, they created beautiful renovations and designed homes for the five years that the show ran.
While the show transformed dingy houses into stunning homes, one of the best parts was simply getting to see the Gaines family behind the scenes, seemingly living just like regular families lived.
The show eventually led to their own cable network, Magnolia, in 2022. You might think home design, demolitions, kids, pets, and creating a network might wear on you, but Joanna Gaines seems to be looking better as the years go on, both on screen and off.
Joanna Gaines relaxing with her daughter
In a 2017 post on Instagram, Joanna Gaines shared a sweet photo of her holding her daughter and wrote, "I dreamed I was being attacked by a sweet smelling koala bear and then I woke up... #phew #emmielou #illtakethisalldayeveryday."
Gaines is seen clutching her daughter while confidently looking straight into the camera lens, looking happy and content.
For many moms, there's nothing better than relaxing at home with your kids, and Joanna's glow here says it all, yet it also speaks to her down-to-earth nature. In fact, part of her appeal over the years has been her ability to be real and not appear picture-perfect all the time. She told People she also credits her youngest with keeping her young at heart. "When you have a toddler, it's so different. You almost have to see the world in the way that they do."
It seems like she must have a fabulous skin regime. As one fan commented on the Instagram photo, "Your face is flawless what do you use to keep it so clean and break out free?" Another added, "Aww you're even more beautiful without makeup!"