Why The New Season Of The Bachelorette Will Be Like No Other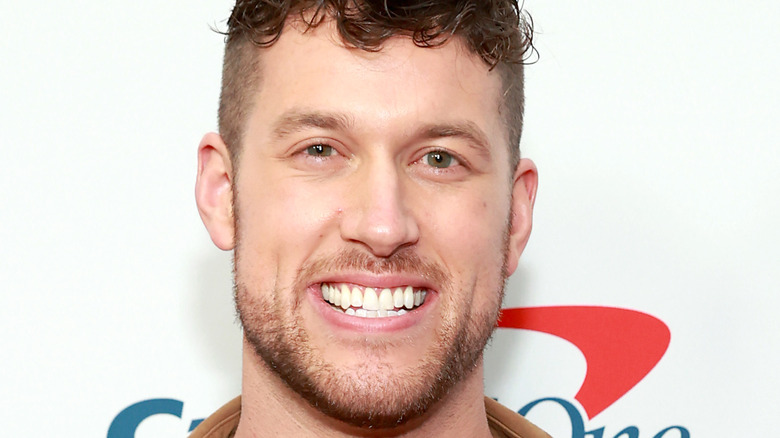 Matt Winkelmeyer/Getty Images
Clayton Echard's season of "The Bachelor" has been, to put it mildly, a complete mess. In fact, Twitter reckons that Echard may just be the worst Bachelor ever. As ScreenRant notes, fans weren't happy with his casting from the very beginning. For one thing, Echard had just appeared on the most recent season of "The Bachelorette," and for another, he wasn't exactly a fan favorite during his tenure on the show. Since Season 26 of "The Bachelor" aired, viewers have been consistently baffled by Echard's decisions — from sending home fan favorites, while keeping problematic contestants in their places, to refusing to open up emotionally. Much like his time on "The Bachelorette," the ex-footballer also came across as a little dull. But by the time the finale rolled around, Echard proved he had at least one surprise up his sleeve ... though not necessarily a good one.
Per People, contestant Susie Evans left the show after discovering that the Bachelor lead had slept with both Rachel Recchia and Gabby Windey. But after bringing the two remaining contestants home to meet his family and friends, Echard had a change of heart. He decided that Evans was the one for him — and in the process, he broke both Recchia and Windey's hearts, not to mention humiliated them on national TV. Echard and Evans are trying to make it work, despite acknowledging fans probably won't be happy for them. As for Recchia and Windey, they may soon get a happy ending after all.
Gabby Windey and Rachel Recchia will share 'Bachelorette' duties
Anyone feeling as though the real stars of Clayton Echard's "Bachelor" season were the women he wronged, can take solace in the fact that the upcoming season of "The Bachelorette" will feature both Rachel Recchia and Gabby Windey as bachelorettes. Entertainment Weekly confirms that the lovable ladies will co-star in the upcoming installment — as opposed to Season 11 of "The Bachelorette," which began with Kaitlyn Bristowe and Britt Nilsson but didn't continue that way. The twist is the first of its kind in the show's history.
Considering how badly both Recchia and Windey took being dumped for someone who'd already left the show (Susie Evans), it's a nice kind of poetic justice to see them sharing this once-in-a-lifetime opportunity. Upon hearing the news, Recchia gushed to Cosmopolitan of her new co-star, "I am so happy for her, I truly am. This is insane...we've been through this crazy experience forever." Meanwhile, Gabby added, "I'm a girls' girl through and through so having a friend by my side is the best thing I could ask for." As for what they're looking for in their prospective partners, Rachel wants someone who's "supportive" and who "loves me" while Gabby is after an "emotionally intelligent mature" guy "who can challenge me."  Both prerequisites seem to be in direct opposition to Echard. If anything, the real love story of this "Bachelor" season may be between these two ladies.