Meryl Streep's Daughter Opens Up About The Mental And Physical Toll Of Wearing A Corset
Every actor has their own way of getting into character, but it sounds like sometimes getting into the character's outfit is the hardest part. Louisa Jacobson — Meryl Streep's daughter — opened up about wearing a corset for the HBO series "The Gilded Age" during an interview on the Reign with Josh Smith podcast. The actress said that she initially wanted to look "snatched" in her costumes, which entailed wearing extremely tight corsets. She explained how doing so took a mental and physical toll on her while filming. 
If it didn't look that way in all the Victorian paintings you've seen before, the pain of wearing a corset is real. The fashion accessory can actually change the shape of a woman's rib cage over time and has been known to "cause poor digestion," according to the Royal College of Surgeons of England. Jacobson said she wore corsets on the set of the show for up to 15 hours at a time, which gave her the full experience.
She explained that the accessory was so painful that she also developed an appreciation for when she was born. "Every day when I took it off, I was so grateful," she said. "And I will never take for granted being a female-identifying person in 2022, who does have the freedom to put on a pair of pants that are kind of loose and call it a day." That's not all she had to say about the fashion trend.
Louisa says that wearing a corset was mentally and physically taxing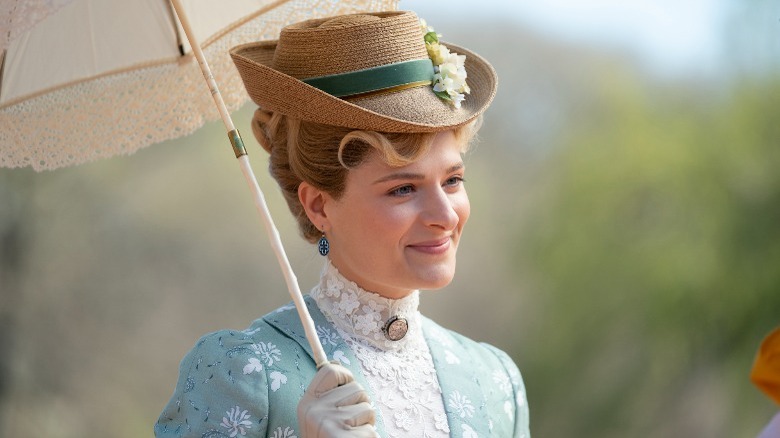 Alison Cohen Rosa/HBO
After the comfortable clothes many wore during quarantine, putting on a corset for the "The Gilded Age" was an adjustment for Louisa Jacobson. "It took a long time to get used to that corset after wearing sweatpants for so long," she said on the Reign with Josh Smith podcast. Each outfit was sewn to the measurements of her corset, so it was a big commitment to her character.
Wearing a corset wasn't just uncomfortable, though. "It was taxing physically and mentally, I couldn't sleep on my side for a long time because my ribs were so sore," Jacobson said. "That's when I realized I really need to loosen this up. After every take or between setups, I would ask my dresser to untie the corset so that I could get a break. They were corset breaks." 
While corsets have come back into fashion, they don't seem to be as restrictive as they were in the past. Fingers crossed that this is one fashion accessory that we don't ever have to truly revisit.