Why Jussie Smollett Is Already Being Released From Jail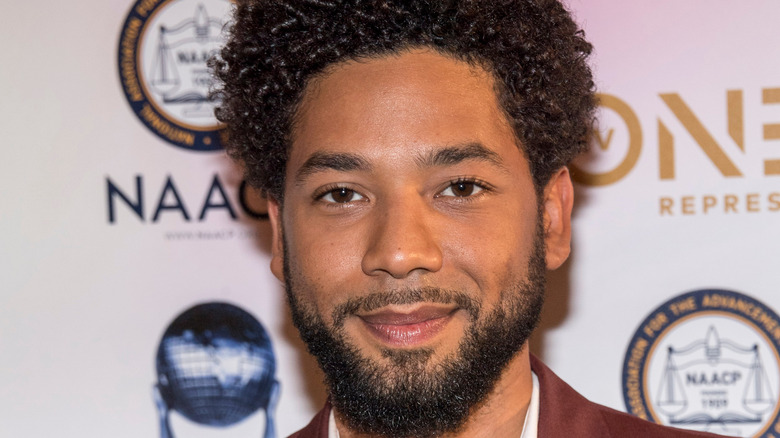 Eugene Powers/Shutterstock
Former "Empire" actor Jussie Smollett made headlines in 2019 after it was revealed that he'd faked a hate crime. Per Deadline, the Chicago PD posted on Twitter at the time that they'd "received a report of a possible racially charged assault and battery against a cast member of the television show Empire." However, the New York Post reported in 2021 that Smollett was found to have staged the assault in a bid to raise his public profile. The disgraced actor was consequently arrested for reporting a fake crime to the Chicago PD, and per AP News, later charged with five out of six counts of disorderly conduct. According to TMZ, he was sentenced to five months in jail and 30 months of felony probation, which he began carrying out in March 2022. That said, the Daily Mail stated that there was room in the judge's ruling for Smollett to be released in just 75 days.
Prior to his jail sentencing, there was some drama in court. Per the New York Post, Smollett once again protested his innocence, and told the judge that he was "not suicidal." Therefore, should anything happen to him while he was incarcerated, "I did not do it myself and you must all know that." But just a week after Smollett landed behind bars, it seems there's a possibility he may not have to complete his full sentencing.
Jussie Smollett's family was concerned about his safety in prison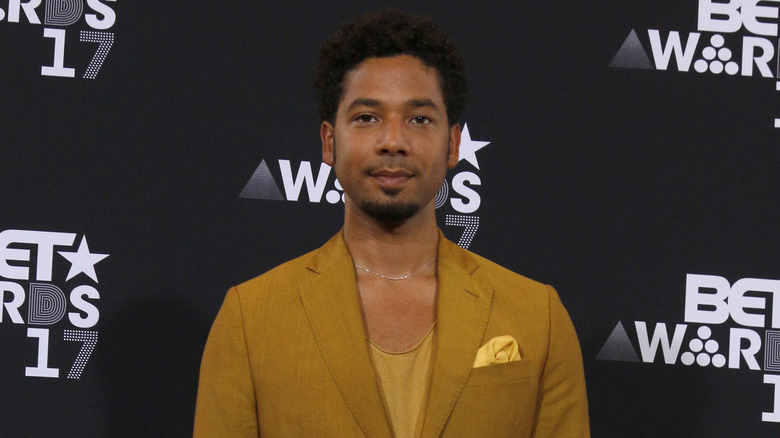 Kathy Hutchins/Shutterstock
As of March 16, 2022, TMZ reported that Jussie Smollett has been released from jail. Firstly, the New York Post reported that the actor's family had received multiple threatening phone calls and raised concerns that his safety was in jeopardy. His attorneys therefore argued for his release, and listed his immunocompromised status and the impact of imprisonment on his mental health as reasons why keeping him in jail would be risky. Furthermore, Smollet's legal team argued that the amount of time that appeals take would be greater than his original sentencing, which sparked their demand for his release, according to CBS News. 
Minutes after his release, one of Smollett's lawyers, Nenye Uche, shared his client's experience in a live press conference video obtained by TMZ. "The first thing Jussie did was he, you know, what separates us in the jail because of COVID is the glass," Uche began. "And he pushed his hands on the glass and he was, his eyes got teary. I've never seen that because he's been very strong in there. And he said, 'I nearly lost hope in our constitutional system.'" 
Meanwhile, Smollett and his legal team continue to maintain his innocence. Another of his lawyers, Tina Glandian, told TMZ that they plan to fight the "injustice" behind the original ruling. "We are gratified that Jussie will be back with his family and loved ones and look forward to a dispassionate review and reversal of the serial injustices visited upon him," Glandian added.