The Real Story Behind David Bowie And Queen's Under Pressure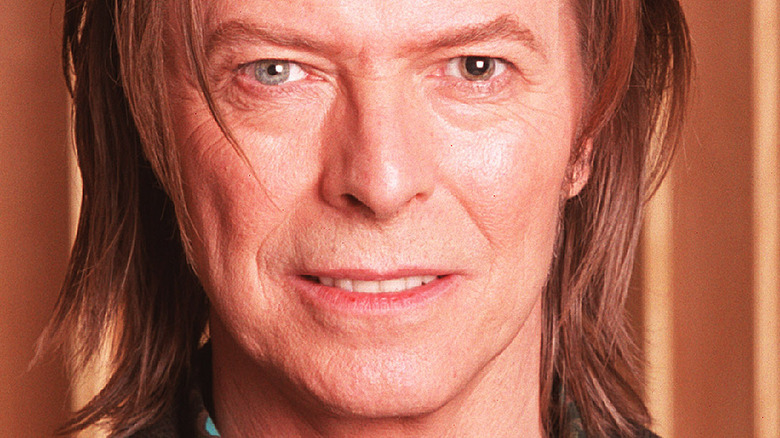 Dave Hogan/Getty Images
Creative inspiration often strikes when we least expect it. Rock icon David Bowie was a master at harnessing spontaneity and letting it take him on an unanticipated journey. In 2014, Bowie talked with Louder Sound about his songwriting process. "It's absolutely essential that I get surprised and excited by what I'm doing," the "Rebel Rebel" songwriter said. "To allow the accidental to take place is often very good."
In the interview, Bowie also talked about his love of mixing different musical styles to "hybridize" them. He recognized this technique as one of his strengths, something that is supported by Bowie's star-studded list of collaborations — a list that includes legends like John Lennon. Like Bowie's songwriting, some of these collaborations also happened with very little planning, such as his creative partnership with Queen.
Bowie and Queen's 1981 collaboration, "Under Pressure," was a chart-topping success, hitting the coveted No. 1 spot in the U.K. for two weeks, per Official Charts. The song's enduring appeal is another indicator of its success. In a 2016 poll, voters declared "Under Pressure" Britain's favorite duet, per Louder Sound. The song also remains in the public eye with covers from artists like My Chemical Romance and The Used, as well as Shawn Mendes and Teddy Geiger (via Biography). Clearly, "Under Pressure" is one catchy tune. As a bonus, it also has an interesting back story.
Under Pressure is a perfect blend of collaborative and creative instincts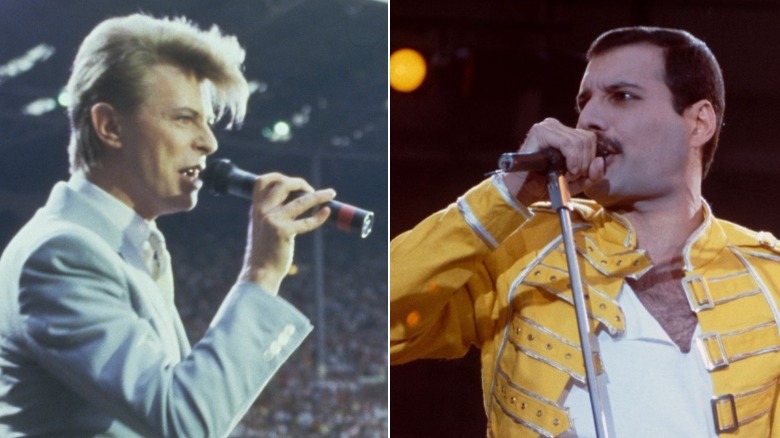 Georges De Keerle/Getty & United Archives/Getty Images
According to the YouTube series "Queen the Greatest," David Bowie's collaboration with Queen began as a spur-of-the-moment decision. In July 1981, Queen was recording in Montreux, Switzerland, and Bowie was invited to swing by and watch the band at work. "Suddenly you're writing something together and it was totally spontaneous, it certainly wasn't planned. It was peculiar!" Bowie said in archival footage included in the episode. Queen's Drummer, Roger Taylor, remembered that night as being part party atmosphere, part jam session. "We were all drunk," Taylor recalled in the documentary. After playing a variety of tunes, he recalls Bowie suggesting they write something new. 
Queen guitarist Brian May credits the group's bassist, John Deacon, with getting things started by crafting a catchy bass line, per Entertainment Weekly. Despite playing the notes repeatedly, Deacon forgot the riff after the group took a pizza break. Fortunately, Taylor saved the day by remembering it, according to the documentary.
While Queen favored a more structured approach to crafting songs, Bowie emphasized improvisation. "Each of us went into the vocal booth consecutively, without listening to each other and listening to the track, vocalized the first things that came into our heads, including any words," May recalled of the experience (via Biography). Following the rough draft, Bowie's creative vision for the song lyrics took center stage. "It's a significant song because of David and its lyrical content," May later told Mojo (via New Musical Express).
Even creative magic had a few sticking points for David Bowie and Queen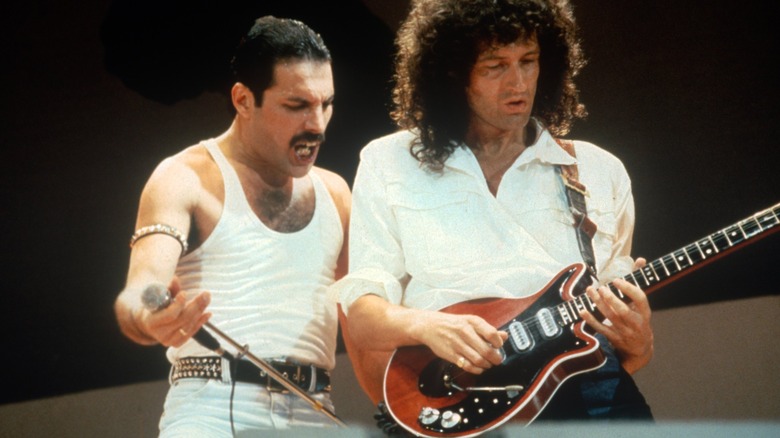 Fg/bauer-griffin/Getty Images
Besides the near loss of that magical bass line, there were a few bumps in the creative process in the making of "Under Pressure." In the YouTube series "Queen the Greatest," Brian May admitted that it was hard for him to let David Bowie assume creative control. "It's quite a difficult process and somebody has to back off and actually I did back off, which is unusual for me," May said.
According to May, Freddie Mercury and Bowie had some creative differences. "But that's when the sparks fly and that's why it turned out so great," he later told Mojo (via Biography). Indeed, it seemed to work. The lyrics sung by Mercury and Bowie work in counterpoint to one another and offer a striking contrast, described as a "battle of wills between the two men," according to American Songwriter. Bowie also insisted on changing the original title, "People on the Streets," to "Under Pressure," per Far Out.
With the tragic death of Mercury in 1991 due to AIDS-related complications, and Bowie in 2016 to liver cancer, "Under Pressure" remains a lasting legacy of the two artists' creative talents. For enthusiasts who hope to uncover more treasures from this collaboration, May told Mojo that additional tracks from the epic recording session are out there somewhere (via Biography).